USC Shoah Foundation Adds New Holocaust Testimony Collection from JFCS to its Visual History Archive
Mon, 05/16/2016 - 5:00pm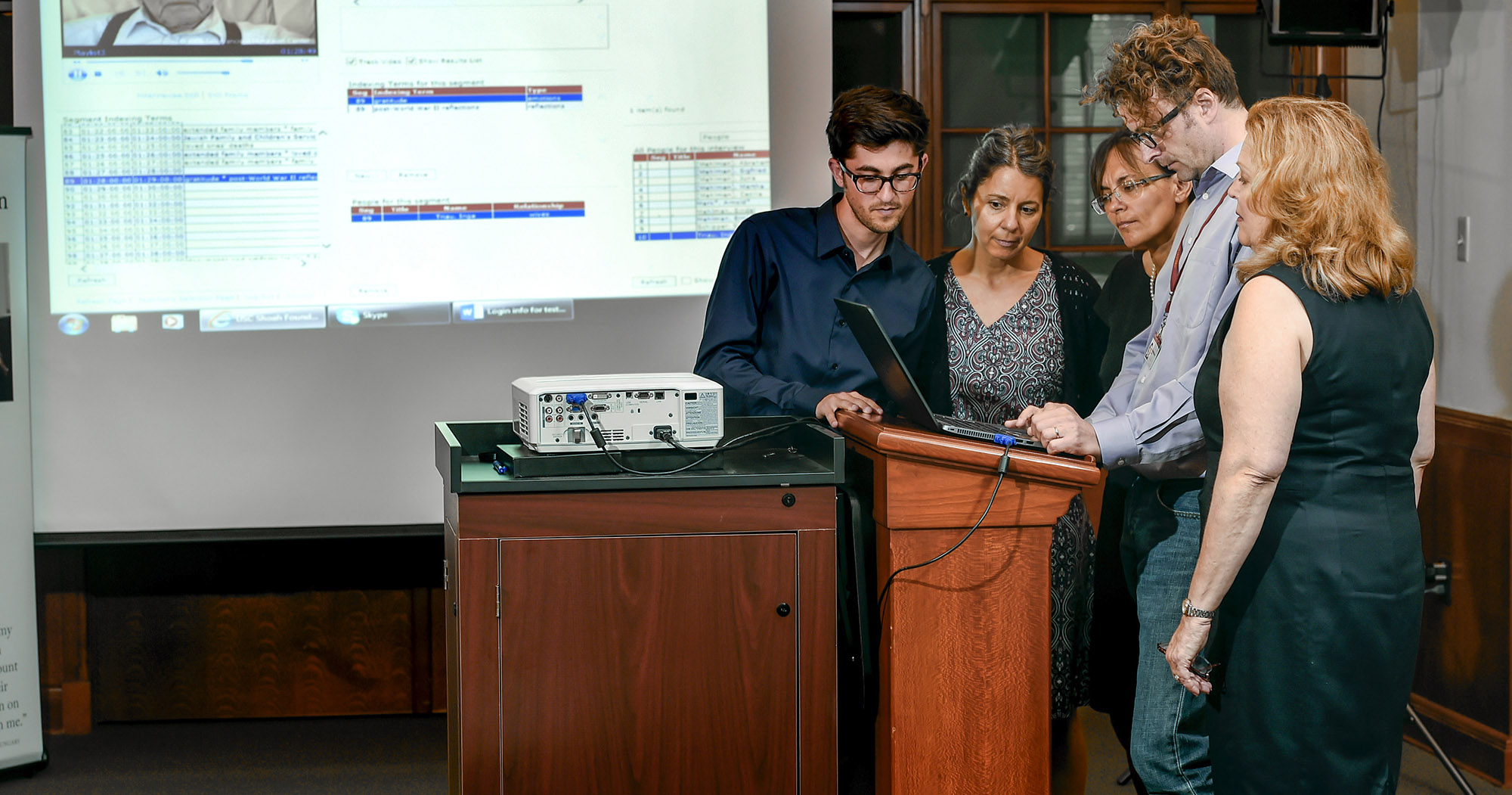 More than 900 Holocaust testimonies recorded over four decades by the Jewish Family and Children Services Holocaust Center of San Francisco (JFCS) are now fully integrated into USC Shoah Foundation's Visual History Archive as part of the Preserving the Legacy initiative – an ambitious plan to save recorded eyewitness testimony and bring voices of genocide survivors to a wider audience.
In a two-year partnership, the JFCS Holocaust Center engaged USC Shoah Foundation's state-of-the-art infrastructure to digitize, archive and catalog Holocaust testimonies taken by JFCS in the Greater Bay Area, and integrate them into the Visual History Archive (VHA), making them fully searchable and accessible worldwide by students, teachers, scholars and the general public.
Over 900 new testimonies have been integrated into the @USCShoahFdn Visual History Archive.
The JFCS Holocaust Center collection is the pilot project in USC Shoah Foundation's Preserving the Legacy initiative.  In order to sync the JFCS collection with the rigorous indexing and cataloging process used in the VHA, the Collections Department of USC Shoah Foundation re-created the structure that it used in its early years when its main focus was collecting testimonies. This meant that staff had to be hired and trained to ensure the high standards of the existing collection.
"Integrating the JFCS Holocaust Center collection into the VHA marks an important milestone for the Institute," said USC Shoah Foundation Executive Director Stephen Smith. "This is an exciting time for us as we continue to look for new partners to add to and enhance our work. If we don't act quickly to preserve these recorded memories, valuable eyewitness testimony could be lost for all time."
Most of the testimonies in the JFCS Holocaust Center collection were conducted in the late 80s and early 90s on videotape – a medium known to deteriorate over time. Converting the tapes to an archival digital format at USC Shoah Foundation ensures they will be preserved in perpetuity, and facilitates digital distribution methods.
"Every survivor's story is precious and every testimony educates and inspires young people. Our partnership with USC Shoah Foundation makes these testimonies available to the world forever," said Dr. Anita Friedman, executive director of Jewish Family and Children's Services of San Francisco, the Peninsula, Marin and Sonoma Counties. "Our educational mission is to work together with USC Shoah Foundation to raise morally courageous and socially responsible future generations."
Integrating the JFCS collection not only adds to the number of testimonies available in the Visual History Archive, it also broadens the scope of the archive. The JFCS interviews were conducted by psychologists who delved deeply into the emotional state of the survivors. This strong psychological component required the Institute to expand its existing thesaurus of over 63,000 index terms to cover in more detail the strong emotional and reflective content of this new collection.  For example, 30 new specific emotions keywords were created, such as "anger," "love," "despair," "loneliness," "pride" and "gratitude." Using keywords allows users to find exact parts of testimonies that deal with a specific topic, and this precise searchability is invaluable to researchers.
So far, the Education Department of the Institute has integrated 11 JFCS testimonies into IWitness, the Institute's award-winning educational platform that uses survivor testimony to teach a broad range of subjects.   The Education Department continues to work closely with JFCS Holocaust Center on IWitness, offering training to educators at the JFCS Holocaust Center's Day of Learning and to JFCS Manovill Holocaust History Fellows.
Preserving the Legacy partner institutions retain ownership of their testimonies and receive digital copies to make accessible at their institutions, museums and websites. As a partner archive, JFCS Holocaust Center will also have access to the full VHA starting this fall.
Other organizations currently participating in Preserving the Legacy include a consortium of Canadian organizations, the Florida Holocaust Museum and Holocaust Museum Houston.
Like this article? Get our e-newsletter.
Be the first to learn about new articles and personal stories like the one you've just read.