First Interdisciplinary Research Week to Study Holocaust Survivors in Latin America
Wed, 02/01/2017 - 5:00pm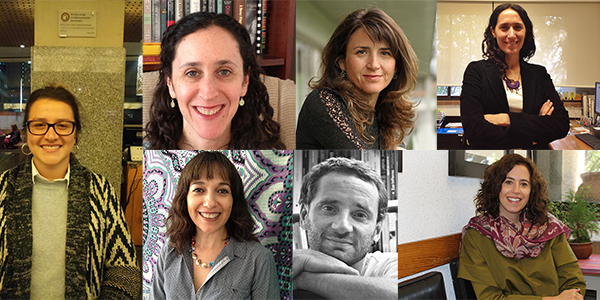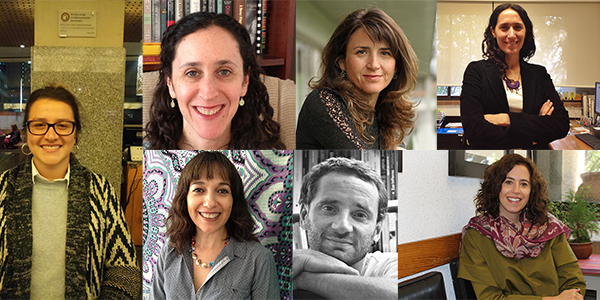 Clockwise from left: Lorena Avila Jaimes, Yael Siman, Alejandra Morales Stekel, Susana Sosenski, Daniela Gleizer Salzman, Emmanuel Kahan, Nancy Nicholls Lopeandia
Following the success of two visits by the Holocaust Geographies Collaborative research group to USC Shoah Foundation Center for Advanced Genocide Research, the next recipients of the annual Interdisciplinary Research Week research opportunity have been chosen.
The research group is:
Yael Siman (Iboamericana University)
Nancy Nicholls Lopeandía (Pontificia Universidad Católica de Chile)
Lorena Avila Jaimes (Centro Internacional de Toledo para la Paz)
Susana Sosenski (Universidad Nacional Autónoma de México)
Emmanuel Kahan (Universidad Nacional de La Plata)
Alejandra Morales Stekel (Jewish Interactive Museum of Chile)
Daniela Gleizer Salzman (Universidad Nacional Autónoma de México)
They will be in residence at the Center August 21-25, 2017, for 2017-2018 Interdisciplinary Research Week. This opportunity is awarded to an interdisciplinary group of scholars who wish to use the Visual History Archive as a central aspect of an innovative research project in the field of genocide studies.
The group grew out of a previous collaborative project between a few of the scholars that examined the experiences of Holocaust survivors who immigrated to Chile, Colombia and Mexico. After they presented their research for the first time last year at the annual Lessons and Legacies conference, one of the largest academic conferences on the Holocaust, more scholars who work on memories of child survivors in Mexico and Argentina joined the group. All of the scholars have already utilized testimony from the Visual History Archive as the main source of their research.
During Interdisciplinary Research Week at USC Shoah Foundation, the group will focus on testimonies of Holocaust survivors who settled in Mexico, Argentina, Chile and Colombia. They will use a variety of research methods to comb through the 54,000 testimonies in the VHA, including text mining, mapping trajectories of survival, and using indexing terms to gather a representative sample of the diversity of the survivors' experiences.
"We are interested in knowing how the particular Latin American national society and its politics of memory influenced the survivors' narratives and remembrances," Siman said. "Societies that have experienced dictatorial processes or situations of mass violence developed politics of memory that might have influenced the particular cultural frameworks by which the Holocaust is remembered."
The group is interested in not just what the survivors say, but how they tell their stories: what is difficult for them to talk about, what they say spontaneously, how they respond to the interviewer, etc. They will also pay attention to the interviewee's command of the Spanish language, as this could illustrate how integrated the survivor was into the local culture.
"In this project we want to continue this approach because we believe that how survivors tell their stories of survival is as important as the story itself, since it is a way of looking for the meaning of Holocaust and the effects of trauma in their lives up to the present," Nicholls said.
Each member of the group will bring complementary areas of expertise, including political science, oral histories of child survivors, Jewish refugees in Latin America, and historic processes of citizenship, Siman said. Working together, and using the Visual History Archive as well as other library resources at USC, the group will be able to carry out research that would not be possible while working independently in their home countries.
Avila said that there is a lack of scholarship about how the narratives of Holocaust survivors in Latin America connect to issues of forced displacement, illegal prosecution, and war in their adopted countries. This project is an opportunity to discover how Holocaust survivors fit into this larger context and also examine how these events shaped the survivors' own narratives.
"Through this specific project, we can respond to Holocaust survivors and see their stories as part of Latin America history as well; it will also allow us to unveil new mechanisms of the social sciences to contribute to local memory within Latin America," Avila said. "Moreover, it can also expand the historical and sociological comprehension of what survival means and what it entails in terms of social justice. The resources shared by USC Shoah Foundation will certainly support a vibrant field in the region, and will open the door to new findings and complexities."
Like this article? Get our e-newsletter.
Be the first to learn about new articles and personal stories like the one you've just read.