Former Greenberg Fellow Jared McBride to Present Visual History Archive at Appalachian State University
Wed, 08/09/2017 - 5:00pm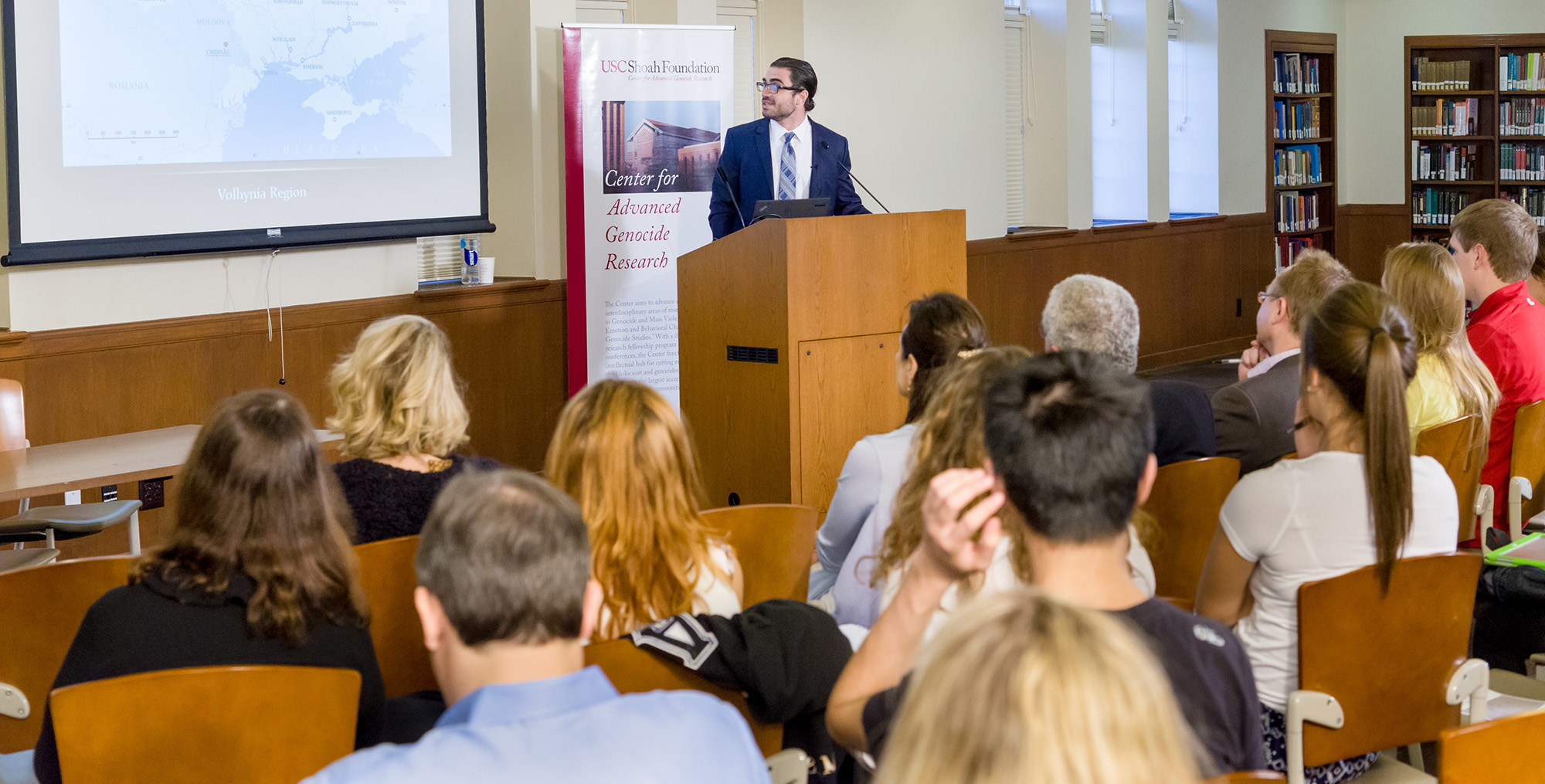 Jared McBride, the inaugural Margee and Douglas Greenberg Research Fellow at USC Shoah Foundation Center for Advanced Genocide Research, will give a lecture about his work with the Visual History Archive at Appalachian State University August 28.
McBride will first give a lunchtime workshop on how to use the Visual History Archive in research and teaching. At 7 p.m., he will give a lecture "Of course, they were Neighbors": Testimony, Archives and the Holocaust in Ukraine." Both will be held at Belk Library and Information Commons room 114.
He was the first-ever recipient of the Greenberg Research Fellowship for advanced-standing PhD candidates and spent a month in residence at the Center in early 2015. During his residence, he conducted research in the Visual History Archive for his dissertation (for his PhD in history at UCLA) and manuscript-in-progress "'A Sea of Blood and Tears': Collaboration and Resistance in Nazi-Occupied Volhynia, Ukraine 1941-1944."
Focusing his research on the perpetrators of the violence in western Ukraine during the Holocaust, McBride's study looked at the involvement of the Ukrainian police in the border Volhynia region and their actions toward victims who were in many cases acquaintances or even neighbors. Choosing a micro-historical approach to the region, McBride sought to identify specific perpetrators and link them to their victims.
Through archival material, he was able to collect a biographical database of Ukrainian perpetrators in Volhynia; the Visual History Archive allowed him to obtain testimony confirming the involvement of these specific perpetrators, who are often named by their victims.
In January 2015, McBride gave a talk to students, staff and faculty at USC titled "Constructing a Micro-history of the Holocaust in Western Ukraine." In his lecture, he addressed the success and difficulty of working with archival sources, as well as testimonies from USC Shoah Foundation's Visual History Archive.
Appalachian State is one of the latest universities to subscribe to the Visual History Archive through ProQuest.
Like this article? Get our e-newsletter.
Be the first to learn about new articles and personal stories like the one you've just read.