We Remember Marcus Segal
Thu, 03/11/2021 - 2:11pm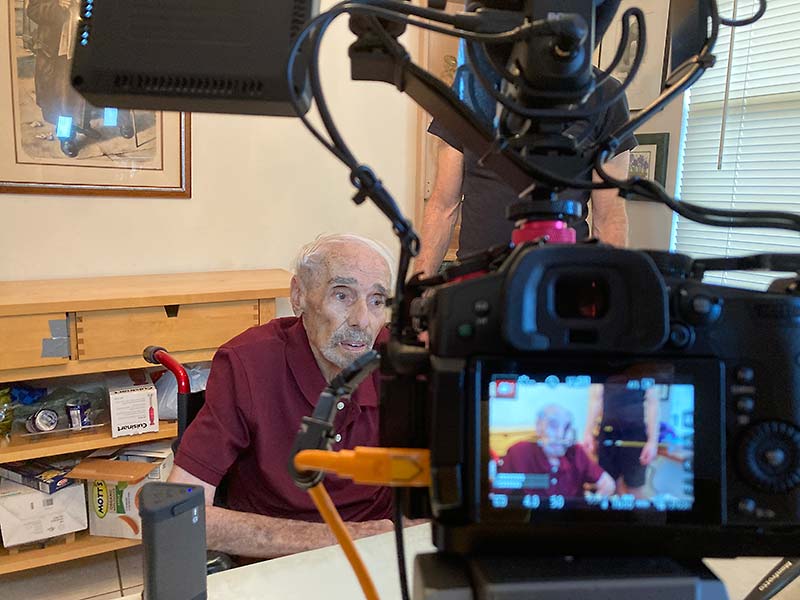 On Monday I received a voicemail from Suzan Trevor that her father Marcus Segal had passed away. I had only just met Marcus, albeit virtually, weeks before when he shared his testimony with USC Shoah Foundation on January 26th. While saddened by the news of his passing, I'm filled with immense gratitude for having had the opportunity to hear his incredible life's story in the final weeks of his life. 
Prior to his testimony, I was struck by how much love and admiration his three daughters, Ann, Suzan, and Roselin, held for their father—their endless support enabling us to record his interview despite the pandemic. In getting to know them it was clear that beyond living an extraordinary life, Marcus had been an extraordinary father.
According to Suzan and Ann, after sharing his life's story this January, Marcus's health began to rapidly decline. When I spoke with them, we wondered aloud if perhaps their father had been holding on, waiting to leave only after he had shared his story with the world. How wonderful it is to know his testimony will be available through the Visual History Archive in perpetuity.
Marcus was born in November 1922 in Strzyłki, a predominantly Jewish village in south east Poland (today Ukraine). He was born to Yaakov Segal and Chana Jamner and was one of six children. His mother, Chana, passed away when he was only five years old, and his father later remarried.
In 1938, when Marcus was 16, his father died. Marcus subsequently moved to the nearby cities of Dobromyl and Przemyśl. He attended a trade school in Przemyśl for three months before coming back to his village after Hitler declared war on Stalin in summer 1941. 
Once Marcus returned, his sister implored her boss to take Marcus to Russia. The very next day the Germans arrived, killing his eldest brother Zalman, who was only 24. Marcus attributes his sister with saving his life.
Marcus fled, going east, to escape persecution from the Ukrainians and Nazis. He was the only one of his family members to leave his town.
Marcus concealed his Jewish identity by solely speaking Russian and Ukrainian, forgoing the Yiddish he grew up speaking. He spent time with Cossacks, who gave him food and shelter for a few months. 
One day 80 Soviet cattle cars arrived and transported the group via the Trans-Siberian Railroad, only stopping once a day to feed the passengers lunch. After the harrowing month of travel, they arrived in Vladivostok, a city in the comparative safety of the Russia far east. There, a Cossack captain took a liking to Marcus. He saw Marcus was not a trained soldier and proceeded to teach him to ride a horse and shoot a gun—and Marcus was very gifted. 
Eventually the NKVD arrived, identifying the Poles among the Cossacks. Marcus denied being Polish but was ultimately sent along with anyone of suspected Polish descent to work in Siberia, in what Marcus identified as the "Punishment Battalions." Marcus described this period as a time of immense suffering, spending seven months fixing railroads, running away from one battalion to the next.
Before the war ended, Marcus who was a Master Sergeant in the Russian army, was sent to Leningrad to teach soldiers how to shoot. He was there for four months before being sent to Estonia.  In Estonia in April 1944, Marcus and his group were encircled by the Germans, who began bombing their camp. They suffered heavy casualties, Marcus himself enduring a head wound. "My friends died, and the captain told me to hide," Marcus recalled. His captain knew he would die if he stayed with the rest of the soldiers and encouraged Marcus to escape. 
On April 24, 1944, in the dead of night, Marcus successfully crossed the German lines alone. He came across more Russian soldiers before entirely losing consciousness. When he awoke he lay in a "beautiful, beautiful, beautiful" white linen hospital bed. Marcus described in his testimony thinking, "My God, I'm in heaven, I'm in paradise." He stayed in the hospital near Leningrad for about three months.
Upon being released from the hospital, Marcus asked himself, "Where am I to go? What am I to do?" Without an answer, Marcus rejoined the Russian army. He and fellow soldiers were sent to see a doctor, and when he met her, he thought she was Jewish. Marcus took a chance, hoping she'd take pity on him: he pleaded with her to send him home. "She didn't say a word," Marcus recalled. But she fulfilled his request. Marcus was sent him home in the autumn of 1944. 
Yet he had no home to return to. On July 24, 1942, his family had been taken away and killed. None of Marcus' family survived the Holocaust. 
After the war, Marcus traveled to Stalingrad to find distant relatives. On the train there he met his soon-to-be wife, Clara Yampolskaya. At 98, Marcus still glowed like a young boy when retelling the story of how they met, overjoyed with love for Clara. He described her singing, her violin playing—he fell madly in love.
Marcus and Clara spent time in an Allied displaced persons camp in Bad Reichenhall, Germany, where they gave birth to their first daughter, Ann, in January 1947. In 1949, Marcus, Clara, and Ann came to the United States by boat. 
They settled in New York City, where Marcus was a sewing machine mechanic. He eventually purchased his own sewing machine repair shop in Chelsea.  In New York, Marcus and Clara gave birth to two more daughters, Suzan and Roselin. Clara sadly passed away in 1984, and Marcus later married Sophie Toporek, who was also a Holocaust survivor.
Beyond Marcus's remarkable resilience, I was struck by his discussion of shame during his testimony. Marcus described not speaking of his experience, deciding to forgo telling anyone that he was a Holocaust survivor when he came to the United States: "I was ashamed." Through tears, he recalled thinking at the time, "I fought the Germans, I did not run away from them." Over time his wife encouraged him to tell his story.  
Marcus is survived by his three daughters, five grandchildren, and eleven great-grandchildren. The most enduring element of Marcus's legacy lies in the immense love he possessed for his family.  When asked what message he wished to pass on to future generations, Marcus proclaimed, "Be happy and healthy." I wish nothing but happiness and health to his entire family. Marcus will be greatly missed, and forever in our memories. I will be forever impacted by not only his incredible story, but the warmth his family showed me.
Like this article? Get our e-newsletter.
Be the first to learn about new articles and personal stories like the one you've just read.