USC Shoah Foundation Launches Web-Based Interactive Biography of Holocaust Survivor and Educator Pinchas Gutter on IWitness
Mon, 04/26/2021 - 2:54pm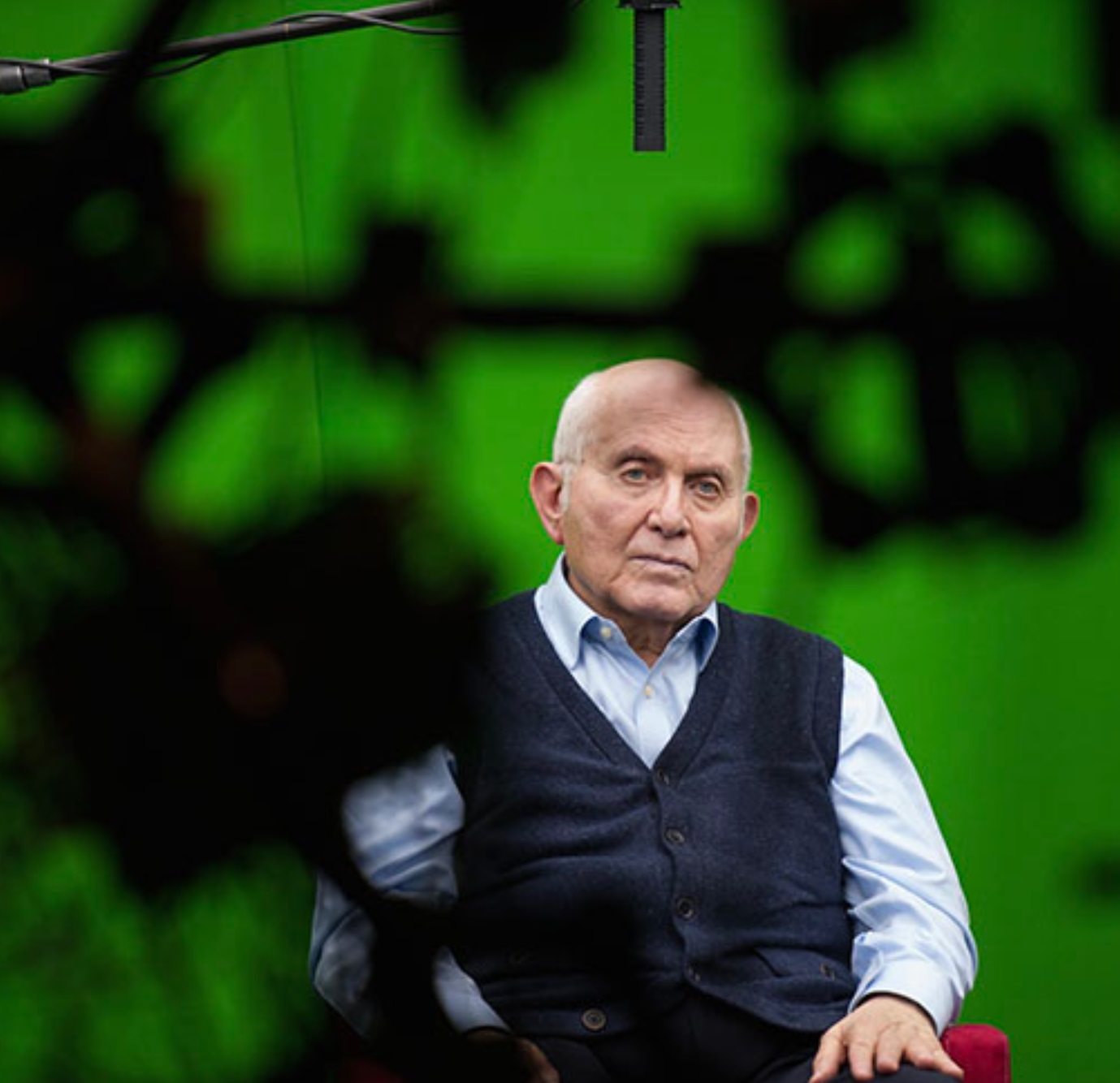 The Institute for Visual History and Education (USC Shoah Foundation) has launched 'Dimensions in Testimony Education' featuring the interactive biography of Holocaust Survivor and Educator Pinchas Gutter on IWitness, a no-cost educational website developed by USC Shoah Foundation. The technology enables teachers and students to ask questions that prompt real-time responses from a pre-recorded video of Pinchas—engaging in virtual conversation and redefining inquiry-based education. Previously available only in museums, Dimensions in Testimony Education is the first version of the groundbreaking technology built for educational use and available in classrooms via computers or mobile devices.
"Pinchas Gutter's story of hope and survival has touched thousands of people around the world, and starting today he can impact millions." said Stephen Smith, Finci-Viterbi Executive Director of USC Shoah Foundation. "As technology has advanced, the ability for us to expand access to this wonderful program to any location fulfills Pinchas' purpose and is a vital part of our mission."
Teachers and students can access Dimensions in Testimony Education at this IWitness page, which also includes several learning resources, including biographical and historical information: https://iwitnessbeta.usc.edu/dit/pinchas
Pinchas story and other Interactive survivor biographies will be available as integrated parts of new IWitness activities.
"Until now, educators, students and parents would only be able to experience Dimensions in Testimony by visiting one of our museum partners' groundbreaking installations. The education version has been designed to specifically advance learning within a classroom setting – whether in person or virtual," said Kori Street, Senior Director of Programs and Operations of USC Shoah Foundation. "We hope students will learn from Pinchas' story, and feel inspired to visit our museum partners to listen to more stories within the full capacity experience."
A recent national survey shows that Holocaust education in high school reflects gains not only in historical knowledge but also manifests in cultivating more empathetic, tolerant, and engaged students. The results also indicate that exposure to Holocaust survivor testimony, like that of Pinchas Gutter, is strongly associated with numerous positive outcomes in early adulthood including higher critical thinking skills and a greater sense of social responsibility.
"There is strong evidence that the effects of Holocaust education are amplified by the use of survivor testimony," said Claudia Ramirez Wiedeman, PhD, USC Shoah Foundation Director of Education and Evaluation. "Access to Dimensions in Testimony Education within the classroom, without limitations of geography or time, offers educators a critical resource to enhance learning and understanding of academic material."
About Dimensions in Testimony
Dimensions in Testimony is an initiative pioneered by USC Shoah Foundation to record and display testimony in a medium that highlights the significance of dialogue among Holocaust survivors and learners, and preserves the ability to do so far into the future. Dimensions in Testimony has revolutionized the concept of oral history by integrating advanced filmmaking techniques, specialized display technologies, and next-generation natural language processing to create an interactive biography. Each specially recorded interview enables viewers to ask questions of the survivor about their life experiences, and hear responses in real-time, lifelike conversation. Questions are answered naturally, as if the survivor is in the room, and through artificial intelligence, the more questions asked, the better the technology becomes. Now and far into the future, museum-goers, students and others can have conversational interactions with these eyewitnesses to history to learn from those who were there. To learn more about Dimensions in Testimony, please visit: https://sfi.usc.edu/dit .
About IWitness
IWitness is an educational website developed by USC Shoah Foundation that provides access to more than 1,500 full life histories, testimonies of survivors and witnesses to the Holocaust and other genocides for guided exploration. IWitness brings the human stories of the Institute's Visual History Archive to secondary school teachers and their students via engaging multimedia-learning activities. Designed to be participatory, academic and student-driven, IWitness addresses education standards from the Common Core State Standards Initiative (United States) and the International Society for Technology in Education, among others.
Like this article? Get our e-newsletter.
Be the first to learn about new articles and personal stories like the one you've just read.