New Swedish Holocaust Museum Inaugurated in Stockholm
Tue, 06/28/2022 - 9:02am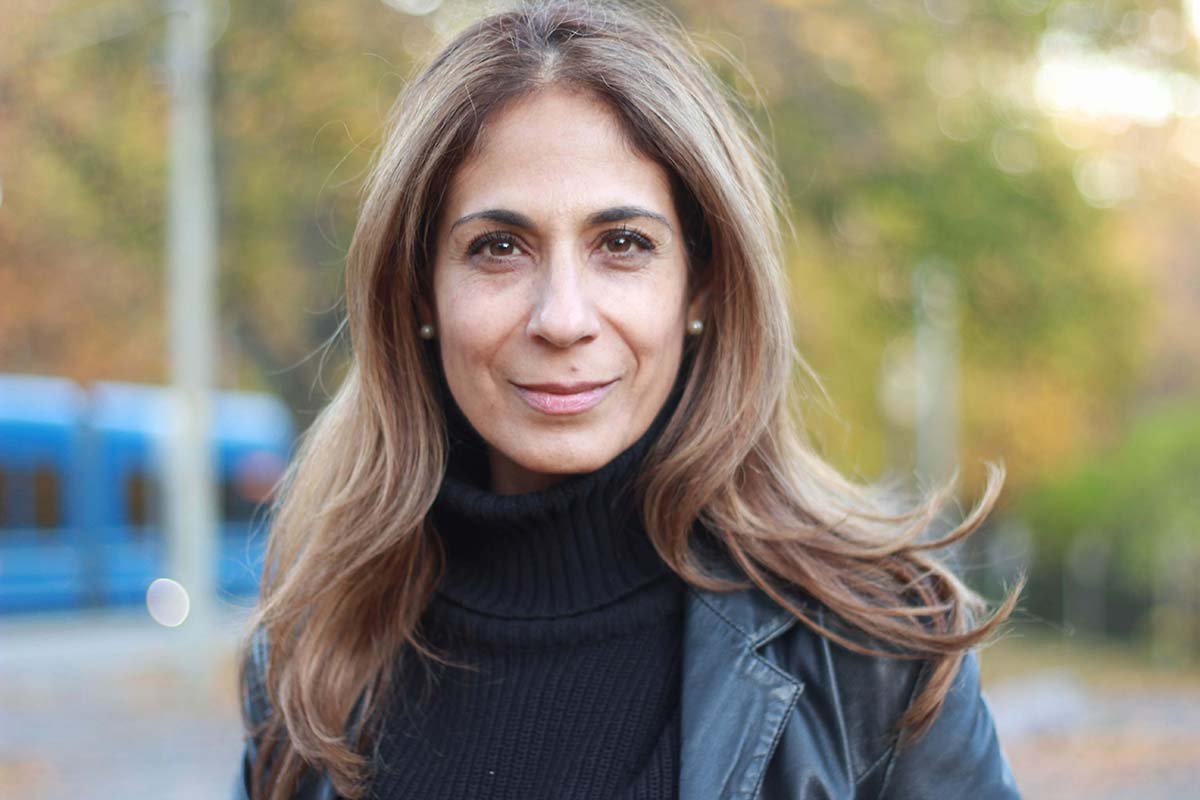 "It's very important that the Swedish Holocaust Museum is one of Sweden's National Historical Museums. We believe the Holocaust is not a Jewish concern, but that it is, and must be, a universal one." Lizzie Oved Scheja (pictured above, full interview below), founder and director of J! Jewish Culture in Sweden, speaking earlier this month after Swedish Minister of Culture Jeanette Gustafsdotter inaugurated the country's first museum dedicated to preserving and perpetuating the memory of the Holocaust.
The new Swedish Holocaust Museum in Stockholm, with its partners, is tasked with collecting objects, documents and other material related to the Holocaust, with a focus on the life stories and testimonies of Holocaust survivors with links to Sweden and the experiences of those who knew them.
"The Holocaust is part of Swedish history [and] we need to gather stories about [it to] help us understand the incomprehensible," Gustafsdotter said at the opening. "With this museum, we can continue as a society to listen to the stories of survivors when they can no longer do it themselves."
The museum, under the leadership of its new director Katherine Hauptman, is developing in stages, first as a virtual, web-based entity, then with a small selection of the museum's collection displayed at Sweden's Historical Museum later this summer, and finally with a move into a dedicated physical space in Stockholm in mid 2023.
The museum fulfills the dream of Holocaust survivor Max Safir, who survived the Auschwitz and Ebensee concentration camps and settled in Sweden in the mid-1950's. In 2018, Safir proposed that a museum be established to preserve his and other survivors' testimonies. Safir died in June 2020.
Thanks to a partnership between the Swedish History Museum, Jewish Culture Sweden and USCSF that began with the launch of the Speaking Memories exhibit in 2019, the new Swedish Holocaust Museum will be the first in Europe to host interactive Dimensions in Testimony (DiT) interviews, with two Swedish-language testimonies featuring Holocaust survivors Tobias Rawet and Elisabeth Citrom now available on the museum's website.
USC Shoah Foundation Interim Finci-Viterbi Executive Director Kori Street attended the inauguration ceremony and praised the museum's focus on testimony as a means of educating current and future generations about the Holocaust.
"Survivors have been waiting to have a permanent space to tell their stories for 25 years," Dr. Street said. "With the launch of this new museum where their voices will remain central to the story of the Holocaust in Sweden their wait is over and their stories will continue as powerful tools to build respect, understanding and empathy."
Wilhelm Lagercrantz, the operations manager for digital productions with Sweden's National Historical Museums, said the DiT testimonies are central to the new website's mission.
"Our vision with the Swedish Holocaust Museum is that the physical museum experience and the virtual, web-based experience will be equal," Lagercrantz said. "The web version of Dimensions in Testimony is a first big step towards fulfilling that vision."
Dimensions in Testimony Sweden is a collaboration between The National Historical Museums of Sweden, Jewish Culture in Sweden, and USC Shoah Foundation, and was made possible by support from Ulrika and Joel Citron and the Swedish Government.
---
Lizzie Oved Scheja has been a long-time advocate for the creation of a Swedish Holocaust Museum. She is the founder and director of J! Jewish Culture in Sweden, an independent institution that realizes high profile programs with prominent participants.  The executive director of the Gilel Storch Award for democracy and civil rights and a board member of the Institute for Holocaust Research in Sweden, Lizzie graduated from UCLA School of Fine Arts and was Israel's cultural Attaché to Sweden.
In an interview with USC Shoah Foundation, Lizzie talked about the quest to create Sweden's first Holocaust museum and what the new institution means to the country's remaining Holocaust survivors.
Tell us about how Sweden's first Holocaust Museum came about.
There was a survey done in 1997 that showed that something like 30% of Sweden's youth did not know about the Holocaust or did not believe that it even happened. So, in 2000 Swedish Prime Minister Göran Persson started an official education campaign which led to the Stockholm International Forum on the Holocaust in 2000. This put the Holocaust on the national agenda.
Before that point, Sweden had not really dealt with the Holocaust. It was not regarded as part of its history as the Holocaust did not take place on Swedish soil.  In the decades that followed World War II—and perhaps as compensation for its 'neutrality' during that war—Sweden embraced a human and civil rights agenda. The Holocaust was not discussed—it was almost 'not proper' to mention—as there was a fear of saying something wrong or of being insensitive.
The Holocaust survivors in Sweden were also quite invisible for the most part. It took initiatives like those started by Holocaust survivor Hédi Fried—a Second-Generation discussion circle and Café 84, a meeting place for survivors—to make a difference. Other examples were the formation of FFÖ (The Association of Holocaust Survivors in Sweden) and the many survivors who began telling their stories in schools. It also took the unyielding efforts of Nina Lagergren, Raoul Wallenberg's sister, to make sure that her brother was not forgotten. But these were all individual initiatives, not political or official campaigns.
My institution, J! Jewish Culture in Sweden, together with the Swedish History Museum and Paideia, started a project in 2015 that turned into an exhibition, Speaking Memories. The exhibition featured [USC Shoah Foundation's] Dimensions in Testimony and provided access to USC Shoah Foundation's Visual History Archive (VHA) and we were also able to borrow some objects from the Auschwitz-Birkenau Museum. It became an exhibition the likes of which had never been seen in Sweden, a multi-dimensional experience that made a huge impact. People came and conversed with Pinchas Gutter and Eva Schloss. They listened to the VHA testimonies and searched for their relatives' testimonies in the archive. Some found testimonies that they didn't even know their relatives had given to USC Shoah Foundation. Speaking Memories turned things around, and suddenly there were a lot of other initiatives and exhibitions. I think the time was then right for the development of a national Holocaust museum.
The Swedish Holocaust Museum will be a "virtual" entity until it sets up in a physical location in Stockholm in mid 2023.  What is the thinking behind the graduated strategy?
When we started the Speaking Memories project in 2015 we had around 40 survivors who participated—there are many more survivors in Sweden, of course —and I think at least a third of these people have since died. And many of those who are still alive are too sick or too weak to attend events. You see it from one event to the next. On January 27 [International Holocaust Remembrance Day] this year I received a prize from the Association of Holocaust Survivors. Usually when I come to these events, the first few rows are filled with survivors. This year, there were only about five survivors. It was shocking to see the survivors' rows almost empty. And that happened again when we inaugurated the Swedish Holocaust Museum earlier this month. We had about ten survivors there, including one lady who insisted on coming with her granddaughter even though she was very, very sick. Anyone who could make it there was there because the creation of the new museum means so much to them.
I believe that opening the Swedish Holocaust Museum [as a virtual entity] in June 2022 was meant, above all, for the survivors. Sure, the Swedish Government could have waited 5-8 years until the final physical museum space—which I hope will be a top notch, research-based institution—is open, but by then there probably would not have been any survivors present. The government knew that if it was sincere, it had to act fast and at least put in place the first steppingstone of the museum, to make an official and visible gesture. And so, following Prime Minister Stefan Löfven's January 2019 pledge to create a Swedish Holocaust Museum, things happened rapidly. But it took great sensibility, engagement, and determination by Stefan Löfven (and also Göran Persson, 25 years earlier) for this to happen as quickly as it has.
Can you talk about the significance of the Swedish Holocaust Museum being a part of Sweden's National Historical Museums network?
It's very important that the Swedish Holocaust Museum is one of Sweden's National Historical Museums. We believe the Holocaust is not a Jewish concern, but that it is, and must be, a universal one.  
I always believed—and I was backed by many of the survivors—that the Holocaust Museum should not be part of a Jewish institution. Instead, it should be a Swedish institution, and an independent one.  We wanted to make a clear statement that WWII and the Holocaust are part of Swedish history, and, because of that, the Holocaust Museum needed to be a national entity. Now it is the seventh museum under the auspices of Sweden's National Historical Museums. I think that's fantastic.
Like this article? Get our e-newsletter.
Be the first to learn about new articles and personal stories like the one you've just read.