Partnership Brings Survivor Voices to Hearts and Homes
This Yom HaShoah, USC Shoah Foundation and Zikaron BaSalon are expanding a grassroots revolution that is changing how the Holocaust is commemorated.
Tue, 03/28/2023 - 2:00pm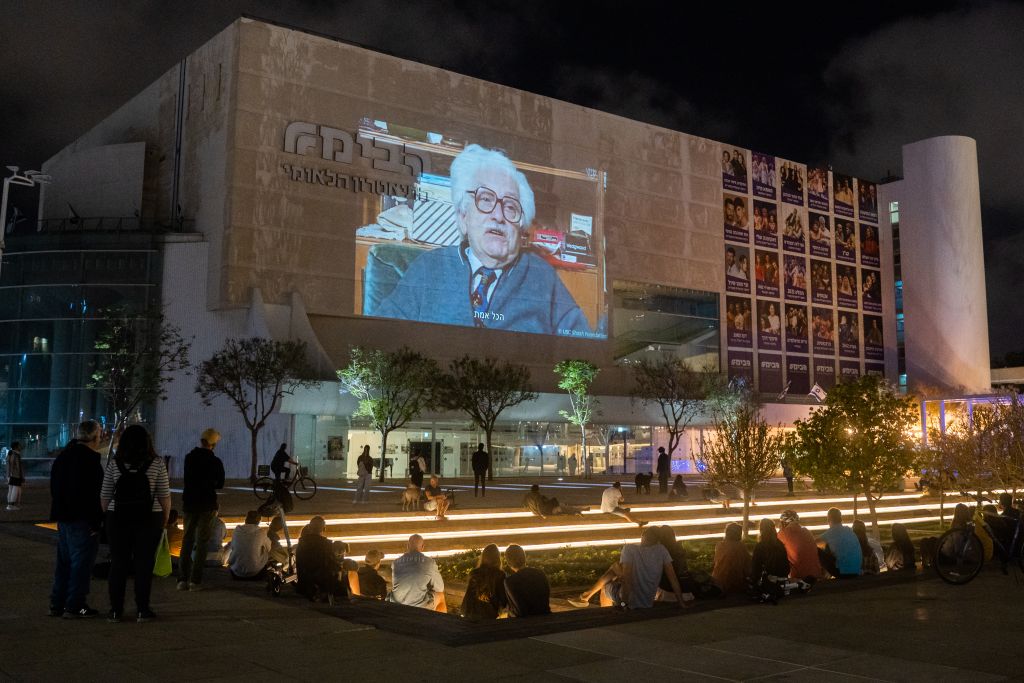 They have gathered on living room sofas, on university lawns, in synagogue sanctuaries, in public squares, and even in embassy conference rooms for intimate conversations that have a resounding global impact. Since 2011, more than 2 million people have met with Holocaust survivors to learn about their experiences and to help carry their histories and their hopes into the future.
The effort is the work of a grassroots organization in Israel called Zikaron BaSalon, and it relies on an empowering model: A volunteer host invites a Holocaust survivor to speak with family and friends at a gathering of any size, at any location. Zikaron BaSalon provides hosting tips, discussion prompts, and support material to create a meaningful discussion. To date, participants in 65 countries have hosted survivors at salons, often to observe Yom HaShoah, International Holocaust Remembrance Day, or other significant dates.
But, 78 years after the end of World War II,  Zikaron BaSalon is acutely aware that it needs to transition into a new era of remembrance, one that doesn't rely on living survivors.
"As long as we have living survivors, these are the people that need to be in the salons," said Sharon Buenos, global director of Zikaron BaSalon. "But unfortunately, we don't have many survivors left, and there are many regions that have no survivors at all. And yet we still have the duty to remember."
The potency of firsthand accounts is especially significant in an era of surging antisemitism, growing ignorance, and free-flowing Holocaust misinformation.
Last year, USC Shoah Foundation and Zikaron BaSalon forged a partnership to keep the model of intimate engagement alive, using testimonies from the Visual History Archive. In 2022, hundreds of people hosted salons centered on recorded interviews with survivors through Zikaron BaSalon/Bringing Testimony Home.
The hope is that even more people will sign up for Yom HaShoah, this year on April 17 and 18. Zikaron BaSalon/Bringing Testimony Home is providing hosting kits containing a 30- to 45-minute video of edited testimony, along with discussion prompts, material for historical context, and tips for moderating the evening. The idea is to empower hosts to lead guests through a meaningful engagement with the testimony—and with each other. Individuals as well as organizations are invited to host.
"We are always trying to find new ways for people to engage with the myriad voices we have in our Visual History Archive," said Dr. Kori Street, Deputy Executive Director of USC Shoah Foundation. "Zikaron BaSalon's model of bringing testimonies into homes is a simple and direct way to keep these stories alive in people's hearts and minds."
Buenos said she was thrilled to see that a sense of intimacy, so central to Zikaron BaSalon's success, carried over from the salon with living survivors to those using testimony.
"When you hear a person's story, you understand one perspective, and one narrative, and you can bring yourself into that, and you see the story in a different way," she said, especially when you are "sitting with your close friends and your family and you are all snuggled on one sofa."
For Zikaron BaSalon/Bringing Testimony Home, USC Shoah Foundation's team prepared seven testimonies from the Visual History Archive in Hebrew, English and Spanish that cover a wide range of experiences.
The testimonies featured in the kits include: Agnes Adachi, born in Budapest, who was an aide to rescuer Raoul Wallenberg; Dr. Edith Eger, who survived Auschwitz and became a prominent author and psychologist; Elie Alevy, who was interned in the Salonika ghetto in Greece before being transported to Auschwitz; Erika Gold, who worked as a courier for the French resistance as a teenager; Kurt Thomas, who escaped the Sobibor death camp during the prisoner uprising of 1943; and Yehuda Bakon, who survived Auschwitz and later became a prominent Israeli artist and one of the "Birkenau Boys."
The do-it-yourself ethos of Zikaron BaSalon appeals to the younger generations, said Dov Forman, Young Spokesperson for USC Shoah Foundation. Forman, who is 18 and lives in London, creates TikTok videos with his 99-year-old great grandmother, Lily Ebert, that range from conversations about her experience in Auschwitz to quirky Shabbat Shalom messages. The videos have attracted hundreds of millions of views.
Forman encourages others to explore and share their own families' stories.
"There is so much hatred in the world, and social media is an echo chamber where misinformation and Holocaust denial and antisemitism can spread so quickly,"  said Forman, who last year hosted a salon for his family and friends. "The only vaccine to hatred is education, and I think the way to combat misinformation is not by getting into fights with people, but by using social media to do the opposite – to spread love and spread positivity, and to spread survivors' voices."
Learn more about registering to host a Zikaron BaSalon event at your home or your community center.
A version of this article was first published in March 2022.
Like this article? Get our e-newsletter.
Be the first to learn about new articles and personal stories like the one you've just read.