Breakfast with Paula
Sun, 09/27/2015 - 3:00pm
"Coffee?" said the waitress. "No, none for me please!" said Paula.
"I can't stand coffee!" she said, leaning forward to me before uttering back to the waitress. "Espresso please!" She giggled a little before telling me that espresso was her little dessert in the morning.
She would continue to tell me about her disdain for coffee, something we shared. For most, this conversation would go by unnoticed, insignificant chit-chat. Paula, however, is a Holocaust survivor and any discussion with a survivor puts a significant light around many of the simplest things, like coffee. It didn't hit me at that moment, but shortly after, when considering the conditions Paula survived as a child, in Ostrowiec forced labor camp and later Auschwitz-Birkenau; coffee, or mud as she would refer to it in her testimony, was one of the very few things she was given to eat or drink.
As we continued to talk, she shared stories of living in a displaced persons camp for six years after the war, her travels, family and the previous day's events, including Paula speaking at USC Shoah Foundation's Ambassadors for Humanity Gala in Detroit.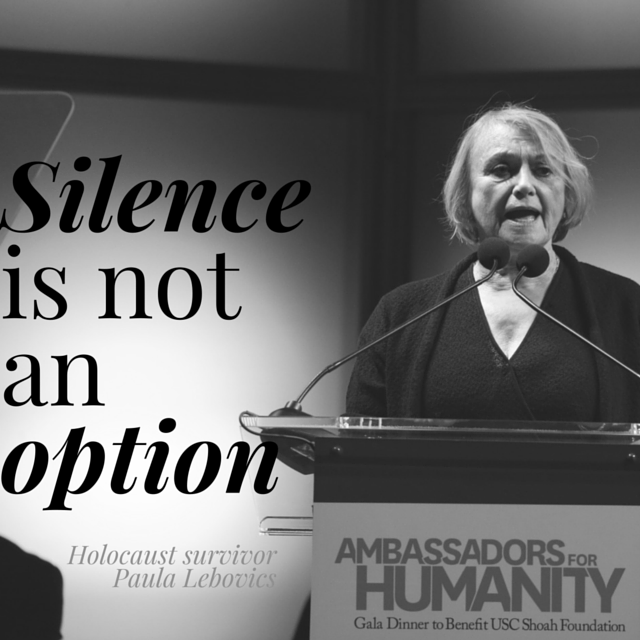 In talking about the gala activities, a long day that left me exhausted, Paula apologized to me for not having enough energy for the students during their IWitness presentations. I was stunned by her apology. Paula, who had enthralled me and 1,000 other guests at the gala, and captivated the students with her powerful message of hope and her personal motto that 'silence is not an option,' was apologizing for her lack of energy?
I suddenly felt myself sinking in my chair. I knew well the power of her testimony and how her words to students will never be forgotten. Her story moved people and showed why her contribution to USC Shoah Foundation will be a powerful legacy for years to come. But she was sorry for not giving it her all.
It was then I knew she had stolen any excuse I could ever come up with for not doing my best work every day as an educator and IWitness regional consultant. She left me with no space to idly stand by and say I was too busy with other work. I have worked in Holocaust education for nearly 20 years and have always been inspired by survivors and their energy to share some of the most difficult chapters of their story with students.  But now I realize that I too would need to muster the same energy and humility of an eighty-year old Holocaust survivor to continue sharing their stories and inspiring students to do the same.
We all know we are coming to the end of an era as survivors pass on. As educators, we know that when we hear the testimony of survivors, the responsibility to share and bear witness to future generations lay squarely on our shoulders. When I got home from Detroit, I went back to IWitness and watched Paula's testimony again and heard her sharing about coffee in Birkenau. I knew that I had the tool that would make sharing her story possible. It was now my job to gain the strength and stamina to carry that legacy back to our classrooms.
And to Paula, I owe you my energy as I continue to share your story along with the other 1,500 testimonies in IWitness. But I owe you so much more than that. Next time in LA we will skip past the coffee and go straight to dessert!
Like this article? Get our e-newsletter.
Be the first to learn about new articles and personal stories like the one you've just read.