Shoah Foundation Honors President William Jefferson Clinton with the Ambassadors for Humanity Award
Tue, 11/30/2004 - 2:12pm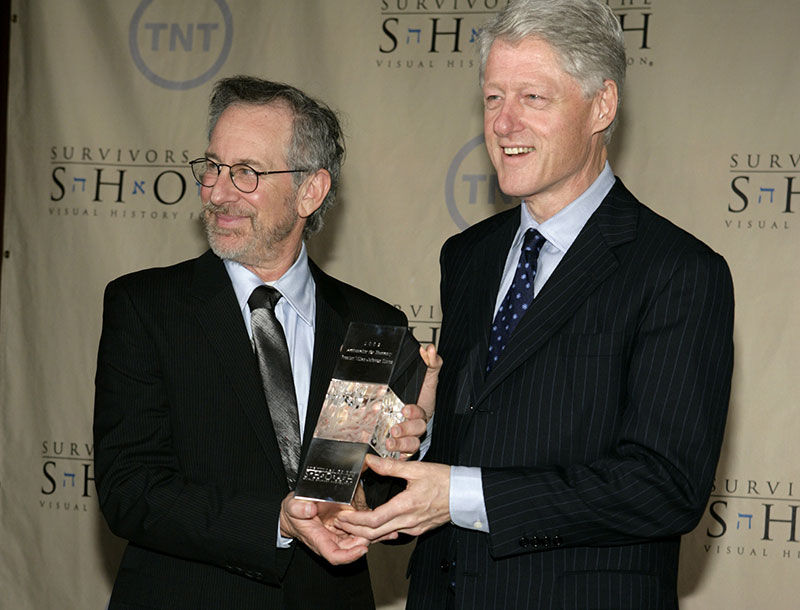 Steven Spielberg, founder of Survivors of the Shoah Visual History Foundation, will present the Foundation's annual Ambassadors for Humanity Award to President William Jefferson Clinton on February 17, 2005 in Los Angeles.
The Shoah Foundation's archive is the largest collection of visual history testimonies in the world. It contains videotaped interviews from nearly 52,000 Holocaust survivors and other witnesses, collected in 56 countries and in 32 languages. The award honors individuals who embody the Shoah Foundation's goal of using the archive to promote tolerance and cultural understanding.
President Clinton has been a supporter of the Foundation since its inception in 1994. He visited the Foundation in 2002 and was moved by the global reach of its educational mission to overcome prejudice, intolerance, and bigotry—and the suffering they cause—through the educational use of the Foundation's visual history testimonies.
After leaving the White House, President Clinton's humanitarian work continued, through the William J. Clinton Foundation where he has dedicated himself to strengthening the capacity of people in the United States and throughout the world to meet the challenges of global interdependence—making him a true Ambassador for Humanity.
"Ambassadors for Humanity promote tolerance and social justice through social action and philanthropy," explained Douglas Greenberg, Shoah Foundation President and CEO. "With passionate dedication to promoting cross-cultural understanding throughout his presidency and in recent years, President Clinton has become a role model for this, and future generations."
Steven Spielberg, Shoah Foundation Founding Chairman, said: "President Clinton's leadership around the world in the struggle against racial, ethnic, and religious bigotry accords perfectly with the Shoah Foundation's mission and makes him an ideal recipient of our annual award. He has led by example and inspired others to give of themselves to build a better future."
Turner Network Television (TNT), for the second consecutive year, is the Ambassadors for Humanity Dinner sponsor. "We believe that the educational mission of the Shoah Foundation to enable survivors to inspire young people is worthy of our continued support," said Steve Koonin, Executive Vice President and Chief Operating Officer for TNT and TBS. "We applaud the visionary work of both President Clinton and the Shoah Foundation and are proud to honor their hard work.
Like this article? Get our e-newsletter.
Be the first to learn about new articles and personal stories like the one you've just read.