Echoes and Reflections Holocaust Curriculum Recognized by Peers with National Media Award
Sat, 11/03/2007 - 12:00am
10-part curriculum on the Holocaust.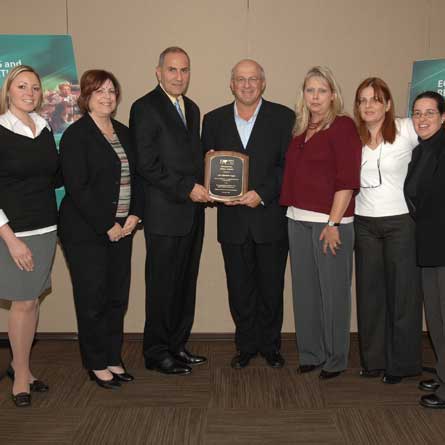 BALTIMORE, MARYLAND—Echoes and Reflections, a groundbreaking multimedia curriculum on the Holocaust, has been honored for its use of visual history testimony and its educational website by the National Association for Multicultural Education (NAME), with its 2007 National Multicultural Media Award.  The award recognizes individuals and institutions that make "outstanding contributions toward multicultural education, educational equity and social justice."
Echoes and Reflections is a comprehensive 10-part curriculum on the Holocaust that uses visual history testimony from survivors and other witnesses and additional primary source documents, including maps, photographs, timelines, literature excerpts, and other materials.  The curriculum was produced primarily for use in high schools in partnership with the Anti-Defamation League (ADL), the USC Shoah Foundation Institute for Visual History and Education, and Yad Vashem.  Since its launch in July 2005, the curriculum has reached an estimated 600,000 students in schools across the country, and over 4,000 educators nationwide have participated in intensive training sessions on the use of the curriculum facilitated by the 3 partner organizations.
Yossie Hollander, benefactor of Echoes and Reflections, states, "We have an obligation to teach our kids what hate and racism can cause.  It is our only chance to prevent genocide now and in the future."  Additional gifts from Larry Glick and Howard Berkowitz allow the curriculum to be distributed at training programs at no charge to educators.
Deborah A. Batiste, Project Director for Echoes and Reflections, will accept the award on behalf of the three partner organizations during the 17th Annual International NAME Conference in Baltimore on November 3.
More information on Echoes and Reflections is available at http://www.echoesandreflections.org/.
The Anti-Defamation League, founded in 1913, is the world's leading organization fighting anti-Semitism through programs and services that counteract hatred, prejudice and bigotry.  www.adl.org
The USC Shoah Foundation Institute for Visual History and Education is part of the College of Letters, Arts and Sciences at the University of Southern California.  The Institute's mission is to overcome prejudice, intolerance, and bigotry—and the suffering they cause—through the educational use of the Institute's visual history testimonies.  sfi.usc.edu
Yad Vashem, the Holocaust Martyrs' and Heroes Remembrance Authority, was established by the Knesset in 1953.  Located in Jerusalem, it is dedicated to Holocaust remembrance, documentation, research and education.  www.yadvashem.org