Museum Education Directors Trained on Echoes and Reflections
Wed, 10/26/2011 - 12:00am
Goal is for an additional 1,000.

Seminar at Holocaust Memorial & Tolerance Center of Nassau County introduces new training model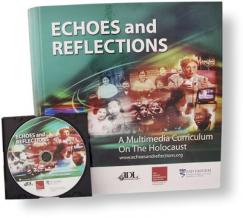 In September, more than a dozen education directors of Holocaust museums and memorial centers from around the country were trained on Echoes and Reflections, a multimedia curriculum on the Holocaust developed in partnership with the Anti-Defamation League and Yad Vashem.  The seminar was hosted by the Holocaust Memorial & Tolerance Center of Nassau County, under the leadership of Beth Lilach, and was organized by Yad Vashem.

Unlike previous Echoes and Reflections training seminars—which have reached more than 14,000 educators and community leaders in all 50 states—the September seminar was a pilot of a new training model geared specifically toward education directors of museums and memorial centers.  By equipping these leaders to offer Echoes and Reflections training programs at their institutions, and leveraging their expertise in the field of Holocaust education and their relationships with educators in their own local communities, the partners hope to reach an additional 1,000 educators in 2012.

All three partners presented at the seminar.  In addition, participants were introduced to IWitness, a new online application for teachers and students, and companion to Echoes and Reflections, that will make more than 1,000 of the Institute's testimonies available over the Internet; the Institute plans to provide each participant with a training kit when IWitness launches this year.  Click here to learn more about IWitness.

Development of Echoes and Reflections was made possible by generous funding from Dana and Yossie Hollander.  Visit echoesandreflections.org to learn more about the curriculum.