Jane Fonda urges remembrance of sexual violence during the Holocaust
Tue, 11/13/2012 - 12:00am
Actress, activist speaks at international symposium convened by USC Shoah Foundation and Remember the Women Institute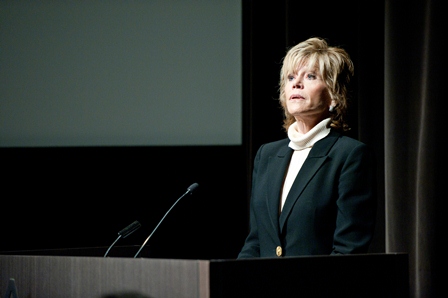 LOS ANGELES, California (November 13, 2012) - A historic international symposium on sexual violence during the Holocaust took place on November 7–8, 2012, convened by USC Shoah Foundation – The Institute for Visual History and Education and Remember the Women Institute. The approximately 20 academics and activists who participated have all worked on this issue, which has been overlooked by most historians for nearly 70 years. A highlight of the two-day symposium was a public event with Oscar-winning actress Jane Fonda on November 8, also co-sponsored by Equality Now. Ms. Fonda read excerpts from And the Rat Laughed, a novel by acclaimed Israeli writer Nava Semel, herself a child of Holocaust survivors. Published in English in 2008, the novel tells the story of a five-year-old Jewish girl who was sexually abused by the son of Polish farmers who hid her from the Nazis. Ms. Fonda also introduced a clip reel from a survivor's testimony about rape; the testimony was provided by the USC Shoah Foundation, and the clip reel was produced for the occasion by the Foundation and Remember the Women Institute. Following Ms. Fonda's remarks, Equality Now President Jessica Neuwirth moderated a panel discussion with Remember the Women Institute Executive Director and Sexual Violence against Jewish Women in the Holocaust co-editor Rochelle G. Saidel, and USC Shoah Foundation Executive Director Stephen D. Smith.
The symposium, held at USC Hillel, was inspired by Sexual Violence against Jewish Women in the Holocaust, edited by Dr. Sonja M. Hedgepeth and Dr. Saidel (Brandeis University Press, 2010), the first scholarly text ever published on the subject. The symposium focused on collecting new testimony to make victims' voices heard; discovering existing documentation; compiling already-published citations of sexual violence; and ensuring that sexual violence is included in the Holocaust narrative.
"When thinking about the issue of genocide, sexual abuse is not a part of our consideration. But it needs to be, because women as a group are often targeted [because] they are women," Smith said. "I'd like to thank all the women who have led us so courageously to raise this issue... But I want to say, as a man, that I accept my responsibility to raise this [issue] with other men, and to find other men to speak out on this issue, because this is our issue."
"It wasn't just in the camps, but also in the ghettos, in hiding, on death marches, and as private sex slaves of Nazis and their collaborators in the East," Saidel noted. "There was sexual abuse by Nazis, Kapos [supervisor-prisoners], and by Jewish and non-Jewish camp inmates with more privileges. Women sometimes were forced to accept rape in exchange for food and survival. There were all kinds of stories and situations. And there were also men who were sexually violated."
The following statement was issued after the symposium by those participants listed below:  
Symposium on Sexual Violence during the Holocaust: Group Statement
Evidence, information, and scholarship are emerging that sexual violence, long largely ignored, was an integral part of the Holocaust in many forms. Absence of acknowledgment of this reality has harmed not only survivors but also the understanding of and efforts to prevent genocide, and efforts to stop sexual violence in genocide, war, and every day. We hope that increasing awareness of this subject, obscured by shame and denial, will bring recognition to the victims—many of whom did not survive—to rectify this omission from history, and support the work of those who oppose these atrocities.
Patrice Bensimon, France
Dr. Paula David, Toronto
Dr. Monika Flaschka, USA
Dr. Eva Fogelman, USA
Dr. Myrna Goldenberg, USA
Dr. Sonja Hedgepeth, USA
Karen Jungblut, USA
Dr. Dan Leshem, USA
Dr. Catharine MacKinnon, USA
Daisy Miller, USA
Jessica Neuwirth, USA
Dr. Amy Parish, USA
Dr. Andrea Peto, Hungary
Dr. John Roth, USA
Dr. Rochelle Saidel, USA and Israel
Karen Shulman, USA
Dr. Stephen Smith, USA
Dr. Elisa von Joeden-Forgey, USA
Dr. Zoe Waxman, United Kingdom
About the sponsoring organizations
USC Shoah Foundation – The Institute for Visual History and Education (sfi.usc.edu) is dedicated to making audio-visual interviews with survivors and other witnesses of the Holocaust and other genocides a compelling voice for education and action. The Institute's current collection of 51,696 eyewitness testimonies contained within its Visual History Archive preserves history as told by the people who lived it and lived through it. Housed at the University of Southern California, within the Dana and David Dornsife College of Letters, Arts and Sciences, the Institute works with partners around the world to advance scholarship and research, to provide resources and online tools for educators, and to disseminate the testimonies for educational purposes.
Through research and related activities, Remember the Women Institute (www.rememberwomen.org) promotes the stories of women so they might be integrated into history and collective memory. The work of the Institute is intended to influence academic research and publications, as well as popular culture, by encouraging the inclusion of all of humanity in historical and commemorative representations. The projects of the Institute include carrying out research on women and the Holocaust, co-publishing books, creating exhibits, organizing panels at conferences, and cooperating with other institutes and organizations for programs, films, and exhibits.
Founded in 1992, Equality Now (www.equalitynow.org) is an organization that advocates for the human rights of women and girls around the world by raising international visibility of individual cases of abuse, mobilizing public support through our global membership, and wielding strategic political pressure to ensure that governments enact or enforce laws and policies that uphold the rights of women and girls.
Like this article? Get our e-newsletter.
Be the first to learn about new articles and personal stories like the one you've just read.