Praha: Vzpomínky pamětníků svedly dohromady vědce i pedagogy
Sat, 05/18/2013 - 5:26pm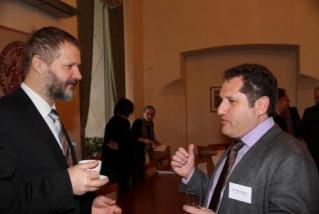 Tři roky po zřízení Centra vizuální historie Malach na Karlově Univerzitě v Praze coby přístupového místa k Archivu vizuální historie je jeho význam pro výzkumné a vzdělávací aktivity založené na zkoumání svědectví pamětníků neustále potvrzován.  

U příležitosti třetího výročí svého otevření uspořádalo CVH Malach konferenci, která se zabývala vzpomínkami uprchlíků, vzájemnými vztahy Židů a Romů po roce 1939, a dalšími tématy, vše v kontextu práce se svědectvím jako primárním zdrojem informací. USC Shoah Foundation zastupoval její ředitel pro technologie, Sam Gustman, který představil poslední verzi rozhraní Archivu vizuální historie a jeho místopisný vyhledávač založený na Google Maps. Konference byla zakočena koncertem hudebního tria ve složení Michal Hrubý (klarinet), Jaroslav Svoboda (harmonium) a Petr Tichý (kontrabas), při kterém zazněla scénická hudba ke staročeské hře Ester od Karla Reinera, vězně terezínského ghetta.
Like this article? Get our e-newsletter.
Be the first to learn about new articles and personal stories like the one you've just read.