Director of International School for Holocaust Studies of Yad Vashem Visits USC Shoah Foundation
Wed, 07/31/2013 - 10:49am

USC Shoah Foundation – The Institute for Visual History and Education welcomed Eyal Kaminka, the newly-appointed director of the International School for Holocaust Studies (ISHS) of Yad Vashem, to its offices on July 26 for a discussion about the ways that the two organizations cooperate and partner in a variety of educational programs.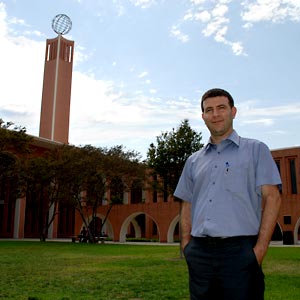 Kaminka traveled to Los Angeles to meet with Kori Street, director of education, and her colleagues at USC Shoah Foundation in order to discuss Echoes & Reflections, a program that the two organizations founded with the Anti-Defamation League in 2005.  In addition to discussing the growth of Echoes & Reflections, Kaminka offered some insight into the goals for ISHS's own educational programs.
Launched in 2005, Echoes & Reflections is a leader in helping U.S. secondary educators deliver accurate and authentic Holocaust education, providing comprehensive professional development and multimedia resources suitable for history/social studies, English/language arts, fine arts, social sciences, religion, and other content areas. More than 18,000 educators have received the training, which features active, collaborative learning, and an array of resources that includes the Shoah Foundation's Visual History Archive and activities on IWitness.
Kaminka officially began his appointment as Lilly Safra Chair of Holocaust Education and director of ISHS at the end of June.  Kaminka holds a PhD in education and an MBA and is a published Hebrew author whose works include Keeper of Memories and Outcome-Oriented Education. He is also director of education of Joytunes, an Israeli start-up that focuses on education technologies.
ISHS of Yad Vashem offers educational materials, lesson plans, and other resources to promote Holocaust education and remembrance in Israel and abroad. Yad Vashem was established in Jerusalem in 1953 as the world center for documentation, research, education and commemoration of the Holocaust.
Like this article? Get our e-newsletter.
Be the first to learn about new articles and personal stories like the one you've just read.