Holocaust Museum Houston wrapped up a four-day Echoes and Reflections seminar for Holocaust museum educators today. The seminar focused on how to support the educators' capacity to deploy Echoes and Reflections professional development in their local regions.
Echoes and Reflections is the Holocaust curriculum guide for secondary school teachers produced by Yad Vashem, the Anti-Defamation League and USC Shoah Foundation. The 10 lessons incorporate primary source documents, literature, photographs and testimony from USC Shoah Foundation's Visual History Archive. Each lesson explores a different aspect of the Holocaust and encourages students in grades 6-12 to build an authentic and comprehensive portrait of the past as they frame their own thoughts, resulting in a deeper level of interest and inquiry.
The Visual History Archive contains almost 52,000 audiovisual testimonies from the Holocaust and other genocides conducted in 57 countries and in 33 languages.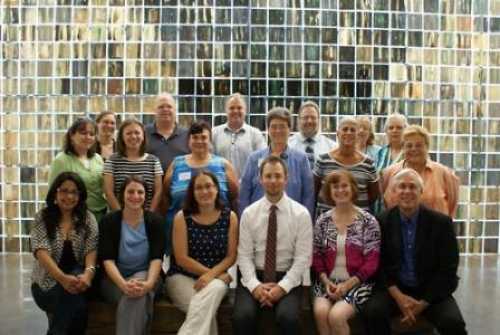 Over the course of the four-day program in Houston, designed specifically for education directors at Holocaust museums, participants from across the country received detailed presentations about the Echoes and Reflections curriculum, including how it incorporates testimony from the Visual History Archive and addresses Common Core State Standards, from representatives from Yad Vashem, USC Shoah Foundation and the Anti-Defamation League. Participants then worked in small groups, along with the Echoes and Reflections representatives, to model Echoes and Reflections lessons.
The Houston seminar included tours of the Holocaust Museum Houston (HMH) and a dinner with Holocaust survivor and HMH board member Dr. Anna Steinberger. Dr. Alan Berger from Florida Atlantic University also gave a lecture about the major paradigm shifts in literary memory of the Holocaust titled "Shaping Holocaust Memory: The Second and Third Generation Response."
Participants received an introduction to IWitness, USC Shoah Foundation's educational website that provides students and teachers access to more than 1,300 full life histories and testimonies of survivors and witnesses to the Holocaust and other genocides for guided exploration, multimedia projects, activities and lessons. IWitness can be used as an online companion for Echoes and Reflections-trained educators, as it has been designed to enhance and expand the opportunities to use visual history testimony in the classroom.
Finally, participants had the opportunity to share trends they are seeing in their regions with respect to professional development, learn about strategies that are being employed to increase the number of participants attending programs, and brainstorm ways that they and Echoes and Reflections can work together more closely to increase attendance at programs in 2014.
Educators interested in attending an Echoes and Reflections seminar can visit http://www.echoesandreflections.org/training_in_your_area/ for more information. To help plan a program in your area, email echoes@adl.org.