Back to School with Echoes and Reflections - Part 1
Fri, 09/13/2013 - 9:55am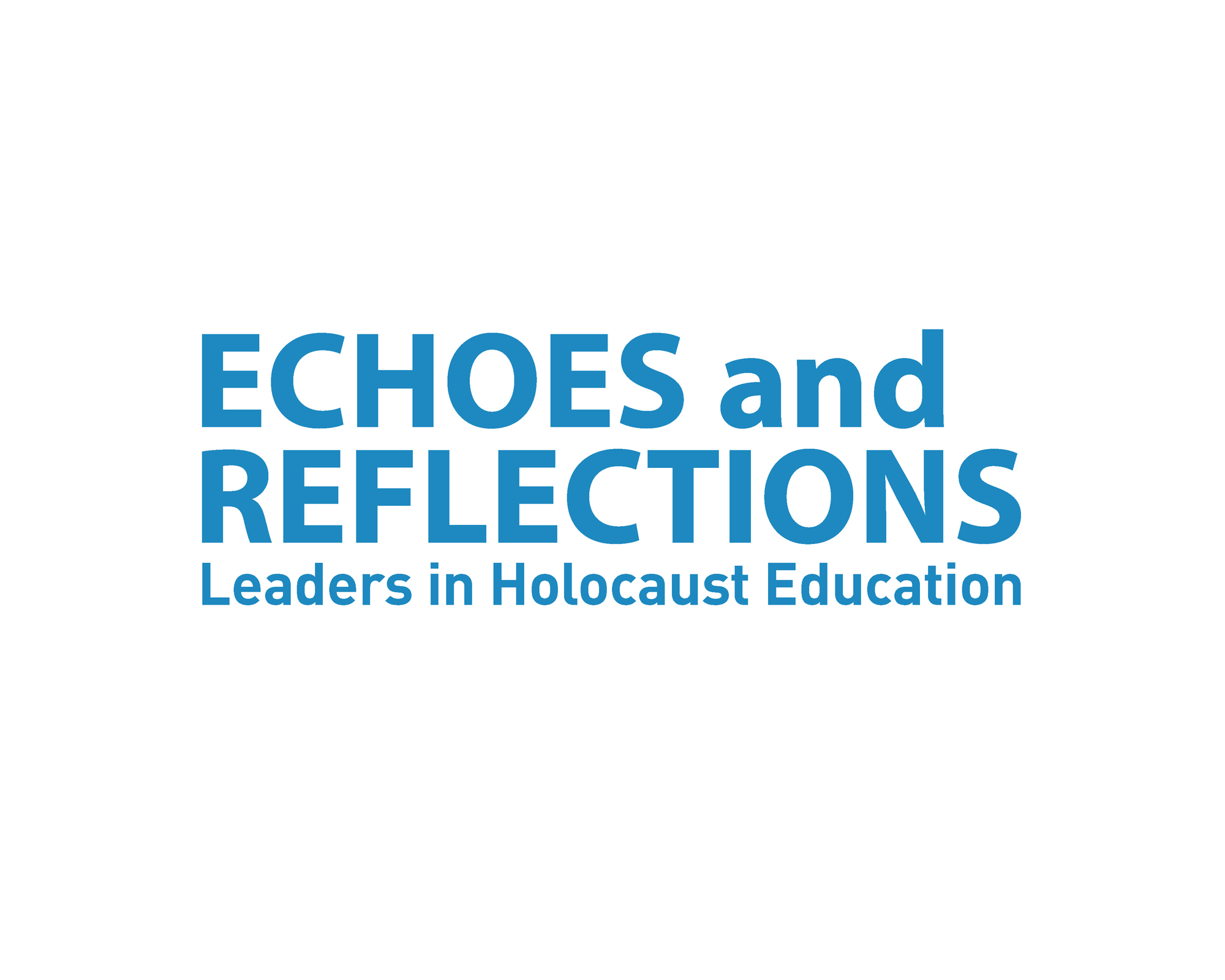 Today begins a 10-part series called "Back to School with Echoes and Reflections." Each installment will take a detailed look at one of the 10 Echoes and Reflections lessons.
Echoes and Reflections is a multimedia professional development program for secondary school teachers in the United States that provides them with accurate and authentic Holocaust information for their classrooms.  Programs are held around the country at no cost to teachers or schools, and participants receive a complimentary copy of the 10-part Teacher's Resource Guide that equips them with the tools they need to help today's students study the Holocaust as a significant event in human history.
Echoes and Reflections combines the resources and competencies of three world leaders in education―the Anti-Defamation League's experience in curriculum and professional development, access to USC Shoah Foundation's Visual History Archive of survivor and witness testimonies and digital educational tools, and Yad Vashem's historical expertise and primary source materials―resulting in the most comprehensive Holocaust education program available.
Echoes and Reflections includes everything educators need to teach the complex issues of the Holocaust. Each lesson within the Echoes and Reflections Teacher's Resource Guide explores a different aspect of the Holocaust and encourages students in grades 6-12 to build an authentic and comprehensive portrait of the past as they frame their own thoughts, resulting in a deeper level of interest and inquiry.
The modular design of the Echoes and Reflections Teacher's Resource Guide includes photographs, literature, artwork, diary entries, government documents and other primary source materials that teachers may easily photocopy and distribute to students. Lessons also incorporate testimony from USC Shoah Foundation's Visual History Archive on DVD Each lesson addresses Common Core State Standards, and each one has been integrated into IWitness. IWitness is USC Shoah Foundation's educational website that provides students and teachers access to more than 1,300 full life histories and testimonies of survivors and witnesses to the Holocaust and other genocides from the Visual History Archive for guided exploration, multimedia projects, activities and lessons.
To date Echoes and Reflections has prepared almost 20,000 educators and community leaders across the United States to use the Teacher's Resource Guide effectively. Teachers interested in more information about Echoes and Reflections should contact echoes@adl.org.
Lesson 1: Studying the Holocaust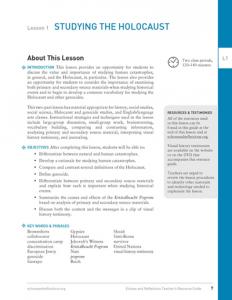 Echoes and Reflections' first lesson, Studying the Holocaust, prepares students for in-depth examination of the Holocaust.
Educators begin by discussing the definition of words such as catastrophe (in particular, the difference between human and natural catastrophes), genocide and Holocaust with their students.
Next, students read and discuss a variety of primary source documents about the Kristallnacht Pogrom, a two-night state-sanctioned rampage of Jewish homes and businesses across Germany, Austria and Sudetenland in 1938. These documents include first-person descriptions of riots, military and government correspondence, and photographs, enabling students to practice analyzing primary sources.
Students are also introduced to testimony from the Visual History Archive, USC Shoah Foundation's collection of nearly 52,000 audiovisual testimonies of survivors and other witnesses of the Holocaust and other genocides. Lesson 1: Studying the Holocaust includes a DVD clip of Holocaust survivor Kurt Messerschmidt's testimony about Kristallnacht. After viewing his first-hand account of the night, teachers encourage students to talk about what they learned from the testimony that the other sources did not convey, how they felt while watching the clip, and what some of the benefits and challenges are of using visual history testimony to learn about historical events.
To integrate IWitness into the lesson, teachers may also assign Kurt Messerschmidt's IWitness Information Quest activity.
After completing Lesson 1, students will have gained a better understanding of key vocabulary associated with the study of the Holocaust and become familiar with the types of primary source materials they will continue to use to learn about it.
Next week – Lesson 2: Antisemitism
Like this article? Get our e-newsletter.
Be the first to learn about new articles and personal stories like the one you've just read.