Going Beyond Gold
Mon, 09/30/2013 - 2:26pm
There's more at stake in education than standardized test scores
By Peter Cook
I teach economics and government at a public high school in Los Angeles, and I love it. But as teachers, we're up against a school-reform agenda that's focused on standardized testing, which leads to standardized thinking; regardless of how well they test, it doesn't prepare students for the difficult moral decisions they'll face.
One of the things I learned as a Marine Corps sergeant is that if you want to get any traction in teaching, you've got to get the learning environment right. You've got to put culture before content, and you have to recognize that to be educated is to be able to tell a story.
The Institute's Master Teacher workshops demonstrate what can happen when the right culture meets extraordinary content. In 2011 I was accepted into the program, and was one of more than a dozen teachers who spent a week that summer being schooled on research methods, digital literacy, and character education, all so that we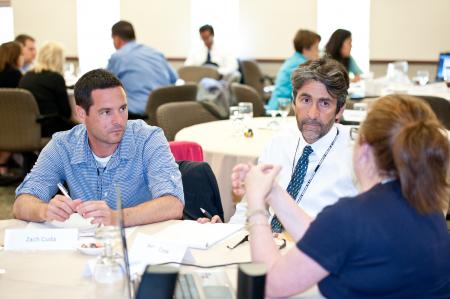 could comb through the Visual History Archive, extrapolate pieces of compelling eyewitness testimony, and fold them into principled lessons for our students. Imagine you're a student studying cost-benefit analysis in my economics class. Instead of taking notes while I lecture, you're watching a Holocaust survivor explain what it was like at Auschwitz to stand in line for food, deciding whether to wait for a chance at the front, where Dr. Mengele makes his selections, or go hungry another day to avoid his attention. Presented this way, the concept of cost-benefit analysis moves into a deeply philosophical space, where students begin to wrestle with issues of economics and morality. The same approach works in my government class, where the testimonies make it possible for veterans who liberated camps to help students understand why they swore an oath to defend and uphold not only the U.S. Constitution but also the freedoms it asserts for all humanity. Their stories give the Constitution the significance it deserves as a living document that has as much bearing on our lives today as it did when it was ratified.
I believe that schools and teachers can go beyond gold if, rather than accept accolades for student-achievement on multiple-choice tests, we focus instead on character education. Culture has to come before content, but it can also be built through content, by following the lead of the finest educators out there: survivors and eyewitnesses whose knowledge and insights are ours to learn from.
Peter D. Cook spent five years as a U.S. Marine, after finishing high school—serving at U.S. Embassies in Ecuador, Spain, and Haiti. He studied at American University, in Washington, D.C., after which he became a teacher—and worked in the Czech Republic and in Japan—as well as stints on the East and West coasts in America. He has a master's in organizational management, and is working on his PhD in urban leadership at Claremont Graduate University. Cook is a USC Shoah Foundation 2011 Master Teacher Workshop graduate. He currently teaches at Camino Nuevo Charter Academy, Los Angeles, Calif.
This article first appeared in the Summer 2013 issue of PastForward, the Institute's digest.
Like this article? Get our e-newsletter.
Be the first to learn about new articles and personal stories like the one you've just read.