Holocaust Child Survivor Conference to Feature Stephen Smith and Daisy Miller
Thu, 10/31/2013 - 4:27pm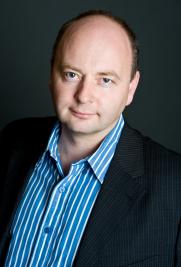 Child survivors of the Holocaust are scattered all over the world, but they'll come together this weekend for the annual joint conference of the World Federation of Jewish Child Survivors of the Holocaust and Descendants and Generations of the Shoah International.
The conference is in Henderson, Nev., today through Monday. It is a chance for child survivors and their families to socialize with each other and attend workshops about the unique challenges they face. Speakers and workshop facilitators come from the United States Holocaust Memorial Museum, Yeshiva University, NBC News, the Simon Wiesenthal Center, and many other organizations and backgrounds.
Two USC Shoah Foundation directors will present at the conference. Executive director Stephen Smith will give the opening address, "The Future of Our Past: History, Memory and Education." Daisy Miller, director of community relations, will present three workshops: "Dealing with unfinished business," "Facing changes as we grow older," and "Dialogue between generations."
While many workshops at the conference address the specific needs of survivors, others are intended for survivors' spouses, partners, and the second and third generations, and cover how family members of survivors are impacted by the Holocaust. Sessions open to all attendees include "Memoir Writing," "Spirituality after the Shoah," and two film screenings. There are also special gatherings for survivors by country and social events throughout the weekend.
Michael Berenbaum, director of the Sigi Ziering Institute at American Jewish University and a former USC Shoah Foundation executive director, will give a presentation Sunday to commemorate the 75th anniversary of Kristallnacht. The presentation is open to the community.
Next year's conference will be held in Berlin.
Like this article? Get our e-newsletter.
Be the first to learn about new articles and personal stories like the one you've just read.