Leading Chinese and Israeli Holocaust Scholars Meet for First Time in Live-Streamed Discussion
Wed, 11/06/2013 - 4:22pm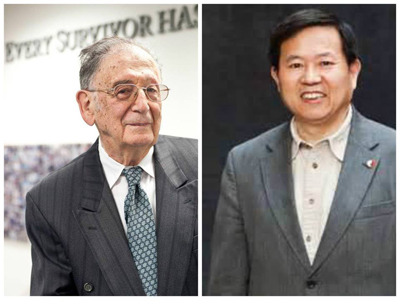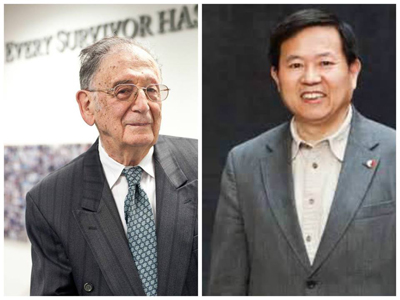 Chinese Professor Xu Xin became a scholar in Jewish literature before he ever met a Jew.
Czechoslovakian-born Yehuda Bauer has long been regarded as a pioneer in Holocaust studies.
The two men have vastly different backgrounds, but their common interests in Judaica, the Holocaust and genocide will bring them together for the first time at the University of Southern California on Nov. 7. The talk will be streamed live at 6 p.m. Pacific Standard Time at sfi.usc.edu.
Although their paths have never crossed, the pair will have plenty to talk about during an informal conversation that will touch on the similarities and differences in teaching the Holocaust and genocide across disparate cultures, languages and histories.
The free event is sponsored by USC Shoah Foundation — the Institute for Visual History and Education. Executive Director Stephen D. Smith will host and take questions from the audience.
Although they come from different continents, generations and backgrounds, both Bauer and Xin were drawn to study Jewish life from an early age.
Bauer was the Shoah Foundation's 2012 Yom Hashoah Scholar-in-Residence and has consulted for the Institute on a variety of projects since the mid-1990s. A professor of Holocaust Studies at the Avraham Harman Institute of Contemporary Jewry at the Hebrew University of Jerusalem, he has written dozens of books and articles on the Holocaust.
His family eluded the Nazis and left Europe for Palestine in 1939. He attended Cardiff University in Wales, but interrupted his studies to fight in the 1948 Arab-Israeli War.
Xu first became began studying Jewish authors when Saul Bellow won the Nobel Prize for Literature in 1976, long before he ever met a Jewish person. He moved to Chicago to stay with a Jewish family in the 1980s, an experience that changed his career. Instead of studying Jewish literature, he would embark on a goal to learning about the entire Jewish experience, a move that was later embraced by colleagues in China.
Since then, he created China's first exhibit on the Holocaust, compiled a 900-page Chinese edition of the "Encyclopedia Judaica," wrote many scholarly works and implemented China's first undergraduate and graduate courses in Jewish studies at Nanjing University, where he is the director of the Glazer Institute of Jewish Studies. Jewish studies are now being taught at universities across the country.
While Asia doesn't normally come to mind when the Holocaust is discussed, more than 20,000 Jewish refugees relocated there after fleeing the horrors of World War II in Europe. In fact, Shanghai is mentioned nearly 400 times in the institute's Visual History Archive
"On the surface, these two men couldn't be more different," Smith said. "But their life arcs have brought them to the same place — an understanding that tragedy and suffering are understood by people around the globe. They will explore not only what the Holocaust means to China, but what China means to the Holocaust."
The conversation starts at 6 p.m. in Doheny Memorial Library, Room 240, 3550 Trousdale Parkway.
Like this article? Get our e-newsletter.
Be the first to learn about new articles and personal stories like the one you've just read.