Claude Lanzmann Discusses 37-Year Journey to Make "The Last of the Unjust"
Tue, 12/10/2013 - 4:07pm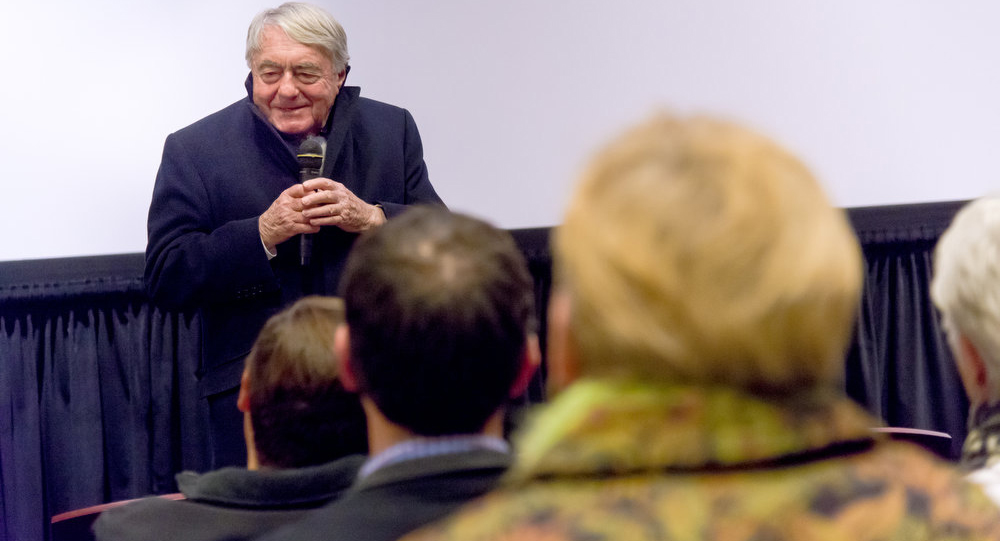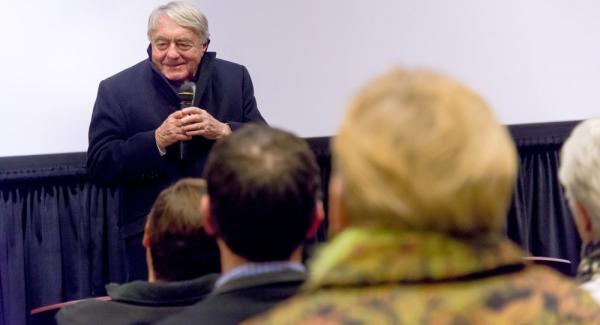 French film director Claude Lanzmann spoke candidly about his latest film, The Last of the Unjust, at a USC School of Cinematic Arts screening hosted by USC Shoah Foundation Tuesday night.
The Last of the Unjust reveals and builds upon interviews Lanzmann conducted with Rabbi Benjamin Murmelstein in 1975. Murmelstein was the last surviving member of the Jewish Council of the Theresienstadt ghetto, who battled Adolf Eichmann to prevent the liquidation of the ghetto and procure visas so thousands of Jews could escape. Because of his role as a leader of the ghetto and his close connections to Eichmann and other top Nazis, he remains a controversial figure, hated by many who feel he betrayed his fellow Jews.
Murmelstein's son Wolf gave testimony to USC Shoah Foundation's Visual History Archive in 1998.
Following the screening, which was introduced by USC Shoah Foundation executive director Stephen Smith, Lanzmann answered questions posed by Michael Renov, vice dean of academic affairs at the USC School of Cinematic Arts.
Renov began by asking Lanzmann about the 37-year process of making the film. Lanzmann said he was "obsessed" by people like Murmelstein – Jews who were put into positions of power by the Nazis during the Holocaust.
"My question for myself was, 'What is the meaning of all this?'" Lanzmann said.
However, very few of the Jews who were placed into such high-ranking positions were still alive for Lanzmann to interview – most had been killed, murdered by the Germans, or committed suicide. But once Lanzmann discovered that Murmelstein was still alive, he "did all he could" to meet him. Murmelstein didn't want to talk.
So, Lanzmann asked his wife, a half-Jewish German writer, to call Murmelstein, since she spoke perfect German. It worked.
"Like me, he was seduced by her voice," Lanzmann said.
Lanzmann spent a week in Rome with Murmelstein, interviewing him all day. Lanzmann said he was impressed by Murmelstein's candor and honesty.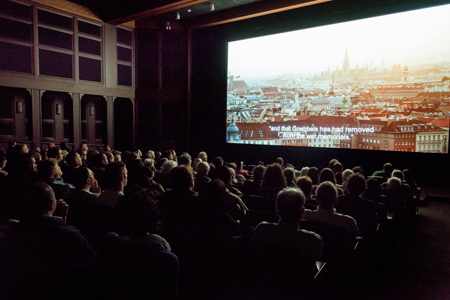 "I was extremely aware of his magnificent intelligence, acute spirit, and readiness to answer my questions even if they were not easy to answer, because I was not friendly with him on many occasions," Lanzmann said. "I began to understand the fundamental problem of the councils who were required to collaborate with Germans. They had no choice – no choice at all. The role of "collaborator" is completely false to describe them and define their attitude."
As the week of interviews went on, Lanzmann said he was more and more convinced that Murmelstein had been "unjustly accused by his Jewish brothers."
When Renov asked whether the film is a "rehabilitation" of Murmelstein's image, Lanzmann pointed out that Murmelstein is honest about all facets of his work with the Nazis – the good and the bad.
"[Murmelstein] gives all the weapons to condemn him, and he shows all the weapons that help to understand him," Lanzmann said.
As he started editing the film, Lanzmann said he began to consider the idea of appearing in it himself, since it was his own story as well as Murmelstein's. Deciding to show himself on film was not an easy choice, he said.
"It required a form of courage. In Hebrew, chutzpah," Lanzmann said. "But I thought it was the best way to sustain my thoughts about Murmelstein, to put myself in the middle of the screen. I don't know if I was right to do this."
As the evening drew to a close, one audience member suggested to Lanzmann that he could have questioned Murmelstein harder about his role in one of the Nazis' most reviled acts: the infamous Theresienstadt propaganda film Der Fuhrer schenkt den Juden eine stadt. Lanzmann emphatically disagreed.
"I press him very hard [in the film]," Lanzmann said.
Like this article? Get our e-newsletter.
Be the first to learn about new articles and personal stories like the one you've just read.