Testimony: The Legacy of Schindler's List and the USC Shoah Foundation in Bookstores Today
Tue, 03/25/2014 - 9:53am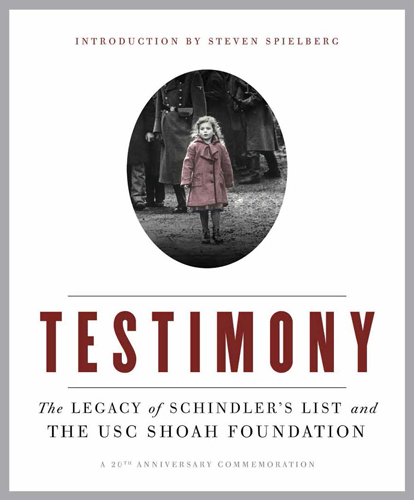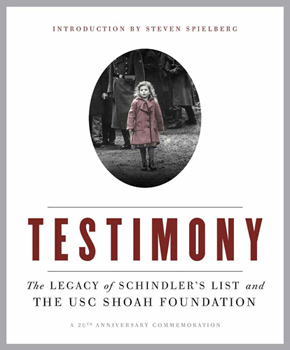 The new book, published today, take readers deep into the making of Schindler's List and the USC Shoah Foundation.
Testimony: The Legacy of Schindler's List and the USC Shoah Foundation will be available in bookstores nationwide beginning March 25. The hardcover, large-format book is published by Harper Collins and is currently available for pre-order on Amazon and Kindle. Testimony was made possible with the generous support of Ruth & Steven Katz and Deborah & Wayne Zuckerman in honor of Abraham & Millie Zuckerman and as a tribute to the legacy of Oskar Schindler. Proceeds from the sale of Testimony will benefit the USC Shoah Foundation.
With introductions written by Steven Spielberg and USC Shoah Foundation executive director Stephen Smith, Testimony commemorates USC Shoah Foundation's 20th anniversary by combining the story of the making of Schindler's List and the organization it inspired: the USC Shoah Foundation.
Behind-the-scenes photographs from the set of Schindler's List and still images from the film accompany a detailed account of the film's journey from novel to screen to its win for Best Picture at the 1994 Academy Awards and everything in between. Spielberg, producers, cast members and crew provide exclusive insights into the filmmakers' creative process and the intense and emotional shoot on location in Poland.
As filming wrapped, Spielberg began to form the idea for what would later become the USC Shoah Foundation as a way to continue to record the stories of Holocaust survivors, many of whom visited the Schindler's List set. The second part of Testimony details the 20-year history of the Shoah Foundation and its race to collect and preserve the testimonies of over 50,000 Holocaust survivors and, later, the survivors of other genocides.
With the efforts of a vast network of interviewers, videographers and coordinators around the world combined with brand-new technology for digitizing and indexing the thousands of hours of testimony, the Shoah Foundation met its initial goal and decided to do more. Today, it continues to expand its educational outreach to ensure that the survivors and their testimonies serve as teachers for future generations. Testimony from the Rwandan Tutsi Genocide and the Nanjing Massacre has been added to its Visual History Archive and Armenian and Cambodian collections will be added soon.
Testimony provides an in-depth look at the Shoah Foundation's past, present and future, drawing on behind-the-scenes photographs and interviews with its founders, staff, volunteers – and the survivors who gave testimony themselves.
Like this article? Get our e-newsletter.
Be the first to learn about new articles and personal stories like the one you've just read.