Reflections on a Mission
Mon, 04/21/2014 - 10:14am
In April 1994, the genocide of the Rwandan Tutsis officially began, even though the persecution and killing campaign had gone on for decades. In 100 days, close to 1 million women, children and men were slaughtered and tortured to death with machetes, metal sticks and knives.
The conflict gained momentum when Belgium became the colonial power in Rwanda after Germany's defeat in World War I, and further highlighted and reinforced the distinctions between Hutus and Tutsis.
All but a few Westerners thought of the genocide as a tribal war, but the reality was that one group was trying to exterminate another. Rwandan Tutsis were alone, abandoned by the world. The horrors of the facts, such as the ethnic cleansing rhetoric and the dehumanization of a people, were all too familiar.
Earlier this month, I had the privilege of traveling to Rwanda, where I visited killing sites (churches and schools), orphanages and memorials with staff from the USC Shoah Foundation. One such site was the Murambi Technical School, now known as the Murambi Genocide Memorial. It is estimated that 45,000 Tutsis lost their lives there, after being lured to the school by the promise of safety from the mayor and the bishop of the town.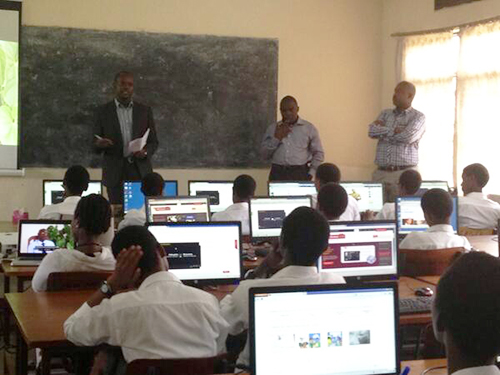 We also spent a day with high-school students in a classroom to experience how they learn about the atrocities from testimonies of survivors from their own genocide, as well as from testimonies of Holocaust survivors, from the USC Shoah Foundation's IWitness educational program.
In Rwanda today, it is illegal to define anyone as a Tutsi or Hutu; they are all one people, namely Rwandans. Hence, in that very classroom we visited, were children of survivors and perpetrators alike. Wherever you go, the Rwandans have found a way to live side by side as neighbors. It's a remarkable story of reconciliation and today, Rwanda is Africa's fastest growing economy.
We attended the genocide commemoration in Kigali on April 7, the day of mourning. President Paul Kagame and other dignitaries spoke, as well as a survivor. All the while many in the audience wailed, passed out from trauma and had to be carried out from the stadium to get help. I have never before experienced such intense and raw pain from others.
We were accompanied on our trip by a 92-year-old Holocaust survivor. It was powerful to witness the embraces between her and Rwandan survivors. An emotional visit to Agahozo Shalom, an orphanage founded by the late Anne Heyman, proved to be nothing short of an awe-inspiring experience. It's a miraculous village, home to 500 youths that educates and nurtures the future leaders of Rwanda.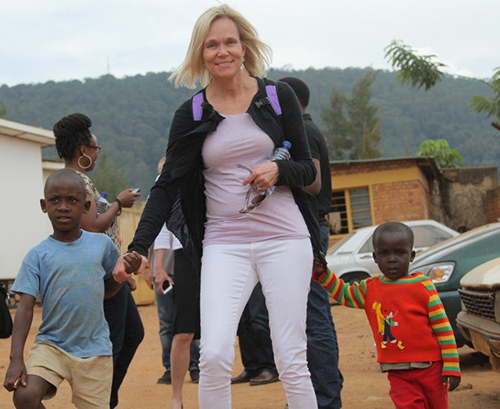 As I am trying to process what I've experienced in Rwanda, I'm sitting at the historic and beautiful King David Hotel in Jerusalem. In two weeks, my husband, Joel, and I will accompany his parents to Yad Vashem to commemorate those who were murdered in the Holocaust, including my own paternal grandparents. Suffering, discrimination, dehumanization, torture and the murder of a people, whether Jewish or Rwandans, are indistinguishable. "Never again, never again'" can only be if we learn from previous genocides, like the Rwandans are learning from the survivors of the Holocaust. After all, Rwanda remains a highly fragile democracy.
The importance of Holocaust commemoration and education has taken on a whole new level of meaning after my trip to Rwanda.
Like this article? Get our e-newsletter.
Be the first to learn about new articles and personal stories like the one you've just read.