Armenian Genocide – Filling in the Bookshelves of History
Tue, 04/29/2014 - 10:21am
A few weeks ago I went shopping at one of my favorite bookstores in Los Angeles. However, I wasn't picking out a few books that would sit on my metro-read shelf. I was with a few USC Shoah Foundation colleagues—picking out an entire collection of Armenian Genocide History resources for the Doheny Library.
A few of my colleagues and I were tasked with picking out resources to expand the library's collection. We were shopping for the future genocide researchers, scholars, and educators.
The importance of education cannot be overstated in any genocide. When the genocide is accompanied by intense denial, education becomes imperative.
Historical revisionism has been an important tactic of the Turkish government, which spends millions of dollars to re-shape the historical discourse around the genocide. The government's control over the educational system has left many Turks apathetic towards this piece of their history while many others have resolutely joined the denial campaign.
In recent years, however, Turkish scholars and activists have found room to bring up the Armenian Genocide albeit fear of reprisal from nationalists. In Turkey today, one can find projects like the apology campaign—an online letter Turks can sign as an apology for the atrocities committed against Armenians in 1915.
When I was in Turkey a couple of years ago, I had the opportunity to meet one of the founders of the campaign—Cengiz Aktar, a professor of European Union studies at Istanbul's University of Bahcesehir. During a conversation, he mentioned that one of the perils for Turkish society is the lack of resources surrounding the history of 1915. According to him, there are around 26,000 books on the topic of the Armenian Genocide published worldwide; Turkey has around 100 books on this topic, most of which are written by denialists.
"There is a lack of knowledge even about what it means to be an Armenian," he says.
Aktar's words gloomed over me as we picked out over 100 books for USC's Library. I realize that simply having the opportunity to publish these resources here is not enough. Students need access, and it is up to the universities to provide this access. 
In addition to the books that will be available at USC Doheny, in April of 2015, USC Shoah Foundation's Visual History Archive will also include hundreds of testimonies of Armenian Genocide survivors, which will be an unparalleled resource for advancing genocide studies.The Armenian Film Foundation delivered the digitized testimonies to the Institute where they will go through an indexing process before being incorporated into the archive.
Long-term and extensive research is only possible through a multitude of resources that comprehensively cover various sub-topics within the larger subject. This allows us to not only know about the Armenian Genocide, but how it began, how some survived, what were the methods of resistance, what happened to first generation survivors, and what the impact was on culture and life after the genocide.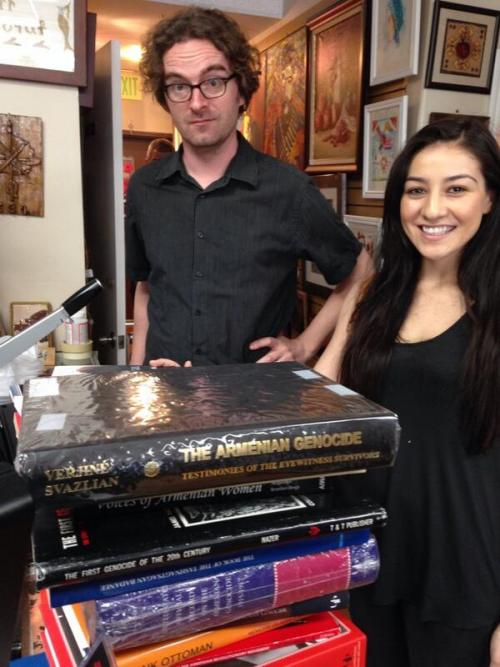 Doheny Library's expansion of its Armenian Genocide history collection reflects a positive change that should be taken on by educational institutions throughout the country.  
I feel no doubt that the history books, atlases, collection of documents, in both English and Armenian will become an unparalleled wealth of information for future students and academics who take on the task of genocide studies and education.  
Like this article? Get our e-newsletter.
Be the first to learn about new articles and personal stories like the one you've just read.