Blavatnik Archive Foundation's Multimedia Exhibit on Soviet Jewish Soldiers Opens at USC Doheny Library
Thu, 04/24/2014 - 3:00pm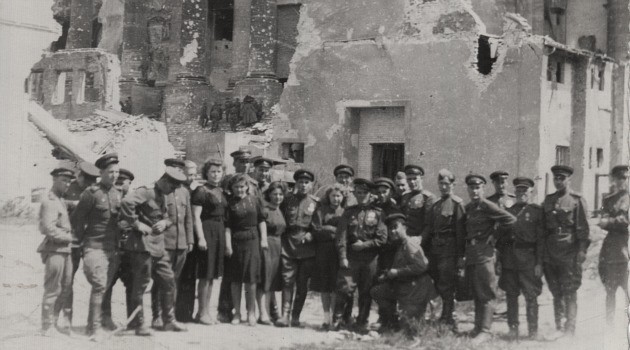 Thursday marked the grand opening of the Blavatnik Archive Foundation's exhibit about Soviet Jewish soldiers during World War II presented by USC Shoah Foundation and USC Doheny Library.
The exhibit is called Lives of the Great Patriotic War: The Untold Story of Soviet Jewish Soldiers in the Red Army During World War II and will be on display through the summer.
At Thursday's opening night reception, USC Shoah Foundation executive director Stephen Smith and Alex Blavatnik delivered opening remarks. A brief panel discussion followed, featuring USC Shoah Foundation Visual History Archive curator Crispin Brooks, Robert English, Director, USC School of International Relations and Selma Holo, Director, USC Fisher Museum of Art.
The Blavatnik Archive Foundation was founded in 2005 by American industrialist and philanthropist Len Blavatnik; he is executive director along with his brother Alex Blavatnik. With the goal of contributing to a better understanding of the Jewish experience in the Soviet Union from the late 19th to 20th centuries, the archive includes, in addition to art and historical documents from before World War II, a wide range of World War II artifacts such as postcards written to and from soldiers, photographs from the front, periodicals, Nazi propaganda leaflets, and soldiers' diary excerpts. The archive also features a "Then and Now" photo gallery with soldiers' army photos next to portraits of them today.
In addition, the Blavatnik Archive Foundation has collected over 1,000 video testimonies of World War II Soviet army veterans in 10 countries. The soldiers (both men and women) discuss their experiences in the army as well as Jewish life before the war and their lives after the war.
The exhibit at USC aims to highlight the Jewish soldiers' unique experience of being targeted for genocide while fighting for their country and contributing to the defeat of Nazi Germany. In print and interactive digital displays, the exhibit will feature war-time diary and letter excerpts, reproductions of archival photographs and documents, and video excerpts from the archive's oral testimonies. The exhibit follows the chronology of the war, including the events leading up to Germany's attack on Russia, key battles, and the Soviet victory, as well as the personal experiences of the Jewish soldiers themselves.
Like this article? Get our e-newsletter.
Be the first to learn about new articles and personal stories like the one you've just read.