Four Testimonies Taken in Paris for North Africa and Middle East Collection
Mon, 05/26/2014 - 5:00pm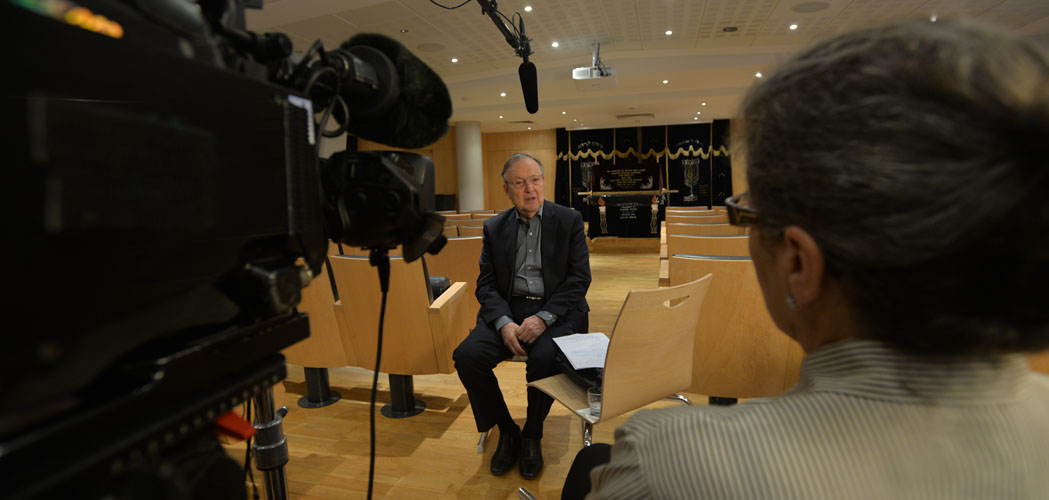 Jacqueline Semha Gmach traveled to Paris last month to oversee the recording of four testimonies for USC Shoah Foundation's new North Africa and Middle East collection, and returned inspired and awed by the interviewees and their experiences.
Gmach, the collection's program director, was accompanied on the trip by Serge Moati, a French artist, journalist, film director and writer who served as interviewer, and videographer Olivier Raffet. They interviewed Armand Abecassis, Andre Nahum, Claude Cohen-Tannoudji and Albert Memmi for the collection, which gathers testimonies from survivors and eye-witnesses who lived through the events of over 70 years ago in North Africa and the Middle East, and the destruction created there by Nazi occupiers or governments that were Nazi sympathizers. These experiences are crucial for understanding the global impact and scale of Nazi ideology and its policies.
The initial goal of the project is to record 50 life stories. These audiovisual testimonies, once collected, will be digitized, indexed and accessible to people around the world through the Visual History Archive of the USC Shoah Foundation.
Professor Claude Cohen-Tannoudji was born in Algeria in 1933. He left in 1953 and became a Nobel Prize-winning laureate in physics (he shared the prize in 1997 with Steven Chu and William Daniel Phillips for research in methods of laser cooling and trapping atoms). He is still an active researcher.
Gmach said that Cohen-Tannoudji's testimony was comprehensive and enriching, and he provided a great deal of detail when discussing his life in Algeria and France.
"It was beautiful to discover how he recognized the greatness of his father's Talmud teachings when he was very young, Gmach said. "Then, he adapted the steps of acquisition of knowledge and became a world renowned physicist."
Albert Memmi was born in Tunisia in 1920 and lived there during and after World War II. He is a prolific author and has written such novels as The Pillar of Salt, Strangers and The Scorpion. Gmach said his testimony offered a look into many different cultures and the difficulties of an individual attempting to adapt to them.
Andre Nahum was born in Tunisia in 1921. He is a former doctor and author, and is one of the founders of the Jewish community in Sarcelles, a suburb of Paris. He is also featured in the radio program Judaique FM. He served as a doctor in a labor camp during the war and survived after being condemned to an execution.
Mr. Nahum's testimony will provide an exceptional resource of the social, religious and cultural story of Tunisia during World War II, Gmach said. Nahum also was able to describe the rise and eventual abandonment of Sarcelles as a Jewish center in Paris.
Finally, Gmach said she was fascinated by the testimony of Armand Abecassis, born in 1933 in Morocco, a French writer and professor of philosophy at the Universite Michel de Montaigne (Bordeaux III), and also teaches at the Aquiba School in Strasbourg and the Alliance Israelite Universelle.  His writings and teachings seek to promote a fruitful dialogue between Judaism and Christianity.
Abecassis described the similarities and differences and relationships between the Jewish and Arab communities in Morocco.
"Mr. Armand Abecassis was a fascinating storyteller. He developed his narration by interlacing his own family experiences with the experiences of the members of these two communities," Gmach said. "His method was cultural, religious and philosophical."
Gmach also noted that the interview took place at the Ecole Nationale Israelite Orientale – the same school at which she served as vice principal for three years.
Like this article? Get our e-newsletter.
Be the first to learn about new articles and personal stories like the one you've just read.