Problems Without Passports Concludes USC Session Before Heading to Rwanda
Thu, 06/19/2014 - 5:00pm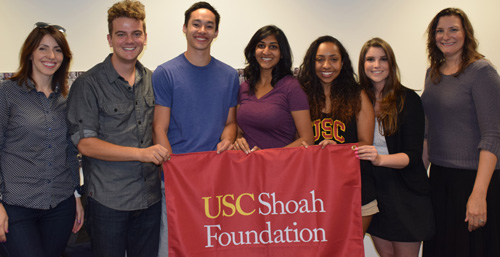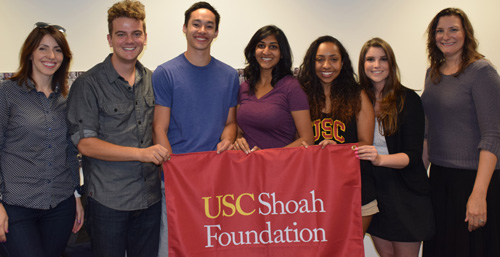 After completing an intense two-week introductory session at the University of Southern California, seven students and two professors are ready to begin this summer's Problems Without Passports trip to Rwanda.
Problems Without Passports courses, held in England, Brazil, Belize, Dubai, and more, allow USC undergraduates to engage in problem-based learning by conducting research in a foreign country. The Rwanda course, "Rebuilding Rwanda: Memory, Testimony, and Living Together," studies the history, genocide, aftermath and creation of modern day Rwanda, immersing students in the complexities of socio-political reconstruction after genocide.
The 2014 course is led by Amy M. Carnes, Ph.D., USC Shoah Foundation associate director of education – evaluation and scholarship, and Emily Musil Church, Ph.D., professor of history at Lafayette College. This is the second year that USC Shoah Foundation has led a Problems Without Passports course in Rwanda.
To prepare for their two and a half weeks in Rwanda, students attended a two-week introductory session July 9-19 on campus, led by Carnes and Church. They learned about Rwandan history from the pre-colonial period to the present day and the Rwandan Tutsi Genocide and its aftermath. They were also introduced to the Rwandan genocide survivor testimonies in USC Shoah Foundation's Visual History Archive.
Guest lecturers from the USC Shoah Foundation – Karen Jungblut, Kori Street and Edith Umugiraneza – spoke to the class about recording testimony and genocide education. International relations Professor Steven Lamy also gave a lecture, and Nora Snyder '14 talked to the class about her experiences going on the trip last year.
The session ended with students' presentations about testimonies they've watched in the Visual History Archive.
The group will fly to Rwanda this weekend. There they will meet with NGOs, government officials and ambassadors, conduct interviews with genocide survivors, visit genocide memorials, and watch cultural performances, while traveling around the country. For their final projects, students will develop their own ideas to address the problem of societal reconstruction in a post-genocide context.
Like this article? Get our e-newsletter.
Be the first to learn about new articles and personal stories like the one you've just read.