Teaching with Testimony 2013 Graduates Share Lessons at Follow-Up Session in Budapest
Mon, 08/04/2014 - 5:00pm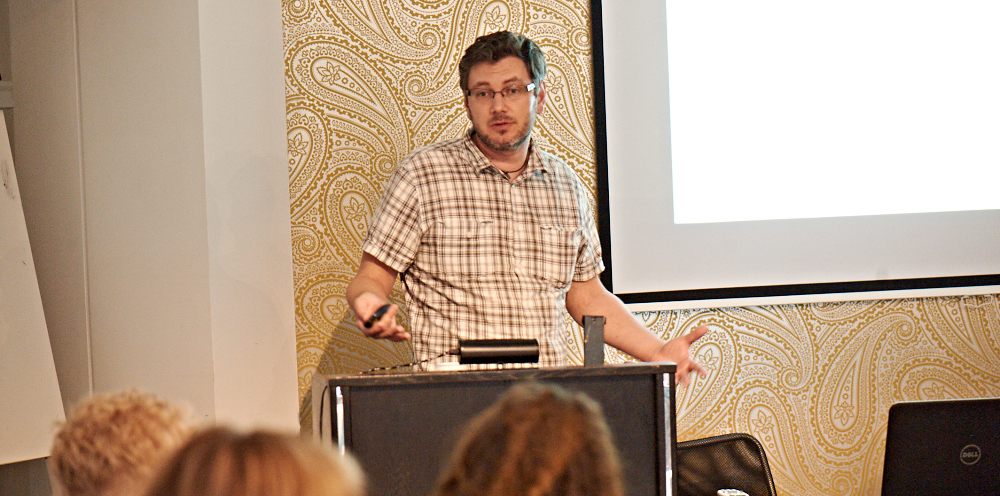 One year after learning how to incorporate testimony into their lesson plans, the 2013 Teaching with Testimony in the 21st Century graduates in Hungary returned for a follow-up session to share the lessons they have now piloted in their classrooms.
USC Shoah Foundation's flagship professional development initiative, Teaching with Testimony is a two-year program that incorporates workshops, mentoring, and community building to prepare secondary school educators to search for and utilize testimony from the Visual History Archive, as well as digital learning tools such as IWitness.
Teachers convene for an initial training session in which USC Shoah Foundation's local liaisons provide instruction in using the Visual History Archive, building lessons and activities around the testimonies, ethical video editing, and other topics. Participants pilot the testimony-based lessons they've created in their own classrooms over the next year, and then reunite to present their lessons to next year's cohort and receive feedback.
The 15 participants from the 2013 session in Budapest are from all over Hungary, including one from the border area of Subotica, Serbia, and another from a bilingual middle school on the Hungarian-Slovenian border. Two are university lecturers (law and pedagogy) and the rest are middle- and high school teachers. The follow-up workshop was held at Central European University July 4-6, led by USC Shoah Foundation international training consultant Andrea Szonyi.
Each teacher presented the lesson he or she developed last year and talked about the experience of piloting the lesson in their classroom. The lessons covered the following topics and subjects:
Heroes - English as a Foreign Language
Poetry and Testimony - interpretation of a poem by Hungarian poet Miklos Radnoti and understanding the context using testimony
Prejudices – Class project
Who am I, who are you? - Identity
The Crisis of Rule of Law – Module within a law university course: "Equality of rights - legal restrictions - deprivation of rights between 1938 and 1944" 
Local history walk in a suburb of Budapest
Could it happen today? Does it happen today? – a lesson about humiliation and bullying for 5th graders
Comparative analysis of a short story and a testimony clip - Literature
The right to private property - Citizenship 
The right to access of food - Citizenship
Processes in the anti-Jewish legislation - History
Gain in territory - loss in morality – History class about the processes and consequences of the annexation of Slovakian territories to Hungary
The Holocaust in Slovenia - a bilingual (Hungarian and Slovenian) history lesson for middle school students
The Other - Part of a college course "From segregation to Inclusion"
Multiple Intelligences in Public Education – lesson development for pre-service teachers for Holocaust Memorial Days (part of course at the University of Pécs)
Teachers reported that their lessons were received very well by their students, many of whom connected personally to the themes that were taught and had profound reactions to watching testimony.
The teachers also participated in two lectures during the workshop: one by CEU librarian Peter Bérczi about the VHA and family history research and another by the Director of the Jewish studies program at CEU Prof. Andras Kovacs about the most recent research on antisemitism in Hungary.
Like this article? Get our e-newsletter.
Be the first to learn about new articles and personal stories like the one you've just read.