Me, My Grandparents and Holland
Tue, 08/12/2014 - 9:02am
My "mormor" (literally mother's mother) Greta exuded love and her heart burst for my sister and me. Along with my "morfar" (mother's father) Ingvar, they ensured us an innocent and idyllic childhood in a small town in Sweden. Greta's pork chops with cream sauce were my favorites and I later learned my father would devour when given the opportunity.
I always wondered what it would have been like to have had another set of grandparents in my life. I always considered myself so lucky with the ones I had, but my mind often wandered to that place anyway. My father, on the other hand, doesn't remember having had any grandparents at all, not even parents. Despite being born a few months before the German invasion of Holland in May 1942, my father started life out as a stateless Jew because, the Nuremberg laws were in effect before the occupation.
Most of my father's family was rounded up in November 1942 in Amsterdam and taken to a concentration camp named Westerbork in northeastern Holland. According to my oldest aunt, my grandmother was expecting her fifth child. In April 1943, my grandparents Rachel and Andor were taken to the death camp Sobibor. The train ride took three days, and once they arrived, they were marched straight to the gas chambers and killed on April 23, 1943. Thanks to the resistance, my father had miraculously been scooped into hiding and lived with a Calvinist couple in Southern Holland. In 1958, at age 18, like a criminal, he escaped without a passport and found amnesty in Sweden, where he was awarded citizenship.
The circumstances surrounding his childhood and family remained a mystery to me until recently. My father always told me he was Swedish, since he was never a Dutch citizen. He warned me about ever visiting this horrible country that had not only collaborated to kill in excess of 90 percent of its Jewry, but also denied him a citizenship long after the war was over. How could I disagree? But I was bursting of curiosity about the place where my grandmother's family had lived since the 1600s. They had fled to Belgium after the Jewish expulsion from Portugal in 1496 and ended up in Holland a century later. Amsterdam became an important center for Sephardic Jewish life and it thrived until World War II.  My paternal grandfather had come from Hungary in the 1920s with his family to escape pogroms. I was yearning to know more about my grandparents and their families.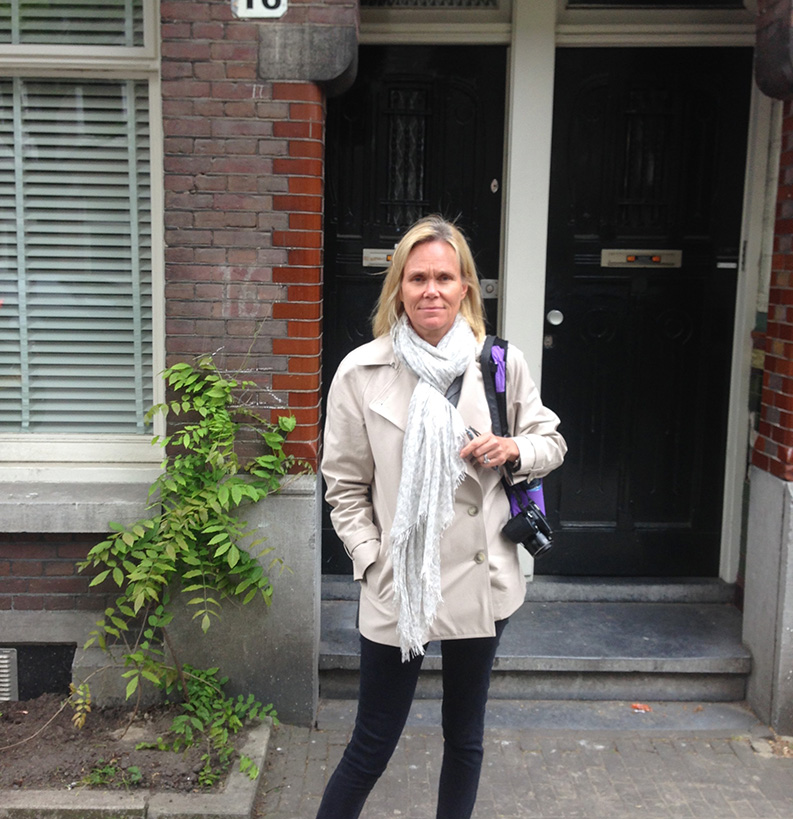 Earlier this spring, I visited Holland for the first time in my life. Many of my friends and acquaintances have been surprised that I had never been to the birthplace of my father. After all, I travel the world and Amsterdam is a short flight from my country of birth, Sweden. I always knew it would be a difficult trip to make.
On many levels, it turned out to be more painful than I could ever have imagined. No one thinks of the Dutch as being hostile to anybody: such a progressive liberal society, and home to some of the world's greatest masters and intellectuals. And then there is Anne Frank, the one wartime legacy the Dutch likes to share with the world Perhaps she is meant to represent the 102,000 nameless murdered Dutch residents who have no public monument. Or is it a means to diffuse the real stain on the Dutch human conscience? Anne Frank's short life was remarkable, but she was able to hide despite the Dutch and in the end, she too was sent to Westerbork before being transported first to Auschwitz and then to Bergen-Belsen where she was murdered.
On a personal level, I learned more about my paternal grandparents from dedicated archivists at the Westerbork Museum, as well as the Great Portuguese Synagogue's museum's archives. I learned what their occupations were and where my grandparents last lived with my father, his three siblings, and two newlywed uncles. With my husband, Joel, I visited the address, at the time in a working class, Jewish neighborhood.
However, it was my visit to Westerbork that profoundly affected me the most. Unless there is a personal connection, people have rarely heard of this concentration camp, even though virtually all Dutch Jews were brought here before being transported east to Poland. Few survived. My research suggests it was as brutal and horrific as any of the other better-known concentration camps. Barracks 66, 67 and 68 were behind a second tier of barbed wire, for prisoners who had committed additional crimes, other than being born Jewish. Anne Frank had been in No. 67. My grandparents were in barrack 68. The archivist was able to find each of my grandparents' handwritten index cards. The reason given for their punishment: their four children's whereabouts unknown. It chilled me to my core.
We were deeply disturbed by the unexpected large satellites on the grounds of the concentration camp, consisting of 14 satellites, each 25 meters in diameter. In 1970, the Dutch government established this place to be the home to the Westerbork Synthesis Radio Telescope. Considered one of the most powerful radio observatories in the world, it enables astronomers to study a wide range of astrophysical problems, from pulsars to kinematics of nearby galaxies to the physics of black holes. Most barracks were torn down, with the exception of No. 67. It is such a sad statement and one of great paradox: Let's hide our skeletons in the closet, but in order to cleanse our societal conscience, let's make the story of Anne Frank seem like we did our best in a difficult time.
Like this article? Get our e-newsletter.
Be the first to learn about new articles and personal stories like the one you've just read.