Teachers Unite in Ukraine for Teaching with Testimony Follow-Up
Wed, 08/20/2014 - 5:00pm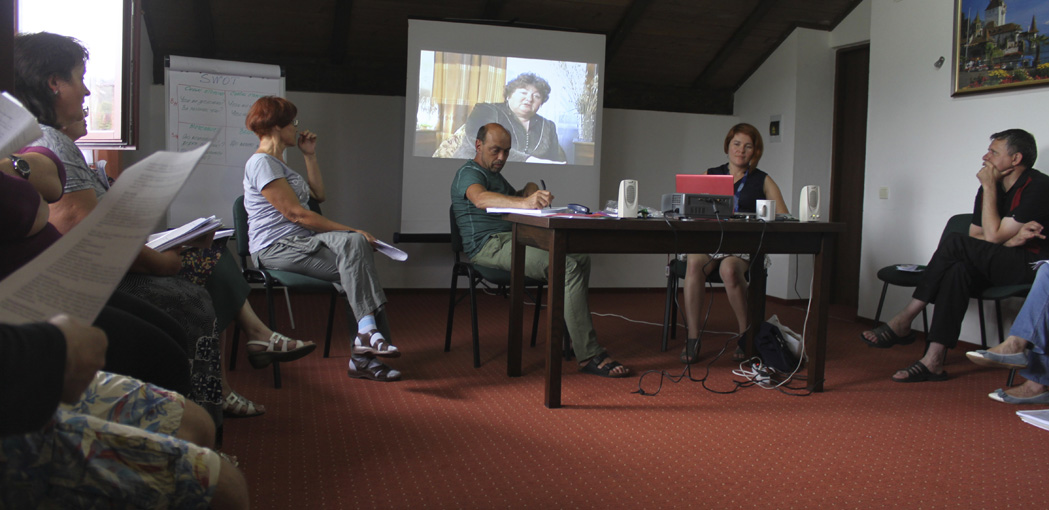 After several postponements due to the political turmoil in their country, the 2012 Teaching with Testimony in the 21st Century Ukrainian cohort finally came together this month for a follow-up session about the lessons they created over the last two years.
USC Shoah Foundation's flagship professional development initiative, Teaching with Testimony is a two-year program that incorporates workshops, mentoring, and community building to prepare secondary school educators to search for and utilize testimony from the Visual History Archive, as well as digital learning tools such as IWitness.
Teachers convene for an initial training session in which USC Shoah Foundation's local liaisons provide instruction in using the Visual History Archive, building lessons and activities around the testimonies, ethical video editing, and other topics. Participants pilot the testimony-based lessons they've created in their own classrooms over the next year, and then reunite to present their lessons to next year's cohort and receive feedback.
The follow up session was held Aug. 7-8 in Slavske, Ukraine, in the Carpathian mountains – two years after the initial training session in Prague. USC Shoah Foundation consultant in Ukraine Anna Lenchovska said the location was selected especially for this seminar because there is conflict in Eastern Ukraine and Kyiv and the teachers needed a calm place to share their creations with each other and discuss the future of teaching with testimony in Ukraine.
"The hotel is on the hill and has a marvelous view, which let the participants think strategically and to unite the lessons they have created into a broader prospective," Lenchovska said.
Out of the initial group of 15 who attended the first workshop in August 2012, 14 returned for the follow-up. They came from occupied Crimea and all over Ukraine and teach high school, university, and professional development for educators.
The teachers presented the testimony-based lessons they created and piloted in their classrooms. Their lessons covered the following topics:
Shtetls of Right-Bank Ukraine: The World that Vanished
Cultural Diversity in Ukraine
Stereotypes and Prejudice
Life… Choice.. .Memory – about tragedy of Jews in Lypovets and commemoration
Discrimination in Education
Roma of Ukraine
Soviet-German Agreements of 1939 and Ukraine
Moral Choice in Extreme Situations
The Measure of Humanity
The war 1941-1945 in personal fates: we are searching the past again
Fate of Ternopil Jews in World War II
Love Under Stalin's Stars - about the fate of woman whose husbands were persecuted by Stalin and Nazi regime
Discrimination
Lenchovska said the participants found the workshop very valuable since they were able to share their educational approaches and discuss possible problems and solutions. They were also inspired by USC Shoah Foundation senior international training consultant Martin Smok's presentation on IWalks and are planning to develop IWalks for their local places, which would be made available on the USC Shoah Foundation website.
Like this article? Get our e-newsletter.
Be the first to learn about new articles and personal stories like the one you've just read.