San Diego Unified School District Educators Attend IWitness Training
Thu, 08/28/2014 - 5:00pm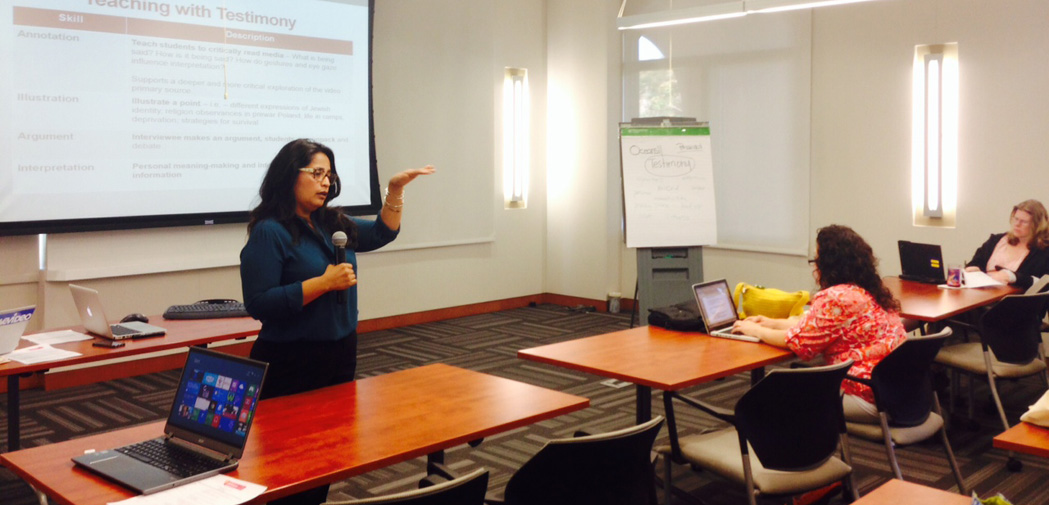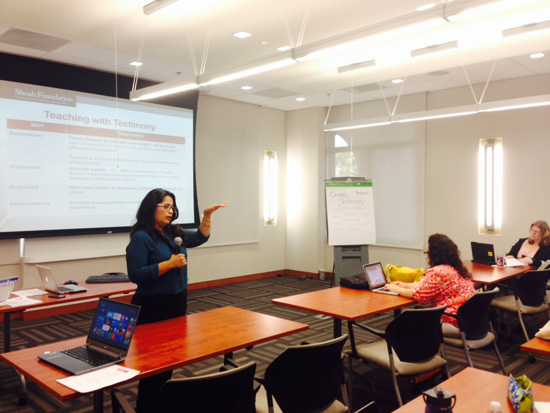 (Claudia Wiedeman leads the training in San Diego)
Teachers throughout the San Diego Unified School District had the opportunity to attend an IWitness training led by USC Shoah Foundation staff on Monday.
Claudia Wiedeman (associate director of education – educational technologies and training), Jenna Leventhal (IWitness manager) and Kirk Stageberg (IWitness technology coordinator) led the two and a half hour introductory session and training, which was attended by English language arts and history teachers of grades 6-12 – and even one elementary teacher – representing numerous schools from the entire district.
The training was held at the nonprofit San Diego Foundation and was organized as a result of the work of the Friends of the USC Shoah Foundation group, which promotes and introduces the resources of USC Shoah Foundation in San Diego. It was an opportunity for the IWitness team to expand their outreach in the San Diego area in a significant and introduce new educators to IWitness and the USC Shoah Foundation.
IWitness is USC Shoah Foundation's award-winning educational website. It contains 1,390 full-length testimonies of Holocaust survivors and witnesses that students may use to create their own video projects with the site's built-in video editor. It also contains interactive activities that allow students to engage deeply with the testimonies.
IWitness recently moved out of its beta phase with the launch of new features and functionalities. New testimonies have been added in several languages, including Dutch, French and Ukrainian, bringing the total number of languages to 15, so students across the world can take part in activities.  Teachers can also copy and share activities with each other, and a one-step registration gives educators instant access to the many multimedia activities and learning opportunities IWitness offers.
These new features were added after an extensive evaluation process that looked at how well IWitness was being received in its beta phase.
Like this article? Get our e-newsletter.
Be the first to learn about new articles and personal stories like the one you've just read.