IWitness Partners with Hold On To Your Music Foundation for New Activity
Wed, 09/03/2014 - 5:00pm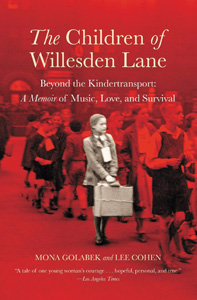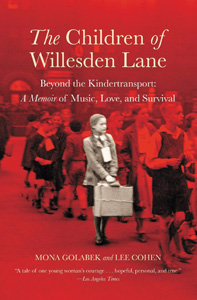 Thousands of students around the world read Lee Cohen and Mona Golabek's The Children of Willesden Lane each year to learn about one young girl's experience on the Kindertransport during the Holocaust. Now, as a result of a new partnership between USC Shoah Foundation and Golabek's Hold On to Your Music Foundation, students are able to interact with the book through the IWitness educational website as well.
The Children of Willesden Lane tells the true story of Golabek's mother, then-14 year old Lisa Jura, an aspiring pianist whose parents sent her from Vienna to London via the Kindertransport in 1938. Jura spent the war at 243 Willesden Lane, a group home for young Jewish refugees, and continued to play the piano to fulfill her mother's last words to her, to "hold on to her music" even during the darkest of times.
Golabek, herself a concert pianist, founded the Hold On To Your Music Foundation to share the story of her mother through the book, her one-woman play/piano concert, The Pianist of Willesden Lane, and other educational resources.
Through a new partnership with Hold On To Your Music, IWitness has launched the activity From the mother who will never forget you - Understanding Kindertransport, to introduce students to the history and experience of the Kindertransport. It provides important historical context for the book The Children of Willesden Lane. Students will engage in a close reading of a variety of texts, develop an appreciation for the historical context of the story and listen to first person accounts of the experience of being a child refugee. The activity incorporates clips from the testimony of Kindertransport survivor Vera Gissing.
In addition, recordings of Golabek's piano performances are now available in the IWitness Music Library. Students who construct their own videos with the IWitness built-in video editor can use Golabek's music in their projects.
USC Shoah Foundation will co-facilitate two Children of Willesden Lane professional development seminars for teachers in the Los Angeles Unified School District on Sept. 3 and 6. Teachers will learn how the IWitness activity, a comprehensive study guide for the book created by Facing History And Ourselves and other resources can be integrated to support students' learning about the Kindertransport and its legacy. The seminars will prepare teachers to teach the book ahead of exclusive performances of The Pianist of Willesden Lane at Ramon C. Cortines School of Visual and Performing Arts this November for middle and high school students across Los Angeles.
Like this article? Get our e-newsletter.
Be the first to learn about new articles and personal stories like the one you've just read.