USC Shoah Foundation and Discovery Education Launch Global Educational Programs to Support the 70th Anniversary of the Liberation of Auschwitz
Tue, 09/16/2014 - 9:26am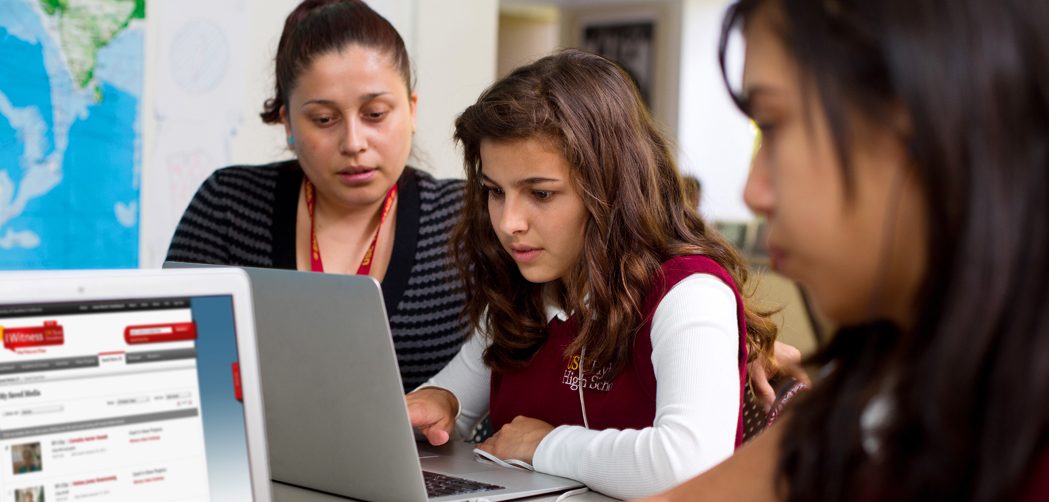 USC Shoah Foundation – The Institute for Visual History and Education is partnering with Discovery Education, the leading provider of digital content and professional development for K-12 classrooms, on education components of Auschwitz: The Past is Present, a global communications and education program that will support the official observance of the 70th anniversary of the liberation of Auschwitz on January 27, 2015. The Auschwitz-Birkenau State Museum and the International Auschwitz Council are the organizers of the official commemoration event.
A major component of the education initiative of Auschwitz: The Past is Present will include four new activities on the Institute's free IWitness online educational platform that provides access to more than 1,300 testimonies from survivors and witnesses of the Holocaust and other genocides. The activities will teach students about the past and encourage them to reflect on how their actions can help make the world a better place. In addition to appearing at iwitness.usc.edu on September 15, 2014, IWitness will also be accessible on pastispresentauschwitz.com later in the fall. Later this year, Discovery Education will also integrate content into its official website, discoveryeducation.com, its digital textbook, Discovery Education Social Studies Techbook™ and its comprehensive digital content service, Discovery Education Streaming for educators to incorporate into instruction. 
Activities include:
Growing up 'Behind the Barbed Wire' of Auschwitz – In this Information Quest activity, students will consider what life was like for children in Auschwitz by studying the iconic image of the children standing behind the barbed wire fence following the liberation of Auschwitz and listening to testimonies of some of the children in the photo. 
Art in the Face of Death – This activity features visual art, poetry and music that was created during and in response to the Auschwitz experience. Students will develop their understanding of the day-to-day life in Auschwitz and the significance of art in the lives of some survivors, as they construct their own works of art.
Arrival at Auschwitz – Images and Individual Experiences – In this Mini Quest activity, students will consider the personal experiences of those who arrived on the ramp at Auschwitz-Birkenau. They will explore images from the Auschwitz Album, showing the arrival of Hungarian Jewish men, women and children in 1944, as well as listen to survivors who endured a similar process. 
Auschwitz - Inner Strength, Outward Resistance – A Mini Quest activity that provides students with an opportunity to consider the meaning of resistance, with special attention paid to cultural and spiritual resistance and its implications for personal identity and survival at Auschwitz.
In all, 16 new activities based on testimony from survivors and witnesses of Auschwitz will be available in IWitness in the coming months leading up to the anniversary of the camp's liberation.
Additionally, USC Shoah Foundation and Discovery Education will provide a unique professional development opportunity for 25 educators who support grades 5-12.  USC Shoah Foundation and Discovery Education are launching the Auschwitz: The Past is Present ITeach Professional Development contest to help select the educators who will participate in this program.  Selected educators will participate in a four-day workshop called Auschwitz: The Past is Present ITeach Professional Development. The experience will start in Warsaw at the Museum of the History of Polish Jews and conclude with the official ceremonies at the Auschwitz-Birkenau State Museum.
This opportunity will encourage teachers to develop digital and media literacies using the compelling, primary-source interviews contained in the Institute's Visual History Archive, a collection of more than 53,000 audiovisual testimonies from survivors and witnesses to the Holocaust and other genocides.
The trip promises to deepen teachers' understanding of the history and continued importance of preserving the historic German Nazi concentration and extermination camp, as well as the testimonies of those who survived the atrocities that occurred there during World War II.
The contest starts on September 15 and closes on October 3.  For more information, visit http://iwitness.usc.edu/SFI/70Auschwitz/.  To provide students a deeper understanding of the continued importance of the Holocaust, Discovery Education, in cooperation with USC Shoah Foundation, will bring the 70th anniversary commemoration directly to the classroom through an exclusive Virtual Field Trip.   Available to schools across the United States in the spring of 2015, the Virtual Field Trip will provide students with firsthand accounts from survivors and witnesses returning to commemorate the 70th anniversary of the liberation of Auschwitz, and motivate them to engage in a meaningful dialogue about history and its relevance today.
By working together on this important project, USC Shoah Foundation and Discovery Education are filling an ever-present need to keep history alive for generations to come. Interacting with testimony as a primary source in IWitness connects young people with voices from the past in a profound and meaningful way.
"It's important for us to get involved so we can assure survivors we are carrying on their legacy," said Dr. Kori Street, USC Shoah Foundation director of education. "We will, with integrity, use their stories for education in perpetuity. We're seeing all around the world that there are fewer and fewer survivors who can speak to students, so our testimonies will become that educational window into those stories."
 "Discovery Education is pleased to partner with the USC Shoah Foundation on this important project," said Bill Goodwyn, President and CEO, Discovery Education. "This powerful combination of digital content and intense professional development creates a unique opportunity for both educators and students to interact directly with primary sources, see the past through the eyes of others, and gain perspective on historical events and their own lives."
Like this article? Get our e-newsletter.
Be the first to learn about new articles and personal stories like the one you've just read.