USC Shoah Foundation Announces 'Preserving the Legacy' Initiative
Fri, 12/19/2014 - 5:00pm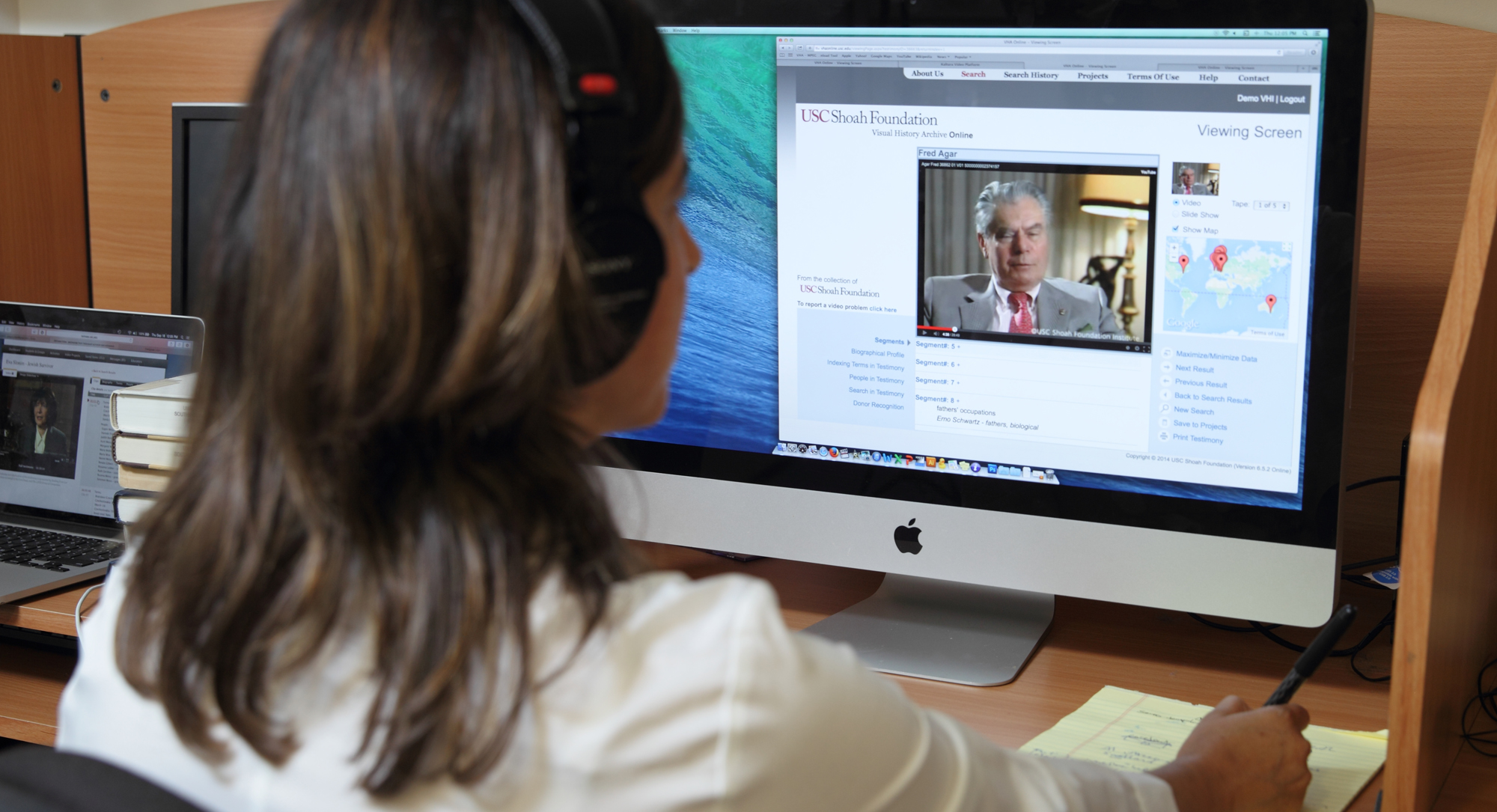 USC Shoah Foundation – The Institute for Visual History and Education announces Preserving the Legacy, an initiative that will use the Institute's state-of-the-art infrastructure to digitize, index and integrate videotaped Holocaust testimony taken by other organizations around the world into the Visual History Archive. The first partner USC Shoah Foundation is working with on this new initiative is Jewish Family and Children's Services (JFCS) of San Francisco Bay Area. JFCS, which runs the JFCS Holocaust Center, began recording its nearly 1,400 oral history interviews of Holocaust survivors, witnesses and liberators in the early 1980s. Most of the testimonies were taken on videotape that begins to deteriorate over time.
"If we do not act decisively to preserve the legacy of these recorded memories, many thousands of hours of valuable eyewitness testimony could be lost for all time," said Stephen D. Smith, executive director of the Institute.
Integrating these testimonies into the Institute's Visual History Archive – which currently contains more than 51,000 audiovisual interviews -- also means the oral history testimonies compiled by JFCS and other partner groups will become much more accessible to scholars, students, educators and the general public. Some of the partner groups' testimonies will also be incorporated into IWitness, the Institute's award-winning online education platform designed for students in grades 6-12.
The Visual History Archive is fully accessible to 51 subscribing institutions – mostly universities and museums – spread across 13 countries. About 1,200 of the testimonies in the Archive are accessible to anyone with an Internet connection via the Visual History Archive Online (vhaonline.usc.edu) or on the Institute's YouTube channel.
Although JFCS is the first outside organization to become a Preserving the Legacy partner, talks are underway with several other institutions. Partner institutions retain ownership of their testimonies and receive digital copies to make accessible at their institutions, museums and websites.
The Institute recently finished digitizing JFCS's entire collection and is in the process of indexing it.
Indexing involves the Institute's proprietary software to note keywords from each minute of testimony that address times, places, people and experiences. Those keywords are tagged directly to a digital time code that allows that testimony to be searched when integrated into the Visual History Archive. JFCS testimonies are slated to be integrated into the Institute's Visual History Archive in 2015.
"We spent decades compiling this collection, and are thrilled that by partnering with USC Shoah Foundation we will be preserving these remarkable testimonies in perpetuity, while also ensuring their worldwide access to researchers, educators, students and the general public," said Anita Friedman, executive director of Jewish Family and Children's Services of San Francisco, the Peninsula, Marin and Sonoma Counties.
Like this article? Get our e-newsletter.
Be the first to learn about new articles and personal stories like the one you've just read.