Information Sessions for 2015 Problems Without Passports Rwanda: Thurs., Jan. 22 and Wed., Jan. 28
Tue, 01/20/2015 - 5:00pm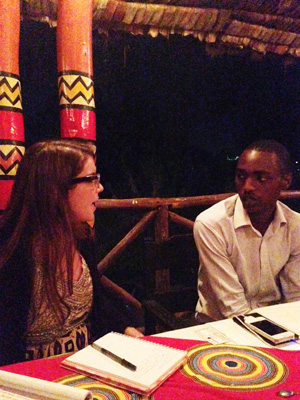 Christina Schoellkopf, left, and a member of AERG
USC Shoah Foundation will once again offer USC students the opportunity to study post-genocide reconstruction in Rwanda this summer on the annual "Rebuilding Rwanda:  Memory, Testimony, and Living Together After Genocide" course at USC Dornsife College of Letters, Arts and Sciences.
Interested students are invited to attend two information sessions, both held at USC Shoah Foundation in Leavey Library – this Thursday at 4 p.m. and next Wednesday at 3 p.m.
Problems Without Passports (PWP) courses combine problem-based or inquiry learning research exercises with study in a foreign country.
The Rebuilding Rwanda PWP course will be taught by USC Shoah Foundation staff. It will study the history, genocide, aftermath and creation of modern day Rwanda. This course will immerse students in the complexities of socio-political reconstruction after genocide. The course will explore multiple facets of the complex task of post-genocide reconstruction and ask students to apply their own on-the-ground experience to the formulation of responses to the problem. The course is collaborative, allowing students to work in small teams and as a large group to fully explore the depths of the issues raised in readings and experiences on the ground in Rwanda.
The itinerary includes visits to Kigali, Butare, Kibuye and Lake Kivu; interviews with ambassadors, heads of NGOs, and governmental officials; visits to memorials and genocide commemoration sites; learning about the processes of interviewing, documenting and archiving; and meetings with students and other peers working to transform Rwandan society and heal from the past.
Applications are due to Kia Hays, kiahays@usc.edu on Feb. 6, 2015. The tentative dates for the course are June 8 – July 7, 2015.
Like this article? Get our e-newsletter.
Be the first to learn about new articles and personal stories like the one you've just read.