USC Shoah Foundation helps commemorate Auschwitz liberation anniversary
Wed, 01/28/2015 - 12:00am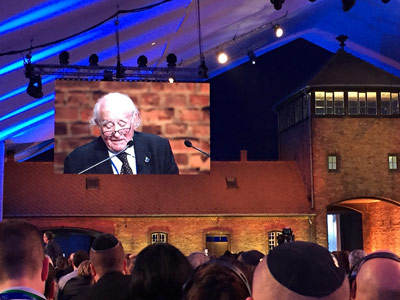 It took months of preparation. But there is little one can do to prepare for a visit to Auschwitz.
On Tuesday, staff members of USC Shoah Foundation – The Institute for Visual History and Education joined world dignitaries and more than 300 survivors of the German Nazi concentration and extermination camp to commemorate the 70th anniversary of its liberation by Soviet troops on Jan. 27, 1945.
Sitting in a tent erected in front of the infamous red-bricked Death Gate, attendees hears survivors beg the world to never let others suffer the way they did. Now in their 80s, they were mere children when they were wrenched from their families, tattooed and locked inside the largest death machine ever built by the Nazis or anybody else.
"We do not want our past to be our children's future," said Roman Kent, whose story is among the nearly 53,000 testimonies housed in USC Shoah Foundation's Visual History Archive.
His remarks were met with applause from the audience, but he stopped them while being overcome with anguish and sorrow.
"I really wanted to repeat myself, but you stopped," he said, his voice cracking. "But I will still repeat myself because that's the key to my existence. We survivors do not want our past to become our children's future."
His sentiment echoed the theme embraced by USC Shoah Foundation and other groups that joined together to create Auschwitz: The Past is Present, a global communications and education to support of the official anniversary commemoration at the Auschwitz-Birkenau State Museum, where 1.1-million people – mostly Jews -- were slaughtered as part of the Nazis "final solution."
We do not want our past to be our children's future

—Roman Kent
In addition to the speakers, a new film was introduced that will be shown to visitors of the sprawling facility in the town that is also known by it's ancient Polish name of Oświęcim.
Titled simply "Auschwitz," the documentary is a production of USC Shoah, produced by Steven Spielberg, directed by James Moll and narrated by Meryl Streep.
Heard on the soundtrack was a cello performance by Anita Lasker-Wallfisch, who played in the camp's orchestra, and the singing of Darrio Gabai, likely the last remaining Sonderkommando, young Jewish men who forced to remove the bodies of those murdered in the gas chambers,.
After the ceremony, Gabbai visited the ruins of the crematorium, where he shared remembrances and spoke briefly with USC Shoah Foundation Executive Director Stephen Smith. He recalled seeing the death chambers for the fist time in 1944 and how Nazi guards selected those who would be sent to hard labor and those who would be sent to their demise.
"Ten percent went to work and the balance went right away to the crematorium," said the 93-year-old Gabbai. "Nobody knew. They took my brother to work, but seeing my mother and father go to the bus, he ran to them. Nobody knew they went to the crematorium. And hour later, when I came back, they were already ashes. That is what I know."
Smith said that the commemoration did more than honor survivors.
"It was quite an amazing experience being surrounded by 300 survivors who were there to bear witness," he said. "What we accomplished was taking the message of Auschwitz way beyond the commemoration itself to ensure that people all over the globe are reached with a very profound and important message for our times."
Also on hand were a group of students and 25 teachers from 11 countries, who came for days of professional development and educational opportunities.
For 14-year-old Lucia Wiedeman of El Segundo High school, attending the commemoration was an honor she planned on sharing with others.
"I learned a lot more than I thought I would have," she said. "The survivors said things I would never think of when I started the program last summer. I wrote down a lot of quotes from what I heard. Students will be able to relate to this. "
Teacher Liz Bommarito has taught about the Holocaust for years at her high school in New York. But she was taken with how being at Auschwitz added to her understanding.
"I guess I never really understood the depth of what happened here, the enormity of it until I walked into some of the rooms. I went into the room with the shoes and couldn't walk around the whole thing to see it, yet as an educator, I had to see some of it so I could report it back to my students," she said, struggling to find the right words. "The thing that triggered … the room with the hair … I can't explain the emotions … it was the thing that made it so real."
With snow blowing outside the warm tent, and the train tracks that carried so many on their final journey bathed in light under panes of protective glass, the ceremony had an other worldly feel to it. After the ceremony, many guests walked across the frozen landscape to leave memorial candles at a memorial site deeper into the camp complex. As
they trecked through the snow, their dark silhouettes were shown on monitors to those still sitting inside.
When it was over, it was the words of Kent who seemed to resonate the strongest. During his speech, many people held their heads and others wept openly as he called for tolerance for all people, demanded that leaders from around the world in attendance to work ever harder to make it happen, and called for teaching children about respect for others as a moral imperative when he said that if he could, he would add a commandment to the biblical 10 to ensure that everybody knew it was their duty to act against evil.
"You should never be a bystander," he said.
Like this article? Get our e-newsletter.
Be the first to learn about new articles and personal stories like the one you've just read.