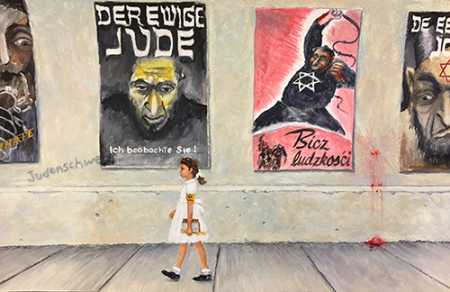 (First place high school art: Joshua Sands, "The Writing on the Wall")
Stunning works of art, film and writing have once again been given top prizes at Chapman University and The 1939 Society's 16th Annual Holocaust Art & Writing Contest.
The contest is open to middle- and high school students around the world. Participants are asked to create artistic or written responses to Holocaust survivor testimony from IWitness or The 1939 Society's archives, in the form of creative writing, artwork, or short film. Since its inception in 1999, the contest has grown to include over 200 schools in Southern California, the United States, and even countries like China and Slovakia. First-place students and their teachers receive and all-expense-paid study trip to visit the United States Holocaust Memorial Museum and other sites in Washington, D.C.
IWitness manager Jenna Leventhal helped judge the submissions and was on hand at the award ceremony on March 6 to present the first and second place prizes for the high school art category. Joshua Sands, from Acaciawood College Preparatory Academy in Anaheim, won first place with his work "The Writing on the Wall." Sands said he was inspired by the testimony of Hilde Scheraga and Norman Rockwell's painting The Problem We All Live With.
The winner in the middle school film division was Sanaia Meneses, a sixth grader from Anaheim. Henry Kress's story of standing up for what was right during the Holocaust inspired her to join an anti-bullying club at her school.
First place in the high school writing division went to Caleb Penner, from Acaciawood College Preparatory Academy in Anaheim. He wrote an emotional poem about Harry Fern's testimony, including the following excerpt:
"As I heard your story I discovered your anger and sorrow
Though I will never experience your horrors
I too lost my human feelings
And tears did not flow
I was bullied, and imagined ways to hurt them
And tears did not flow
It was not until an act of forgiveness
Did I discover my human feelings again
And tears flowed
And through these tears I spoke out against bullying
Just as you discovered courage to speak
So we would not forget"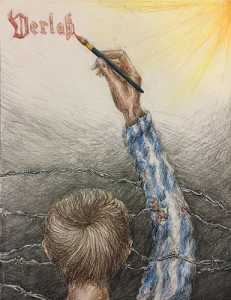 (First place middle school art, Erik Zou: "Everlasting Faith")