Testimonies of North Africa and Middle East Collection Enters Second Phase
Wed, 03/18/2015 - 5:00pm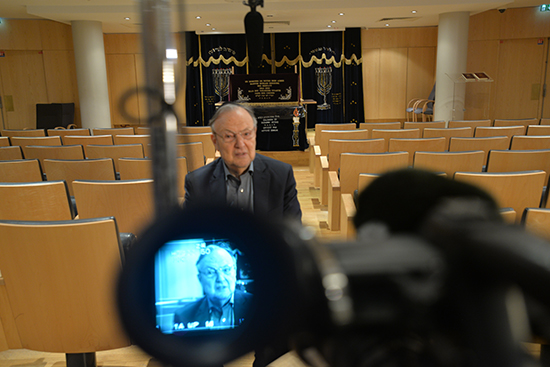 (Armand Abecassis is interviewed for the first phase of Testimonies of North Africa and the Middle East)
USC Shoah Foundation is planning to record 20 new testimonies for the second phase of its North Africa and Middle East collection. Fundraising is currently underway for this phase to begin.
The Testimonies from North Africa and the Middle East collection includes testimonies of Jews who were living in North Africa and the Middle East during World War II and witnessed the destruction created there by Nazi occupiers or governments that were Nazi sympathizers.
In the first phase of the project in spring 2014, program director Jacqueline Gmach interviewed Armand Abecassis, Andre Nahum, Claude Cohen-Tannoudji and Albert Memmi, who are each highly respected scholars and/or authors living in Paris. She was accompanied by interviewer Serge Moati, a French artist, journalist, film director and writer, and videographer Olivier Raffet. Ruth Pearl, mother of the late journalist Daniel Pearl, also gave her testimony about growing up in Iraq during the Farhud of 1941.
The initial goal of the project is to record 50 life stories. These audiovisual testimonies, once collected, will be digitized, indexed and accessible to people around the world through the Visual History Archive of the USC Shoah Foundation.
For the second phase, Gmach is working on identifying 20 new interviewees who lived in North Africa and the Middle East during World War II. The collection may expand to include people of different faiths and cultures, and those who lived in non-Arab countries. Testimonies will be in English, French and Farsi, and potential interviewees currently live in Montreal, Paris, New York, Los Angeles and San Diego.
 
Because of the advanced age of many potential interviewees, Gmach said that time is of the essence for embarking on the second phase.
These stories are important to capture because North Africa and the Middle East, though far from the Holocaust in Europe, were an important part of Hitler's Final Solution. Hitler intended to exterminate all Jews, not just those in Europe, and according to Holocaust scholar Sir Martin Gilbert, the persecution of the Jews in French North Africa was an integral part of the Holocaust in France. For example, Nazis occupied Tunisia from November 1942 until May 1943, and Jews throughout this part of the world were subjected to deportation, imprisonment in concentration camps, and the destruction of their homes, as well as severe anti-Semitism and anti-Jewish laws from their own governments.
"The denial of the Holocaust is rampant, even though it is thoroughly documented and the story of the Jews from the Arabs countries was not even told," Ruth Pearl said. "It is urgent to do so now while we still have eyewitness testimonials."
To donate to the Testimonies of North Africa and the Middle East collection or find out more, contact Gmach at jackiegmach@hotmail.com.
Like this article? Get our e-newsletter.
Be the first to learn about new articles and personal stories like the one you've just read.