Indexers Begin Training for Preserving the Legacy's Canadian Collections
Mon, 03/23/2015 - 5:00pm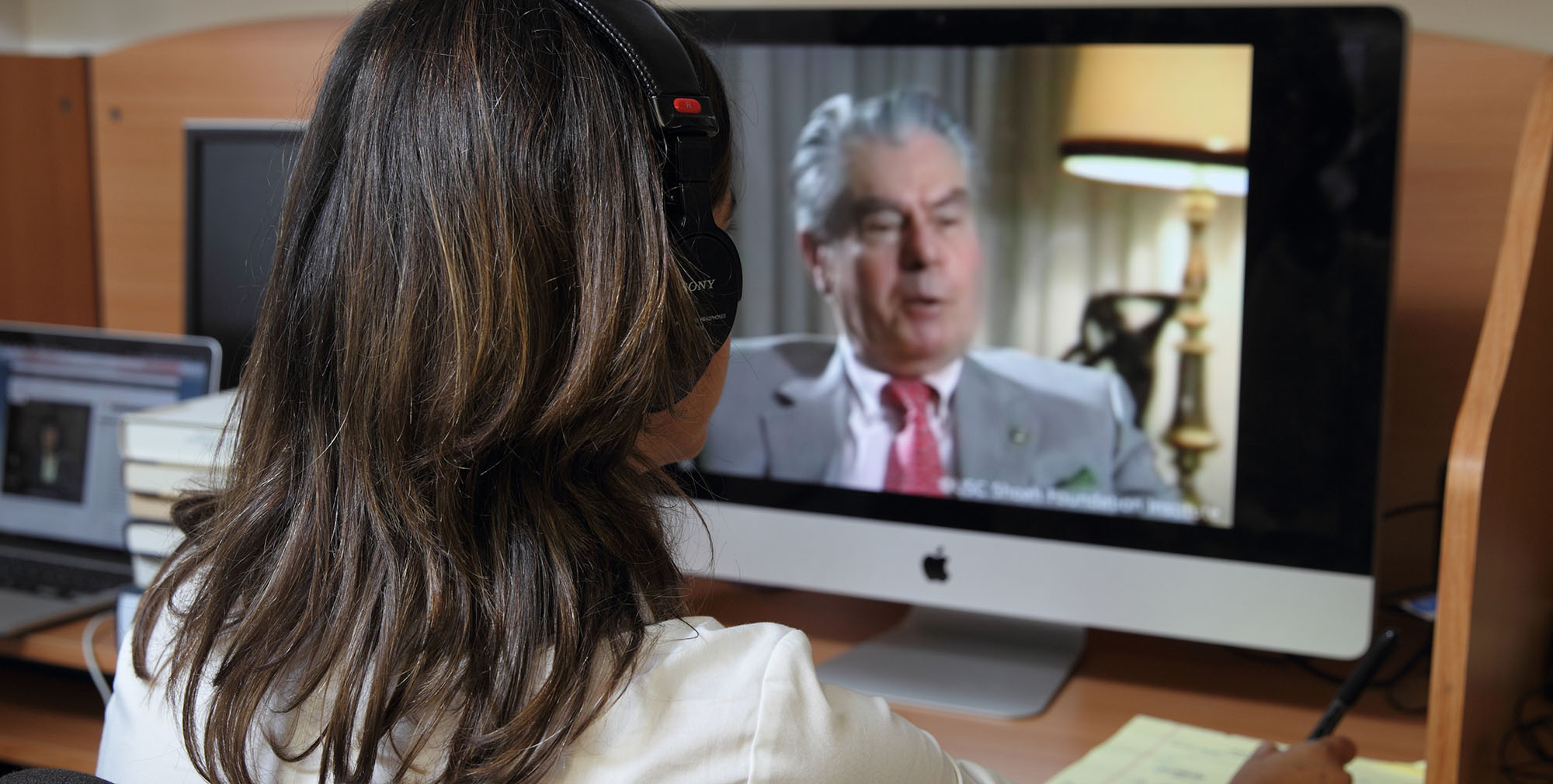 With the arrival of new testimonies and indexers, USC Shoah Foundation is advancing to the next stage of its Preserving the Legacy initiative.
Preserving the Legacy uses the Institute's state-of-the-art infrastructure to digitize, index and integrate videotaped Holocaust testimony taken by other organizations around the world into the Visual History Archive. In 2014, a collection of nearly 1,400 testimonies from Jewish Family and Children's Services of San Francisco (JFCS) was the first to begin the process of digitizing, cataloging and indexing as part of Preserving the Legacy.
In February 2015, USC Shoah Foundation received survivor testimonies collected by the Montreal Holocaust Memorial Centre (MHMC) and Sarah and Chaim Neuberger Holocaust Education Centre in Toronto. The Canadian collections are composed of over 1,250 audio-visual oral history recordings, including small collections from several Canadian cities that without this initiative would be at risk for loss. These small collections include McGill University, Canadian Jewish Congress Charities Committee National Archives, the Centre for Oral History and Digital Storytelling at Concordia University, Ottawa Jewish Archives, Freeman Family Foundation Holocaust Education Centre and Jewish Archives and Historical Society of Edmonton and Northern Alberta, and Calgary Jewish Federation.
These testimonies bring to life the communities that were destroyed and the pre-Holocaust lives of survivors and their families as well as the experiences of the Jews who faced genocide during World War II. Through Preserving the Legacy, these testimonies will be digitized, catalogued, indexed and preserved in perpetuity in the Visual History Archive.
March 13 marked the last day of a month-long on-site training session for the staff who will index the new testimonies according to USC Shoah Foundation's unique indexing system. The Visual History Archive is fully searchable and hyperlinked to the minute, so students, researchers and others around the world can retrieve entire testimonies or search for specific sections within testimonies through a set of more than 62,000 keywords and key phrases, 1.2 million names and 600,000 images.
The 10 indexers come from across the United States and Canada and have backgrounds in history, languages and library science. Their job entails watching each testimony closely and assigning keywords to each minute-long segment based on what the interviewee is talking about in that segment – for example, certain events, places, people or themes.
The group is being trained by Crispin Brooks, curator of the Visual History Archive; Ita Gordon, consultant; Edith Umugiraneza, consultant; and two indexers currently working on the JFCS collection, Judy Janec and Debbie Kahn.
During their training, the indexers learned how to work with testimonies that are conducted differently than those in the Visual History Archive. The Canadian collections may follow different interview procedures or include different kinds of questions and answers than those used in the original USC Shoah Foundation Holocaust collection. In addition, certain biographical information may not be available. However, each testimony will need to be indexed as completely as possible to ensure that users will be able to easily search for it in the Visual History Archive.
Now that their training at USC Shoah Foundation is complete, the indexers will work from home, each completing several testimonies per week on USC Shoah Foundation's indexing software. The testimonies will then be made available to view in the Visual History Archive.
Like this article? Get our e-newsletter.
Be the first to learn about new articles and personal stories like the one you've just read.