"Past is Present" in Action: Christine Cole
Mon, 04/20/2015 - 5:00pm
This year-long series will catch up with teachers and staff who participated in the Auschwitz: The Past is Present professional development program led by USC Shoah Foundation and Discovery Education to commemorate the 70th anniversary of the liberation of Auschwitz. The program brought 25 teachers from around the world to Warsaw and Krakow from Jan. 23-28, 2015, where they toured museums and historical sites, learned how to incorporate testimony into their teaching, and attended the official commemoration at Auschwitz-Birkenau State Museum. In "Past is Present" in Action, the participants reflect on the program and share how it has influenced their work.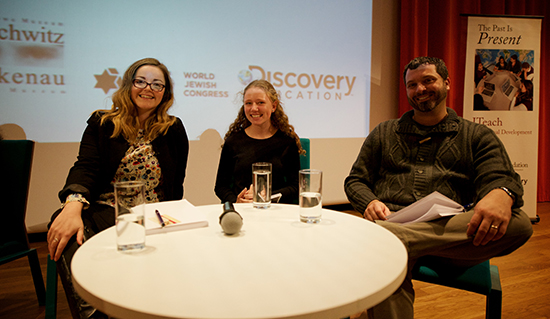 (Christine Cole, left, with Junior Intern Anna Hackel and "Past is Present" teacher Matt Vincent at the Museum of the History of Polish Jews)
Auschwitz: The Past is Present has left Australian teacher Christine Cole with a new motto and new motivation for imparting the lessons of the Holocaust on her students.
Cole praised all aspects of the program, from the collaboration with fellow teachers to working with the Junior Interns. From the seminars, museum visits and tours of authentic sites, the "past" really was brought to the "present," she said.
She was very impressed by the conversations she had with the other teachers in the program who hailed from all over the world. This level of professional collaboration and discussion of teaching strategies was something she had never experienced before at home.
Cole teaches history at Shepperton High School in Victoria, so she found the presence of the junior interns to be extremely useful. She was able to talk with them about her teaching ideas and what would be most engaging for her students. Most amazing, she found, was their level of knowledge about IWitness and the different activities.
"They were able to share with me what activities they had completed and which ones were relevant to my teaching ideas," Cole said. "Having the junior interns on the trip also served as a reminder as to why I as a teacher need to continue to teach my students about the Holocaust."
Cole has shared her trip to Poland in a variety of ways. She was featured in her school's newsletter and wrote a blog about Past is Present in addition to initiating conversations with her students about the Holocaust. The students are most interested to hear survivors' stories and were "astounded" that Cole met Paula Lebovics, a child survivor of Auschwitz who accompanied the teachers and Junior Interns on the trip. Since they are so interested in Paula, she has shown them her testimony in IWitness.
For her year 12 VCAL (Victorian Certificate of Applied Learning) Literacy class, Cole has conducted a unit on the impact of stereotyping and anti-Semitism, which includes watching Schindler's List and listening to testimony on IWitness. Her year 11 20th century history students will also write papers about testimonies they find in IWitness that deal with Holocaust survivors' struggle against brutality.
Finally, Cole is planning a class trip to the Melbourne Holocaust Museum where her students will be able to meet a Holocaust survivor for themselves.
Cole said Past is Present was an amazing and unforgettable experience that she feels honoured to have participated in. Reflecting on the trip, now nearly three months later, her role and responsibility as a teacher has become clear.
"I WILL teach my students about the atrocities of the past, I WILL teach my students about the impact of prejudice and discrimination and I WILL teach my students to be kind and to love one another," she said.
Like this article? Get our e-newsletter.
Be the first to learn about new articles and personal stories like the one you've just read.