Roma/Sinti Educational Resource "Giving Memory a Future" Presented at Council of Europe
Tue, 04/21/2015 - 5:00pm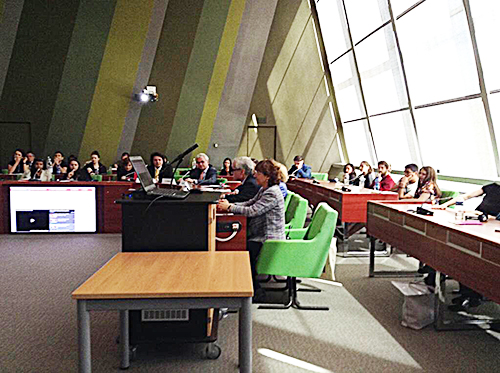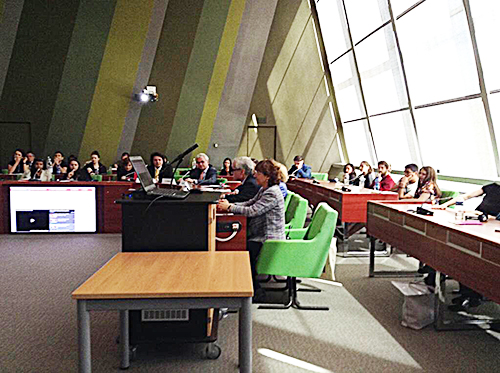 (Milena Santerini, center, presenting Giving Memory a Future to the Council of Europe)
USC Shoah Foundation's educational resource Giving Memory a Future: The Sinti and Roma in Italy and Around the World continues to make waves across Europe. Milena Santerini, professor and Member of Parliament who helped create the resource, presented it at the Council of Europe yesterday.
The Council of Europe's Italian Delegation hosted a seminar titled "The Roma Between Memory and Rights." Santerini, who is part of the Council's Committee on Equality and Non-Discrimination, demonstrated the Giving Memory a Future website and showed clips of Roma testimonies from the Visual History Archive.
Other speakers at the seminar were Santino Spinelli, professor of Romani language and culture at University of Chieti; author Ellie Keen; Ramon Flores, a young Roma activist; and Ulrich Bunjes, special representative of the Secretary General for Roma Issues.
At Catholic University of the Sacred Heart, Santerini is professor of intercultural pedagogy and has long organized educator training programs that incorporate USC Shoah Foundation and the Visual History Archive. She had the initial idea to create an educational resource about the Roma and Sinti using USC Shoah Foundation testimony from her experience teaching about the Holocaust. She thought the same methods of teaching the Jewish experience of the Holocaust that have resulted in greater awareness of discrimination and exclusion could also be applied to the Roma/Sinti, or "gypsy," persecution during the Holocaust, which is much less known.
The Italian Ministry of Education recently passed a decree to make Giving Memory a Future available to all teachers and create an annual contest for students about the Roma Genocide also using the resource.
Like this article? Get our e-newsletter.
Be the first to learn about new articles and personal stories like the one you've just read.