Women Share Powerful Stories of Genocide Survival and Reconstruction
Tue, 04/28/2015 - 5:00pm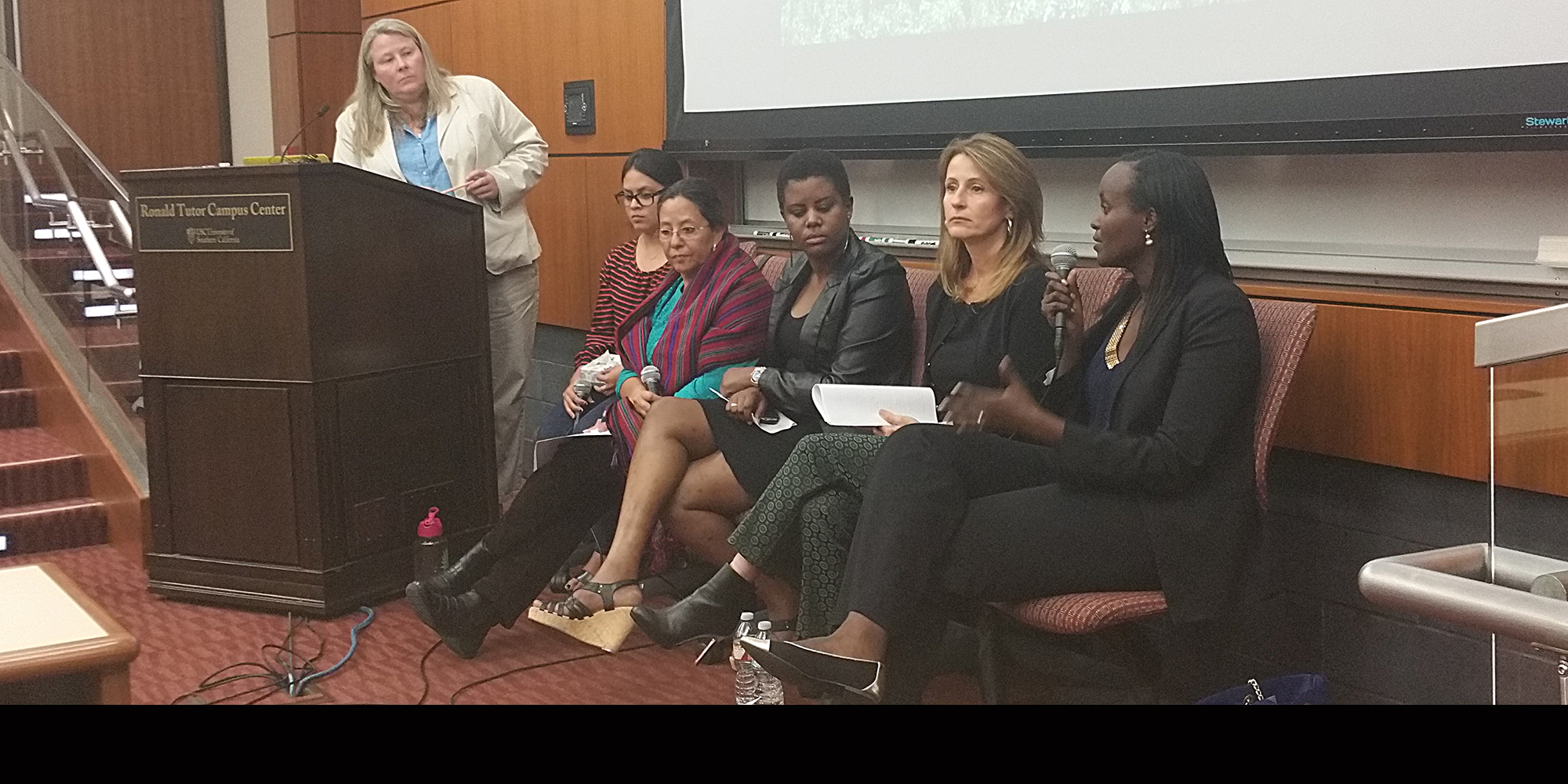 (L-R: Aracely Garrido, Maral Boyadjian, Consolee Nishimwe, Jacqueline Murekatete)
USC's Human Rights and Genocide Awareness Week concluded last night with a moving discussion of women's experiences during and after genocide, featuring survivors of the Guatemalan, Armenian and Rwandan Genocides.
The evening panel, "A Call to Action: Women's Role in Post-Conflict Societies," was organized by DEFY, USC Shoah Foundation's student initiative. It wrapped up a month-long series of events across campus for Genocide Awareness Month, including film screenings and speakers, which was organized by DEFY and other student groups.
Kori Street, USC Shoah Foundation director of education, moderated the discussion, which played to a packed house at USC Tutor Center room 205. The panelists were Aracely Garrido, a survivor of the Guatemalan Genocide, Consolee Nishimwe and Jacqueline Murekatete, both survivors of the Rwandan Tutsi Genocide, and Maral Boyadjian, granddaughter of an Armenian Genocide survivor. The discussion started with an opportunity for each woman to describe her experience with genocide.
Garrido is mestiza, or a person of mixed ancestry, and lived in the Quiche region in Guatemala when the military began attacking the native Mayan population in the 1980s. She was part of a student movement at the University of San Carlos that registered the disappearance of 175 students. In Garrido's own family, two cousins were killed and another 12 family members are still missing, she said.
"In the '80s in Guatemala, being poor and indigenous was enough to be declared an enemy of the state that could receive any punishment," Garrido said through a translator.
After the peace treaty was signed in 1996, she began working with Rigoberta Menchú, a Guatemalan activist who later won the Nobel Peace Prize, to collect testimonies of survivors, members of the military and paramilitary in preparation for trials and documentation of the genocide, which Garrido called "one of the most silenced, least spoken about and denied in the whole world."
Nishimwe told the harrowing story of how she survived the Rwandan Tutsi Genocide at 14. Her childhood was very happy, she said, but "I never expected that one day in a flash, this all changed and there would be a genocide, one of the worst in history." Soon, former friends and neighbors had turned on them and Hutus were killing Tutsis everywhere. They hid with different neighbors and acquaintances, but Nishimwe said once the genocide started it was hard to know who to trust.
Eventually, Nishimwe's father and brothers were killed. Nishimwe was raped and beaten, but she, her sister and her mother survived. Now an activist and advocate for human rights, she said she is now motivated to be a voice for the survivors and victims who cannot speak for themselves. Nishimwe also wrote a book about her life, Tested to the Limit: A Genocide Survivor's Story of Pain, Resilience and Hope.
Next, Boyadjian spoke about her grandmother, a child survivor of the Armenian Genocide who came to live with the family when Boyadjian was young. Her grandmother had been the only member of her family to survive the genocide and spent most of her childhood being sold, abused and exploited by various Bedouin tribes. At 15, she was "purchased" by a much older man, who married her. She gave birth to a daughter, but ran away with the girl to an orphanage to escape her husband – which her daughter, Boyadjian's mother, always resented her for.
As a young girl, Boyadjian observed her grandmother, who was an enigma, to say the least. She "loved us implicitly, but had no idea how to nurture us," Boyadjian said. But she did speak regularly and with great detail about what she had experienced and witnessed – something Boyadjian said she now wishes she had paid more attention to.
When Boyadjian's own daughter returned home from her freshman year of college, she said a friend of hers had never heard of the Armenian Genocide, and wanted to know what books she should read to learn more about it. Then and there, Boyadjian said, she decided to write a historical fiction novel, the kind of exciting, adventurous novel she would have wanted to read, that would help people "never forget who the Armenians are as people, not just victims of genocide." Her book, just published, is called As the Poppies Bloomed.
Finally, Murekatete shared her own story of survival during the Rwandan Tutsi Genocide, when she was nine years old. She was visiting her grandmother in another village when the genocide began and found refuge in an orphanage led by two Italian priests. She saw people murdered just outside the gates and met children who had had limbs hacked off. After the genocide, she returned home to find that her neighbors had murdered her parents, six siblings and other family members.
She now hopes to inspire people to work together to prevent future genocide, because genocides don't happen overnight.
"There is always an opportunity to intervene before it becomes a genocide," Murekatete said.
After each panelist spoke, Street asked how women specifically can become agents of change in post-conflict societies. The panelists all agreed that female survivors tend to occupy a unique space once genocides are over. Because of the destruction of their communities and the killing of many of their male relatives, they are forced to take on new roles and leadership positions in order to rebuild their society. Governments, especially the government of Rwanda, have taken steps to promote women and provide new opportunities for them in the wake of genocide, but there is more work to be done.
The panel ended with a discussion of what people today, particularly the college students in attendance, can do to prevent genocide. Nishimwe and Boyadjian said with social media, there is no excuse to not know what's happening in the world.
"If anybody wants to access the truth, it's there for them," Boyadjian said. "We can turn a blind eye, it's so simple, but you never know who the next victim is going to be. Every victim of genocide was shocked that they were the next victim of genocide. It simply needs to stop. We need to speak out."
Murekatete added that the panelists sitting around her are proof that genocide really can happen anywhere, anytime, to anybody. It will take work to make the slogan "Never again" a reality, but it's everyone's responsibility to be aware and do what they can. There are plenty of organizations, including the USC Shoah Foundation right here on campus, young people can get involved in, she said.
"[Genocide] is not a crime that affects one particular group. We all have a stake in preventing it," Murekatete said.
Like this article? Get our e-newsletter.
Be the first to learn about new articles and personal stories like the one you've just read.