"Past is Present" in Action: Merinda Davis
Mon, 05/04/2015 - 5:00pm
This year-long series will catch up with teachers and staff who participated in the Auschwitz: The Past is Present professional development program led by USC Shoah Foundation and Discovery Education to commemorate the 70th anniversary of the liberation of Auschwitz. The program brought 25 teachers from around the world to Warsaw and Krakow from Jan. 23-28, 2015, where they toured museums and historical sites, learned how to incorporate testimony into their teaching, and attended the official commemoration at Auschwitz-Birkenau State Museum. In "Past is Present" in Action, the participants reflect on the program and share how it has influenced their work.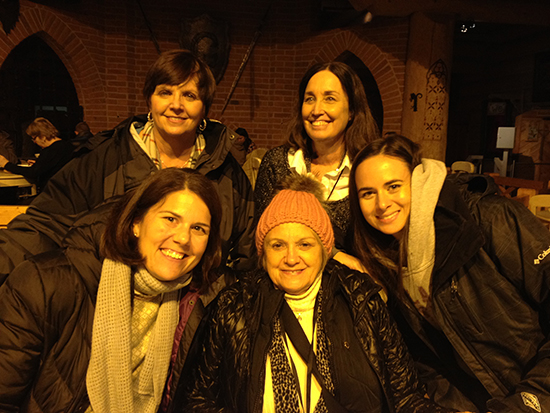 (Merinda Davis, far right, with Holocaust survivor Paula Lebovics, center, and teachers at Auschwitz: The Past is Present)
During his speech at the Auschwitz-Birkenau State Museum's commemoration of the 70th anniversary of the liberation of Auschwitz, Holocaust survivor Roman Kent made an impassioned plea for tolerance and peace. "Hate is never right and love is never wrong," he said. "[Survivors] don't want our past to be our children's future."
Merinda Davis was so inspired by Kent that upon returning home from Auschwitz: The Past is Present, she developed a lesson that has inspired her students to live by his words, and feels that her teaching has been changed forever.
Davis, a social studies teacher at Lakeridge Junior High School in Orem, Utah, has given presentations at her school and in her community about her Past is Present experience. Many adults who attended said they learned something new from her lessons and stories about the history of the Holocaust and her trip to Poland.
Sharing her experiences with her students has been "transformative," for them, she said. The Holocaust is not part of her curriculum and many of them didn't know anything about it. Since Past is Present, Davis has weaved her experiences in Poland into her lessons and showed pictures and videos of survivors. In class discussions, students expressed their surprise and consternation that the events of the Holocaust occurred.
"Although we talked about what happened, we focused on the cause and how we can apply those lessons today," Davis said. "We discussed how small seeds of prejudice can grow into something truly horrifying."
After hearing Roman Kent speak at the commemoration, Davis knew she wanted her students to watch his speech as well. After they had watched it and talked about what it meant to them, Davis asked them to think of what they can do to fulfill his vision for the future. They also watched the movie Gandhi and talked about how it relates to Kent's speech. Students began coming up with a wide variety of ideas – "as unique as the students themselves," Davis said.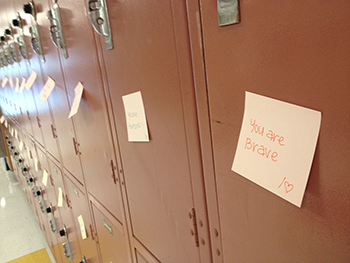 One student decided to write kind notes on index cards and hide them in books in the library for people to find. Another sent 25 text messages to friends and family telling them how important they are, and said after, "I learned that everyone needs a little love no matter who they are, and the community as a whole should express more kindness and peace towards their peers."
One student even taught a lesson on tolerance and avoiding discrimination to elementary school kids, because "I wanted to leave an impact on people younger than me. My generation and the generations following mine are responsible for the future moral values of society, so I thought it would be important to reinforce ideas about tolerance and peace to kids at a young age."
Davis intends to continue the "Roman Kent Peace Project" in the coming years and hopes to involve more schools in the project. She will also get more of her students to enter the IWitness Video Challenge next year, and is working with her school to have a Holocaust survivor come and visit.
The concept of resilience continues to resonate with her, Davis said – "the survivors, their stories, the historical sites and the resilience of spirit that we, as teachers, continue to pass on to the future generations." Now, she is more focused on teaching not just the content of her curriculum, but also the values that will be with her students for a lifetime.
"Although I have studied the Holocaust, both formally and informally, for more than half of my life nothing prepared me for the impact that this experience had," Davis said. "It was more poignant than any other experience in that for the first time I was standing in places with those who lived to tell the stories of those places."
Like this article? Get our e-newsletter.
Be the first to learn about new articles and personal stories like the one you've just read.