Comcast 2015: "Melodies of Auschwitz"
Fri, 05/08/2015 - 5:00pm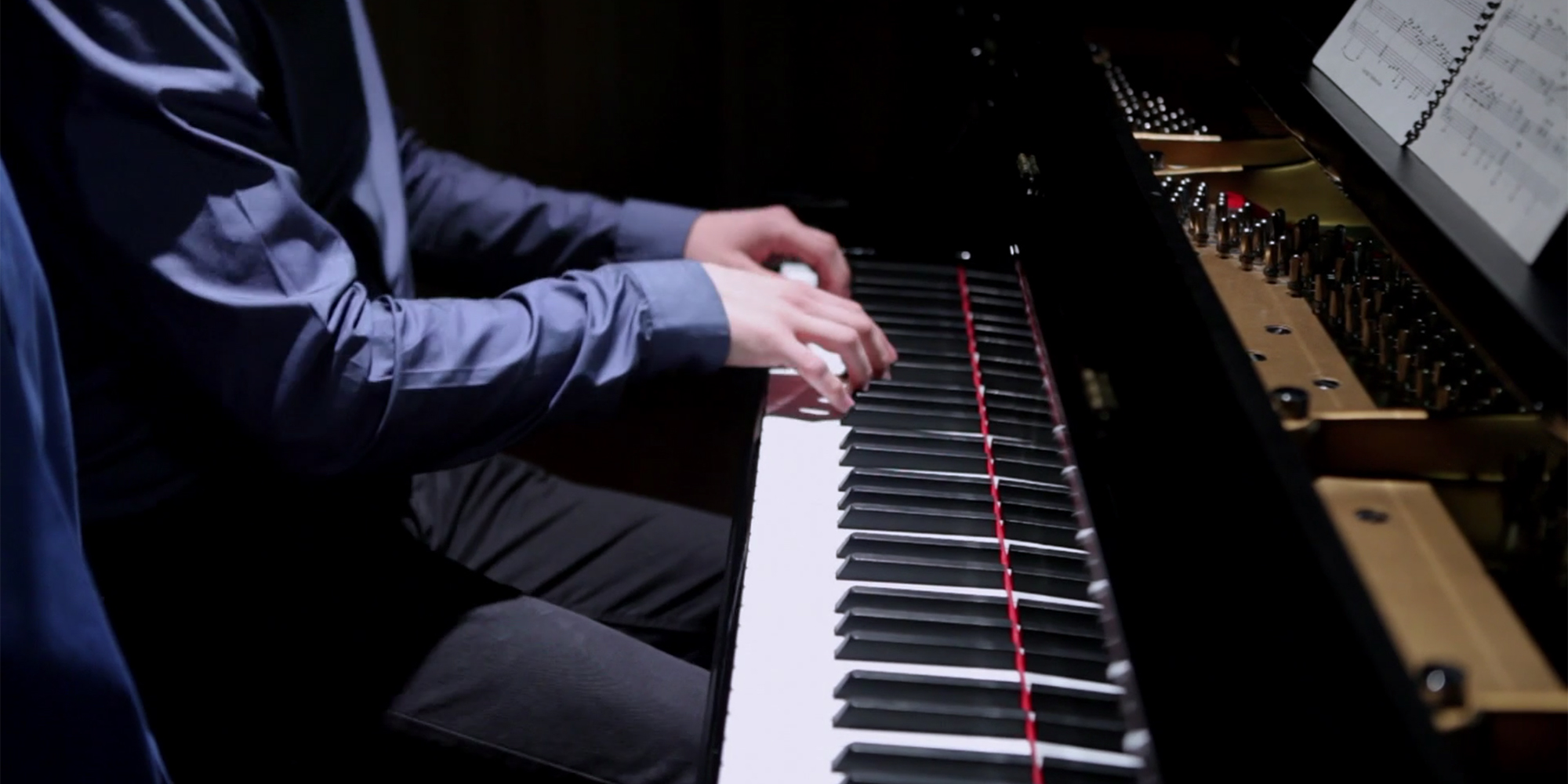 USC Shoah Foundation is currently in the second year of Days of Remembrance: PastFORWARD, a five-year partnership with Comcast to provide USC Shoah Foundation content to Comcast Xfinity customers On Demand, through the Xfinity TV Go app and online, in conjunction with the U.S. National Days of Remembrance, a commemoration of the Holocaust held every spring. Each year, the series is themed with a feature film anchoring the program offerings. This year, it is The Pianist, directed by Roman Polanski, with "music" as the overall theme of the broadcast. Content will be available April 15-June 1, 2015.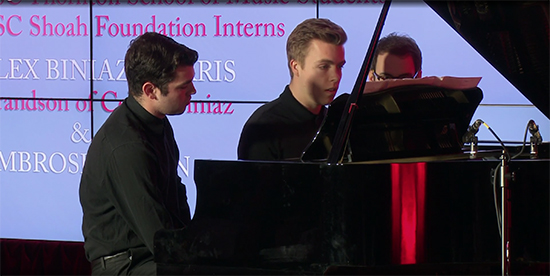 (Alex Biniaz-Harris, left, and Ambrose Soehn performing their composition in Krakow, Poland, Jan. 26, 2015)
Get a behind-the-scenes look at how two USC students composed a piano piece inspired by Holocaust survivor testimony in the new documentary Melodies of Auschwitz.
Alex Biniaz-Harris and Ambrose Soehn are both graduating seniors at USC who intern at USC Shoah Foundation. Biniaz-Harris's grandmother, Celina Biniaz, gave her testimony to USC Shoah Foundation and was the youngest girl on "Schindler's list."
USC Shoah Foundation Executive Director Stephen Smith invited the boys, who are both pianists, to compose an original piano piece inspired by musical performances that many Holocaust survivors give in their testimonies. They would then perform the piece in Krakow, Poland, at a reception for survivors the night before the official commemoration of the 70th anniversary of the liberation of Auschwitz on Jan. 27, 2015.
Both Biniaz-Harris and Soehn drew on their own backgrounds and interests to compose a piano duo, or piece for two pianos – Biniaz-Harris on his family's history with the Holocaust, and Soehn on his recent research trip to Rwanda and his study of neuroscience. Though they were forced to completely rethink their piece when just a few days before their performance in Krakow they were told the stage could only hold one piano, not two, their finished work evokes the emotional journey of the Holocaust and includes real melodies survivors played in their testimonies.
Soehn and Biniaz-Harris say that composing their piece was a way for them to continue the survivors' legacy of making sure the Holocaust is never forgotten. Through music, they hope to connect with their own generation and send the message that genocide is a problem that affects everyone.
"Music is really the one true universal language in that across all boundaries, across all cultures and languages, we will be able to understand these melodies and interpret it the way that we'd like. Music has that ability to keep life going," Biniaz-Harris said. "I think it's our duty as young people to educate other young people about the ills of genocide."
"It's important to raise awareness about what happened and to keep fresh in our memories that this type of thing could happen again," Soehn said. "It really does go even beyond anti-Semitism and in a way it's trying to help rid the world of all baseless racial and ethnic intolerance. The fact that we were able to contribute to that message in such a personal way through music is really incredible."
Like this article? Get our e-newsletter.
Be the first to learn about new articles and personal stories like the one you've just read.