"Art, the Interpreter of the Unspeakable": Hungarian Student Art and Literature Project Concludes with Museum Event
Thu, 05/28/2015 - 5:00pm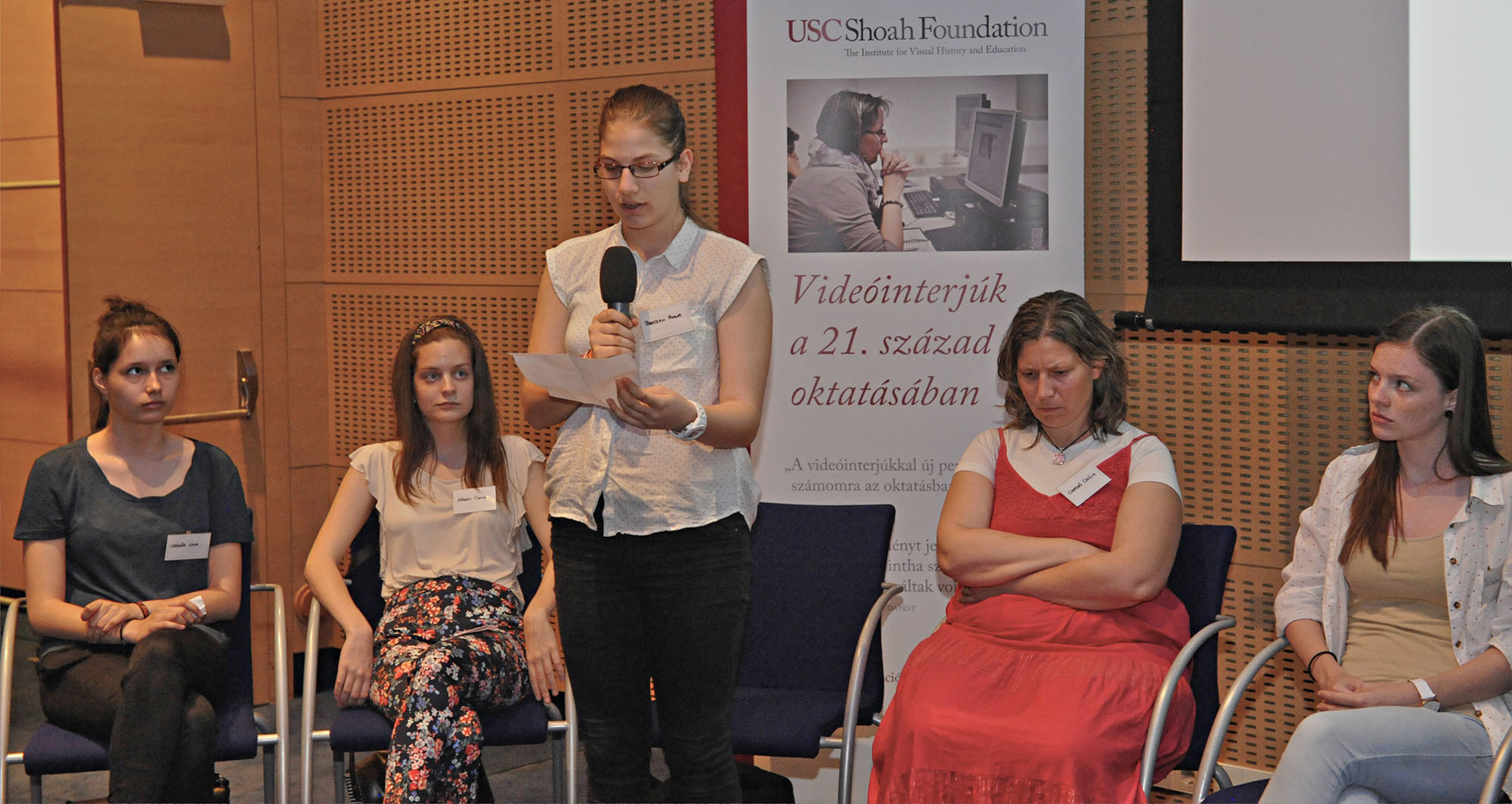 Over 100 students and teachers who participated in USC Shoah Foundation's testimony-based art and writing project in Hungary this year came together last week for a closing celebration that honored the students' achievements and showcased their thoughtful responses to testimony.
Middle- and high school students throughout Hungary were asked to watch testimony clips on the Hungarian portal of the USC Shoah Foundation and get inspiration to create artwork and literature. This year, students and teachers could use testimony clips in other languages in addition to Hungarian and English, so a good number of foreign language poems and short stories were submitted. The program was organized by Andrea Szönyi, USC Shoah Foundation international training consultant in Hungary, in cooperation with USC Shoah Foundation's partner in Hungary, the educational NGO Zachor Foundation for Social Remembrance.
Altogether 140 entries were submitted including drawings, paintings, photo collages and cartoons as well as poems and short stories.
On May 20, 2015, all students who submitted artwork and their teachers were invited to participate in a full day program as the closing event of the art project organized in partnership with Ludwig Museum – Museum of Contemporary Art in Hungary, another USC Shoah Foundation partner institute in Hungary. The closing event was supported by the Public Education Undersecretariat of the Ministry of Human Resources in Hungary.
Over 100 students and their teachers could make it to Budapest on May 20, representing various locations of the country, even Oradea, a Hungarian-speaking area of Transylvania, Romania. In the morning the students and teachers visited the Jewish district in Budapest, and in the afternoon a closing ceremony was organized at the Ludwig Museum.
The ceremony included a panel discussion with students and teachers about their motivations to participate and the experience of working with testimony.
"Working with testimonies was intimate: as if I was listening to my grandparents. At the same time I felt anger: I am angry that people let this happen," Ákos Adorján, a graduate student from Árpádházi Szent Erzsébet Catholic School from Esztergom, Hungary, explained during the panel.
After the panel some of the students read out their work:  one poem and a short story in Hungarian,  and one poem in English. The English poem was written by Anna Breczku, a ninth grader at Berzsenyi Daniel Gimnázium in Budapest:
Untitled

We are going to a place, to shave our heads. We have nothing to wear, just a piece of grey clothe, to hide ourselves.
One guard is yelling:
"who wants to pick up some coffee and bread?" I automatically put up my hand,
just to see my dad.
I am in a factory.
Working hard all day.
Can't wait for the work to end, yet we don't have any escaping plan.
The bombs are just in our backs, we can barely see our legs. Moving from one camp to another, can make our lives even harder.
Escaping is in plan. She just told us that we can. The six of us are crazy, about stepping out bravely.
We are free,
with this neverending dream, make this world peaceful
so we can be who we are meant to be!
The ceremony concluded with students and their teachers receiving certificates and books acknowledging their participation in the art project.
After a small reception, students were guided through the temporary exhibition of the Ludwig Museum guided by László Hemrik, museum educator. 
Like this article? Get our e-newsletter.
Be the first to learn about new articles and personal stories like the one you've just read.