Philadelphia Staff Host Shabbat for IWitness Video Challenge Participants
Tue, 06/09/2015 - 5:00pm
For nine Philadelphia high school students, a loaf of challah was one of the most special gifts they have ever received.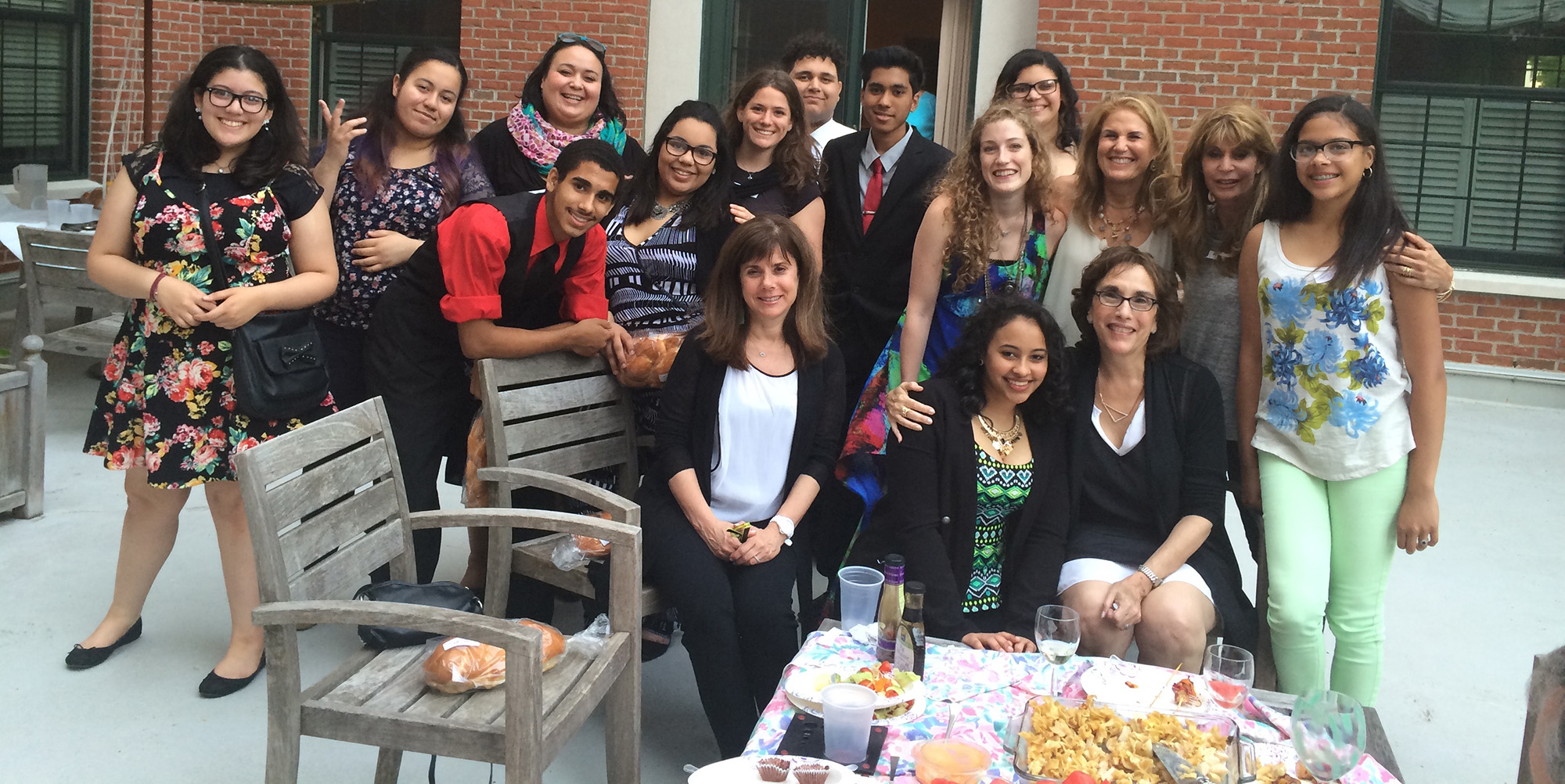 For Jewish families who observe Shabbat every Friday evening, a loaf of challah bread is pretty ordinary. But for nine Philadelphia high school students, it was one of the most special gifts they have ever received.
USC Shoah Foundation Executive Director of Development Jayne Perilstein, Next Generation Council members Carole Blum and Marsha Dworkin, and advancement assistant Lucy Goodman, all based in Philadelphia, hosted a special Shabbat dinner for a select group of students from Eden Strunk's class at Esperanza Academy. Strunk is the former teacher of 10th grader Ruth Hernandez, who won the first IWitness Video Challenge last year and recently went to Poland with the Institute as a Junior Intern on the Auschwitz: The Past is Present program.
Strunk again assigned the IWitness Video Challenge to her students this year. Nine of the students who completed the challenge were invited to attend a Shabbat dinner at Blum's house on Friday, May 29.
Dworkin said the Shabbat was part of an effort to create a lasting connection with Strunk and her students – to inspire them to remember the lessons they learned from IWitness long after the IWitness Video Challenge is over. Ruth Hernandez winning the challenge last year and all the opportunities she has gotten from it has proven to be a catalyst for getting her classmates motivated and interested in the subject matter of IWitness.
Dworkin was very impressed by the students' IWitness Video Challenge projects, which were thoughtful, passionate and demonstrated the personal connections they had made to testimony. She also praised Strunk for inspiring her students to want to make a difference in their community through IWitness.
"When you see how this has impacted these kids' lives, it was amazing," she said.
None of the students are Jewish or had ever attended Shabbat before. Perilstein led them through the Shabbat traditions, like lighting the candles, eating challah and saying a prayer. Blum and Dworkin said the students were fascinated by the whole process and asked lots of questions.
The students were delighted to each receive their own loaf of challah to take home. After the dinner, they said it was the best gift they had ever gotten.
Blum said she wanted the students, many of whom have their own personal hardships, to see how people who have events as tragic as the Holocaust as part of their history can still be positive and loving. She and her fellow hosts as well as her friends who also attended the Shabbat wanted to take the time to really get to know each of the students. They hoped this small gesture would have a real impact on the students.
"We showed an interest in them. They're not just a nobody, they're somebody and we all really care about them," Blum said. "The littlest thing can go a long way."
The welcoming atmosphere of the dinner seemed to be a highlight for the students. Javieris Marrero said she "really loved how the people treated us."
"The Shabbat dinner was an amazing, unique experience that I'd never forget. I've learned a lot about Jewish traditions and tried new things that I really enjoyed," said Bianca Ramos.
"The dinner was very fun, and I was glad to learn about the Jewish praying tradition with the bread and wine," said Sarah Santiago. "I want to give a shoutout to Lucy [Goodman] because she is very nice and sweet and took the time to get to know us and laugh with us! The night was great and the challah bread was delicious."