Stephen Smith Gives Keynote at Holocaust Education Seminar in Israel
Tue, 06/16/2015 - 5:00pm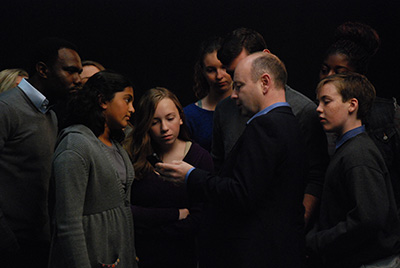 USC Shoah Foundation Executive Director Stephen Smith joined 25 educators and researchers from Israel and Europe for an expert seminar in Tel Aviv today on Holocaust education in the 21st century.
The annual seminar, this year titled "Following their Voices: Teaching the Holocaust with Witness Testimonies in the 21st Century," was organized by the MOFET Institute and the Massuah Institute for Holocaust Studies and supported by the Claims Conference. While the second day of the two-day seminar is only for invited participants, the public was invited to attend the opening session today at the MOFET Institute. Smith gave the keynote address.
The seminar aims to discuss the educational challenges of introducing today's students to the voices of Holocaust survivors. Participants will present new and innovative approaches to teaching the Holocaust that integrate survivor testimony through film, art, literature, history and other disciplines.
The educators and researchers will share new programs and creative educational models that have been developed in the 21st century around the world that offer future generations an avenue for hearing the voices of witnesses and survivors in their study of the Holocaust. They will also consider how to influence education policy makers, including teacher-training colleges, to invest in a "new generation" of curricula and resources for teaching the Holocaust at academic institutions around the world.
Like this article? Get our e-newsletter.
Be the first to learn about new articles and personal stories like the one you've just read.