Kori Street Talks Social Media and Holocaust Education at 2015 AHO Conference
Wed, 06/17/2015 - 5:00pm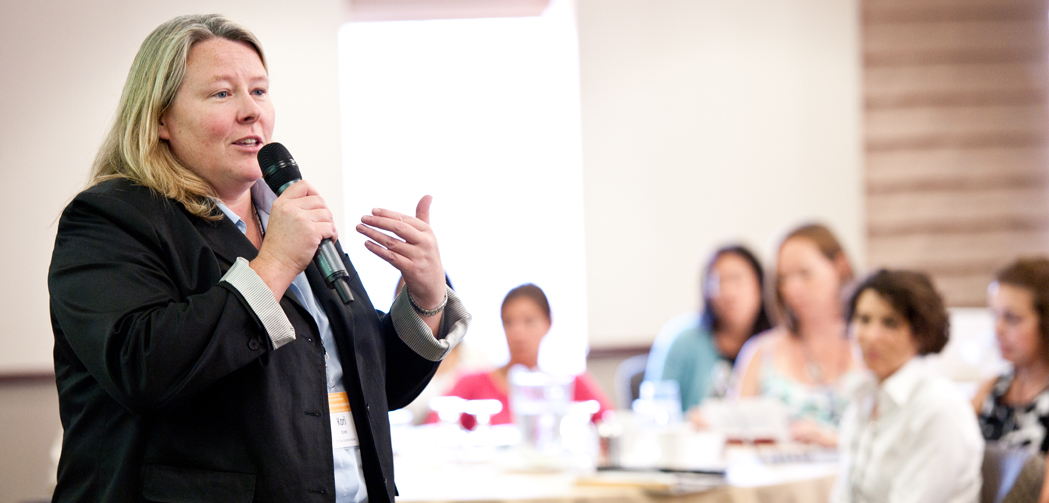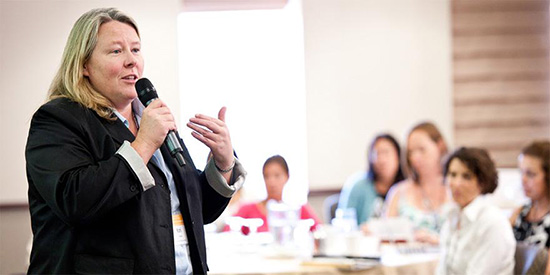 For some educators social media may feel like the Wild West, but Twitter, Facebook and Instagram are quickly becoming the new frontier of Holocaust education.
This was the theme of USC Shoah Foundation Director of Education Kori Street's presentation at the 30th Annual AHO Conference in Las Vegas yesterday. The Association of Holocaust Organizations (AHO) conference brings together leaders of Holocaust institutes of research and education for seminars on the latest developments from the field. The theme of this year's conference was "Media and the Holocaust."
Street presented alongside Alex Maws, head of education at the Holocaust Educational Trust in the UK. Their presentation was titled "Geeking Out: Social Media and Holocaust Education."
Maws started the presentation by talking about why Holocaust educators should consider using social media as part of their teaching. He acknowledged common hesitations: that misinformation can be easily spread and consumed, posts could be insensitive or trivialize the seriousness of the subject matter, or teachers may not feel confident leading their students through new platforms and technology.
However, he pointed out that social media can be a valuable learning tool if used appropriately. It enables students and Holocaust survivors all over the world to connect with each other when in-person visits aren't possible, and it's a way to engage with young people through the mediums they are passionate about. Even problematic posts (ones that promote denial or historical inaccuracies, for example) can jump-start valuable conversations with students about the historical and moral complexities of the Holocaust.
Maws said educators should be open to social media, not fearful of it. As long as learning goals always come first, social media can enhance students' understanding and engagement with the Holocaust in unprecedented ways.
Street then discussed guidelines for educators and Holocaust organizations to keep in mind when using social media with their students, audiences and followers.
The first thing to remember is that social media is social – which sounds obvious, but Street said educators need to remember that the point of platforms like Twitter and Facebook is to build a community, and that takes effort. You can't update your page once a month and expect the rest of your community to do the rest. You must actively engage with your followers and partners by retweeting, sharing, liking and linking to not only your own content but others' as well.
Street added that sharing content with other accounts does not undermine your own site visits. In fact, partnering with an organization with more followers can increase your own audience and broaden your reach.
Next, Street said that a common misconception is that all young people are "digital natives" who are experts on social media. In fact, it's important to remember that many students are not comfortable using social media and need help learning how to do it. All students, no matter what their level of proficiency, need their teachers to model good behavior online and set boundaries and expectations. Similarly, educators must protect students' privacy by creating learning environments that allow them to learn and experiment without fear of mistakes being available for the public to see.
In terms of content, Street recommended asking questions, sharing images, creating "calls to action" and offering an eye-catching, powerful "hook" that will get the attention of followers, who mostly scroll quickly and don't spend too much time on any one post or tweet. An example of this is USC Shoah Foundation and Discovery Education's follow-up Twitter chat with Holocaust survivor Paula Lebovics after the Past is Present Virtual Experience. The simple offer for students to interact live with Paula once again resulted in almost 1,000 questions being tweeted in just a few hours.
Finally, Street urged Holocaust educators and organizations to know their educational environment. Educators should avoid shocking students with content that is too mature or intense for their age level and also be careful not to trivialize sensitive content either. They must also clearly define the boundaries of where their classroom begins and ends online to avoid confusion over the teacher/student dynamic.
Like this article? Get our e-newsletter.
Be the first to learn about new articles and personal stories like the one you've just read.