Showtime to Broadcast "One Day in Auschwitz" in July
Tue, 06/23/2015 - 5:00pm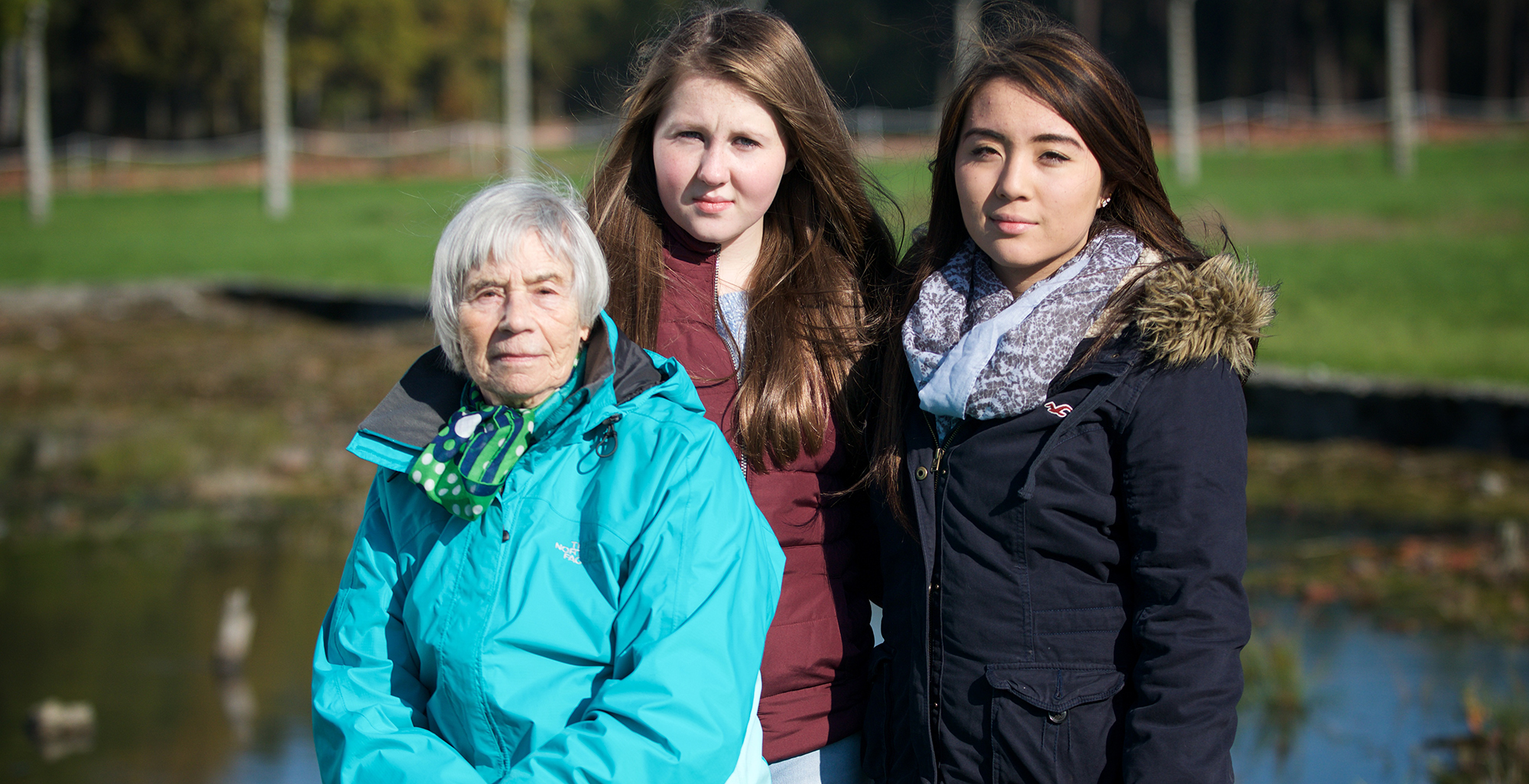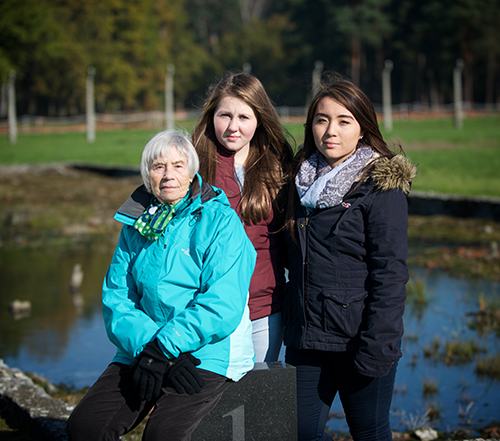 Hart-Moxon, Hollingsworth and Smith
Showtime will broadcast the USC Shoah Foundation-produced documentary
One Day in Auschwitz
throughout the month of July.
One Day in Auschwitz
will immediately follow Showtime's broadcasts of
Schindler's List
and will also be available on Showtime's On Demand, online and mobile platforms; check your local
listings
for a complete schedule.
One Day in Auschwitz is an hour-long documentary produced by USC Shoah Foundation and originally broadcast on Discovery on Jan. 27, 2015. It was also included in Comcast Xfinity's Days of Remembrance: PastFORWARD broadcast this spring.
The film follows Holocaust survivor Kitty Hart-Moxon as she returns to Auschwitz-Birkenau with two high school students, Natalia Smith and Lydia Hollingsworth, to tell them her story. The girls are the same age Kitty was – 15 – when she was imprisoned in Auschwitz with her mother.
When the Nazis invaded Poland, Kitty's family was quickly split up. Her older brother joined the Russian army and was killed in the Battle of Stalingrad. A priest who was a friend of her mother's got false papers for Kitty and her mother to get them out of Poland and into Germany, but someone suspected them of being Jews and gave them up to the police. The two were shipped to Auschwitz.
In the film, Kitty explains the various ways she and her mother were able to survive. Kitty got herself a job manning the latrines – foul work, but it kept her from being selected for death. Later, she worked in "Canada": the warehouse where a few prisoners sorted the mountains of personal belongings that had been confiscated from everyone who passed through the gates of Auschwitz. She also witnessed the Sonderkommando Uprising on Oct. 7, 1944, in which Crematorium 4 was destroyed.
In November, Kitty and her mother were transported out of Auschwitz to a series of other camps until they were liberated in spring 1945. Thirty members of their family, including Kitty's father and grandmother, had been killed.
For Smith and Hollingsworth, the experience of touring Auschwitz with Kitty in One Day in Auschwitz is very moving.
"I felt very ashamed at the world and very upset that this could take place," Hollingsworth says at the end of the film.
Kitty continues to tell her story for a very important reason, she says: The Holocaust wasn't the first genocide, and it won't be the last.
Like this article? Get our e-newsletter.
Be the first to learn about new articles and personal stories like the one you've just read.