Meeting Pinchas
Wed, 07/08/2015 - 9:33am
Doris Lazarus is a docent at Illinois Holocaust Museum & Education Center, the first institution to pilot New Dimensions in Testimony (NDT), a collaboration between USC Shoah Foundation and USC Institute for Creative Technologies (ICT), in partnership with concept developer Conscience Display.
Over the past few month Doris has been one of the docents leading demonstrations of the first NDT pilot, a fully interactive display of Holocaust survivor Pinchas Gutter. During the demonstrations students first listen to Pinchas describe his experience and then with the docents help students ask Pinchas questions. Through the natural language technology software Pinchas' interactive testimony is able to answer their questions. After engaging with the interactive display, Doris felt like Pinchas was an old friend, even though they had never actually met.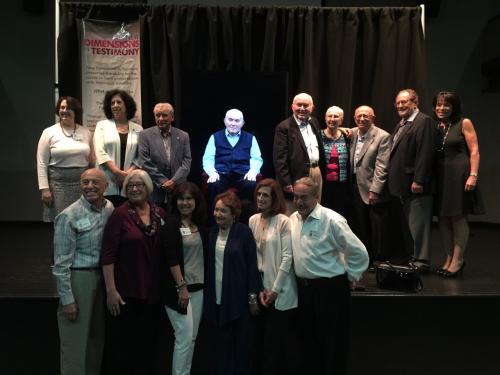 On June 29, 2015 Pinchas Gutter and his wife Dorothy visited the Illinois Holocaust Museum and Education Center to see the pilot display for the first time. Pinchas was able to also meet with the staff and docents who have led demonstrations for the past few months. Below is the letter Doris wrote and read to Pinchas when they finally met.   
Dear Pinchas,
Although we are meeting for the first time today, I feel like we are old friends. I have been one of the few lucky docents at the Museum that were trained to share you with our visitors. Every time I have presented your demo, the audience response has been powerful.  Your warm, engaging manner has connected with each and every visitor. I wish you could know what an impact your words have made.  It is always heartwarming when I see our guests nodding at you or when I see our guests with tears in their eyes.  They have shared with me that they feel like you are in the same room with us. They want to reach out and hug you. Your memories and your responses are deep and rich in detail.  You have educated and touched so many.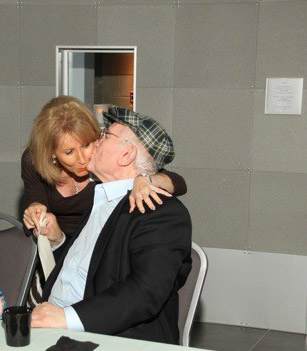 In 1994, 20 years ago, my relationship with USC Shoah Foundation began. I was honored to be trained as an interviewer. I spent the next four years with over 100 survivors documenting their lives for future generations. How fortunate are we that USC Shoah Foundation and USC Institute for Creative Technologies continued to develop technology to take us into the future. I could never have imagined the day when future generations would actually be able to interact with a Holocaust survivor.
I feel very blessed to have had the opportunity to meet you today.  I am proud and honored to have been able to present you to the Chicago community.  I am the daughter of two Holocaust Survivors.  Both my parents survived the ghetto in Poland and over two years in Auschwitz-Birkenau.  I have dedicated my life to Holocaust Remembrance. This is my legacy.
Again, I hope you know how your experiences and the way you share them will impact our world.  USC has captured your essence forever.
Yours truly, Doris Lazarus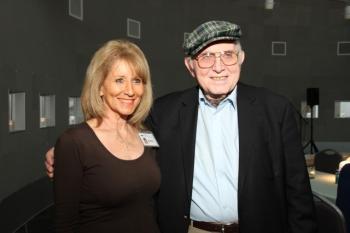 Like this article? Get our e-newsletter.
Be the first to learn about new articles and personal stories like the one you've just read.