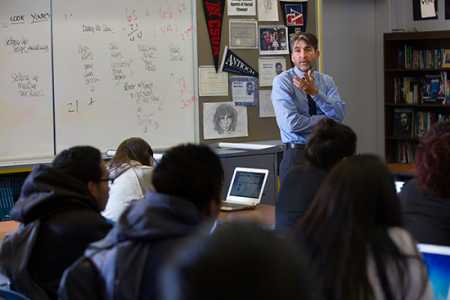 Peter Cook teaches at Camino Nuevo Charter Academy, Los Angeles
Educators gave hundreds of presentations on behalf of USC Shoah Foundation during the 2014-2015 fiscal year, introducing thousands of teachers and members of the public to testimony and IWitness.
Teachers who participated in Auschwitz: The Past is Present, USC Shoah Foundation and Discovery Education's professional development trip to Poland in January, performed much of the outreach this year. From Utah to Finland, these educators spoke to colleagues and their communities about their experiences in Poland and the impact of teaching with testimony. They reported that they received very positive feedback about their presentations, including praise from Holocaust survivors, World War II veterans and church members. Students were amazed that their teachers had actually been able to meet survivors and visit real places like Auschwitz. The presentations about Auschwitz: The Past is Present showed many people the full extent of the Holocaust for the first time.
Teachers who did not attend Auschwitz: The Past is Present also delivered meaningful presentations to their own schools and communities. Tony Cole, a Beacon School Lead Teacher at University College London's Institute of Education Centre for Holocaust Education, gave several presentations to fellow Beacon School Lead Teachers, his own school system, and the National Association of Hospital and Home Tutors. Cole introduced his colleagues to IWitness and demonstrated how it can be an especially useful tool for teaching students in non-traditional settings and with special needs.
Teacher Kelly Watson gave three presentations at the Indiana Department of Education as part of the department's series on how to teach the Holocaust. Peter Cook, a graduate of the Institute's Master Teacher program, also reported a lesson he did with his economics and government students called "Choiceless Choices," about the nine principles of economics and the Holocaust. He also presented this lesson to the Board of Directors at the California Council of Economic Education.
Finally, USC Shoah Foundation's international consultants and partners, including Martin Šmok in Czech Republic, Anna Lenchovska in Ukraine and Monika Koszyńska in Poland, also delivered workshops and seminars to educators in their countries. Elias Seyoum from The Living History Forum in Sweden organized nine seminars for 340 teachers around the country, and through USC Shoah Foundation's partnership with NIOD in the Netherlands, Maria van Haperen presented IWitness to teachers and students who completed an activity on their iPads.